BEDC to host St George's open house
Updated: Sep 11, 2023 09:33 PM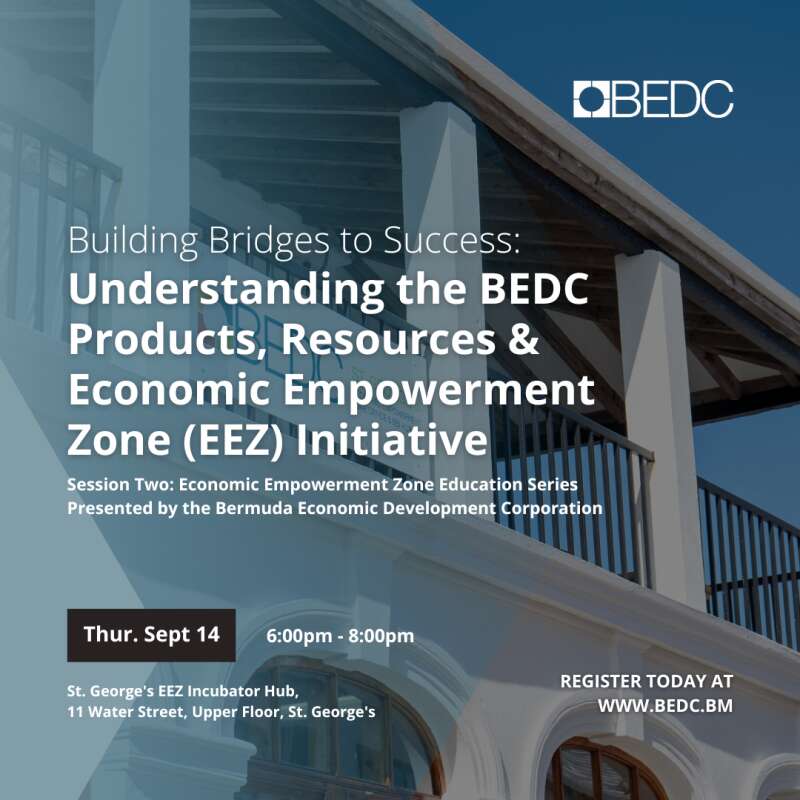 Small businesses and entrepreneurs in St George's can learn how the Bermuda Economic Development Corporation can help them grow.
The BEDC is holding a two-hour open house on Thursday to explain how it can help local businesses develop, which will include a question and answer session.
It will also discuss its economic empowerment zones initiatives, programmes and services, and explain how it can tailor support for businesses. It will also roll out examples of success stories.
Team members will be on hand for one-on-one discussions and advice sessions and it will be possible to network with other business people in the meeting.
The event, entitled Building Bridges to Success, will detail the numerous ways the BEDC has been able to help small and medium sized enterprises succeed.
Dennis Carter, micro, small and medium enterprises officer for St George's EEZ commented: "We're all about helping local businesses grow. This open-house-style event is a chance for everyone to see what we offer and learn how we help.
"BEDC is the place to get advice and meet people who want to help you achieve your business dreams.
"Our EEZ Initiatives provide practical tools and resources for Bermuda's small and medium businesses. Whether you've just started or have been in business for a while, come along. It's a free event and a great chance to boost your business."
• Register at www.bedc.bm for the 6pm event, to be held at The St George's Incubator Hub, 11 Water Street, Upper Floor, St. George's