Butterfield launches $30,000 scholarship
Updated: Jan 28, 2017 07:00 AM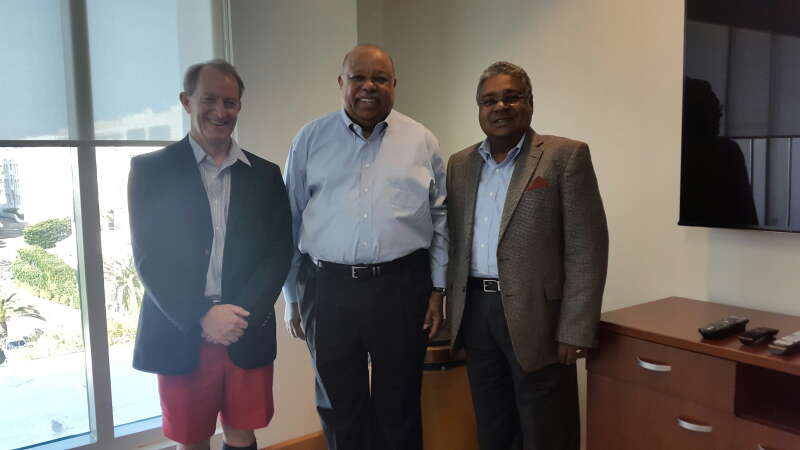 Nurturing mentors coupled with his own hard work and determination have projected Philip Butterfield from his humble origins in the "back of town" to a top seat in Bermuda's banking industry.
The former CEO of HSBC says he owes much of his success to those people who showed him the true value of education and he is giving back through a choice of a scholarship that has been launched in his name.
The Bank of Bermuda Foundation launched an annual scholarship of $30,000 for up to four years towards a student's university or college education and then handed over the reins to Mr Butterfield to decide who should be entitled.
His humble beginning came back to the fore. The Bank of Bermuda Philip Butterfield Scholarship will be dedicated to academically dedicated students in the public school system on a financial needs basis.
He told The Royal Gazette: "I wanted this scholarship to be a reflection of my personal journey. I attended the Central School which is now the Victor Scott School, and I won a Bermuda Government Scholarship. I was one of four persons to go to The Berkeley Institute back in the day — January of 1959. It paid for my school fees and books and the like.
"The way I got to Berkeley was a combination of my mom playing a very strong role in making sure that my brother and I valued education and also the teachers at Victor Scott School who saw some promise in me and paid lots of attention, particularly Victor and Edna May Scott. They were personally instrumental in guiding me and preparing me for learning. They would have myself and several other students to their home every Saturday morning for extra tutorials. You were selected and you had to show up — there wasn't a debate.
"But that extra effort made by someone who didn't have a blood relationship, it created a turning point in my life because it made it clear to me that this journey that we all make is not a journey that we make by ourselves — it is a journey where there is lots of support and influences that help us to get to where we are.
"I didn't want this scholarship to be made available to persons who attended private high school here in Bermuda — it is not a slight to the many worthy institutions that some of our young people attend but I wanted to bring emphasis to the need for public education to be as successful as it ought to be in this society."
Aside from having a sound academic record of achievement and a financial need, the successful recipient will need to have certain proven qualities.
Mr Butterfield explained: "We want the student to have a commitment to community service — not to do just the necessary but to do more than that.
"We are interested in young people who have a capacity for leadership. I happen to believe that one of our real deficits in our community today is that we need more leaders — people who are willing to take on the responsibility of leaders and understand the importance of leadership and are willing to make contributions in that regards."
Mr Butterfield, who has been on the Foundation since 2000 and is chairman of its human services committee, said he would play "a personal role" in encouraging students to apply by visiting all S3 and S4 public school students to both inform them about the scholarship and inspire them to excel.
Mr Butterfield said he was shocked when he heard the news of a scholarship being launched in his name, saying he read the letter three times over before passing it to his wife to "make sure I wasn't having an out-of-body experience".
Tom Conyers, a member of the BoBF board of directors, said that the foundation's education committee chose Mr Butterfield "in honour of what he has done in the business community and frankly in honour of what he has done with us at the BoBF".
Dennis Tucker, the longest serving member of the foundation and chairman of the Education and Scholarships Committee, added: "It will be offered with the other eight awards that the Bank of Bermuda Foundation offers. Those who are eligible will be encouraged to apply online where this scholarship will be listed. It is open to anyone in the public high schools.
"They must be a pupil or graduate within the past five years from one of the public high schools. The scholarship committee reserves the right, if they feel it necessary at the time, to spread it across more students but it is intended for one recipient."
Anyone interested in applying for the Bank of Bermuda Foundation Philip Butterfield Scholarship can do so by visiting http://www.bankofbermudafoundation.bm/index.php/scholarships where the details will soon be posted or by calling Kim Pratt on 278-5813.