BBC features same-sex marriage campaigners
Created: Apr 19, 2018 09:00 AM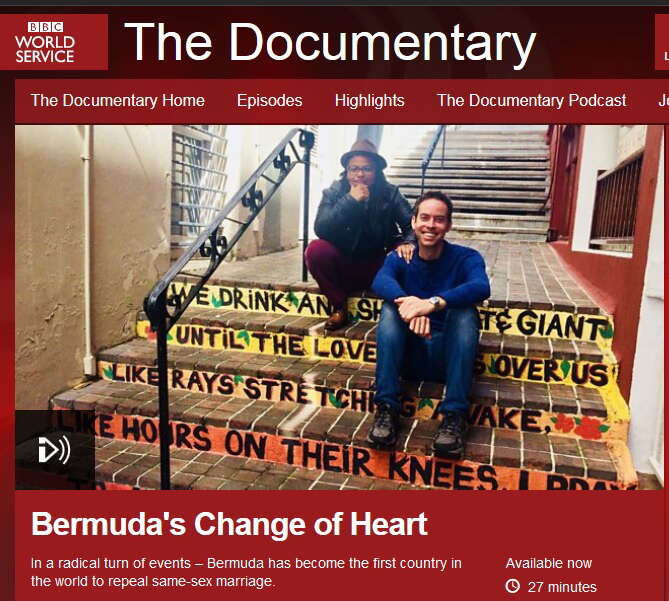 The island's fight for marriage equality has been highlighted in a BBC World Service radio programme.
Bermuda's Change of Heart, presented by spoken word artist Tiffany Paynter, explored the toll the debate surrounding same-sex marriage has taken.
Ms Paynter, a gay Bermudian, outlined the events that led to the island becoming "the only jurisdiction to repeal same-sex marriage".
She said: "In May 2017, the Supreme Court of Bermuda ruled in favour of marriage equality, which would allow basically everyone, gay or straight, the right to marry in Bermuda.
"Then a new government was elected and soon this government decided to put forward the Domestic Partnerships Act, which would strip the LGBTQ community, transgenders, queers, everyone of their right to marry."
Ms Paynter met Winston Godwin and Greg De Roche, who spoke about their decision to take legal action in the Supreme Court to get the right to marry and their lawyer Mark Pettingill, who is to make fresh legal challenge for client Roderick Ferguson.
Ms Paynter spoke to Mr Ferguson, as well as other gay activists including Linda Mienzer, Josh Correia and Adrian Hartnett-Beasley.
Bermudian Joe Gibbons and his Canadian husband Christopher Vee discussed how the controversy led to their decision to leave the island. Mr Gibbons said: "It's a very difficult decision. I was born and raised here. My family is here.
"But for us to guarantee our future relationship and how we want to live our lives, the Government, either political party are not really that interested in protecting our long-term rights."
Ms Paynter also spoke to opposition One Bermuda Alliance senator Andrew Simons.
Mr Simons said: "To listeners who are trying to understand how Bermuda one minute has marriage equality and the next minute it's been taken away, you must understand that there was no vote in Parliament explicitly granting marriage rights.
"Politicians don't like to make unpopular decisions, instead there were court cases that challenged the existing marriage laws and those court cases relied on the Human Rights Act," Mr Simons said.
"To undo that work, legislation was passed in the guise of a Domestic Partnerships Act that gave the marriage act primacy over the human rights legislation — that's how we quickly moved from equality backwards."
Ms Paynter said she was unable to get comment from government politicians or people opposed to same-sex marriage.
But Ms Paynter aired a clip from a 2016 Preserve Marriage press conference to give "them the ability to speak for themselves".
The programme is available here: www.bbc.co.uk/programmes/w3csxg1s