Joy as thousands celebrate Pride
Updated: Sep 03, 2019 09:16 AM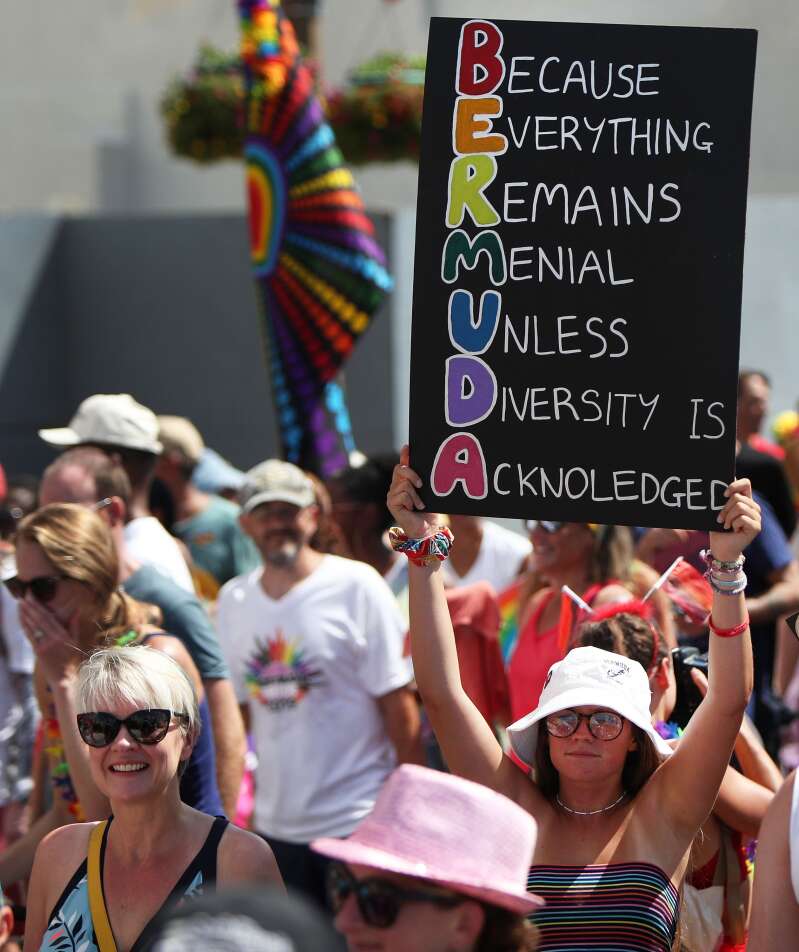 A Pride parade is to become an annual fixture after 5,000-plus people took to the streets of Hamilton in a massive show of support at the weekend.
Elizabeth Christopher, a lawyer and one of the organisers, said Saturday's celebrations went "much better than expected".
She added: "We want to send a message that we belong in civil society just as much as the next person".
Ms Christopher said: "We are going to have it as a regular event."
But she said it was possible the event could be moved to another date in the calendar rather than stick to the long Labour Day weekend, which is also a holiday in the United States.
The holiday weekend brought tourists to celebrate with island supporters in a procession that filled up Front Street from Cabinet Office to the Birdcage.
Colourful costumes and rainbow attire mingled with banners and slogans designed to back love and equality.
Ms Christopher admitted the scale of support "really hasn't hit me yet".
But she said: "There were a lot of tears shed. It brought a lot to the fore for everybody.
"I think it struck the right note for Bermuda."
The event was timed to mark the 25th anniversary of the Stubbs Bill, which decriminalised gay sex in 1994 after a bitter debate in Parliament.
Renée Webb, a former Progressive Labour Party MP and minister, said: "My journey from the Stubbs Bill [of May 1994] until the Pride parade has been a long one."
Ms Webb, who made an unsuccessful bid have sexual orientation protected by the Human Rights Act in 2006, said: "I was so glad I was able to participate in it. To see 6,000 souls take to the streets of Bermuda in support of equality warmed my heart."
She added: "One thing in life that is a constant is change. Bermuda's destiny has spoken."
The gathering in Victoria Park before the march included a moment of silence to remember others who had suffered under out-of-date laws and from prejudice.
Ms Christopher held up a portrait of Wilfred "Oopie" Ming, an openly gay man who was stabbed to death in a St George's nightclub on September 10, 1994.
She told the audience: "I just wish he could have been here with us to celebrate this. This is the kind of event that he fought and lost his life for."
Mr Ming's first cousin, Shanon Stovell, said Mr Ming was "an amazing, funny person" who was "stolen from us in a hate crime".
Ed Christopher, the Hamilton town crier and MC for the event told the audience: "For those who went before us, we see your footprints; we are going to walk in them and make them deeper."
Barbara Maguire, a Pride supporter, said she had come to celebrate "our entire community today".
Her friend Paul Minnick praised organisers.
He added: "I've felt a bit of an outcast in my own home. This is a huge stride forward."
Joanne Bawden said: "I'm very proud. It's kind of a birth — people coming together to celebrate Bermuda."
Carlita Lodge added: "Celebration in any community is important. I'm a member of the Rainbow Alliance and I've represented Bermuda at World Pride in Toronto.
"I feel so proud of my country and my people here celebrating intersectional diversity."
Kim Walton said: "There's overwhelming love and support for everybody. You hear people say they're in support of LGBTQ, but you don't physically see them.
"This is overwhelming, beautiful — it means so much."
There was only a token protest against the parade and three rainbow-painted pedestrian crossings were vandalised with paint and obscenities.
Tony Brannon, a musician who launched a petition in 2015 in an attempt to legalise same-sex marriage, said after the parade there was "no going back".
Mr Brannon thanked Commissioner of Police Stephen Corbishley, who pledged police support for the parade.
Mr Brannon said: "This was huge. It gave people confidence that the parade would be safe."