Householder rescues three kittens dumped in garden
Created: Jan 22, 2020 08:00 AM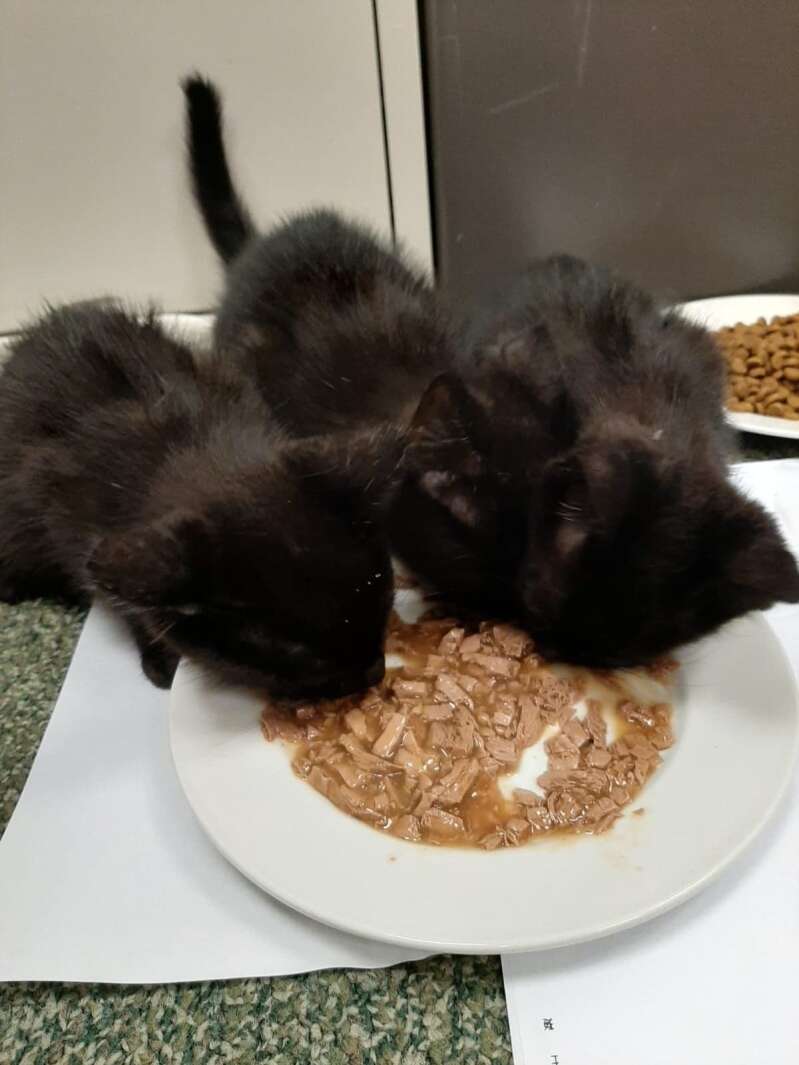 Three distressed kittens found in a grocery bag dumped in a garden were saved after a house owner heard them meowing in his yard.
Troy Hassell rescued the litter of seven-week-olds and turned them over to charity Cats Bermuda. They were placed with a temporary family while the group looks for a permanent home.
Rose Powell, the president of the cat adoption group, said that one of the kittens had been adopted soon after they were turned over.
She added: "They're very lovely little kittens and I have a list of people waiting to adopt, so they will find their forever homes very shortly."
"They're very lively and outgoing. They were literally chasing each other around my office.
"The kittens don't have any names at the moment but I suppose I could call them Larry, Curly and Mo after The Three Stooges."
Ms Powell was speaking after Mr Hassell, 55, found the kittens near his cliffside home in Southampton at the weekend.
Mr Hassell explained: "Sometime Saturday I was maintaining my yard and heard what I thought was a cat in distress.
"I followed the sound until I discovered that there wasn't one kitten but two."
The third had fallen down a 20-feet drop at the edge of his land and was found hiding in a crevice in a part-built abandoned house.
Mr Hassell said that the cats had been in a green grocery bag that had been discarded at the edge of his property, near Horseshoe Bay.
He added: "There was no way that I could just blink and let the cats suffer where they were."
He explained that it took his family two days to capture the kittens and take them to safety. They were terrified but did not appear to be injured.
He said: "I'm actually allergic to cats, but we knew that they would spend the night here and we would take them to the SPCA on Monday.
"But they were closed. Someone gave me Rose's number, we called her and she took care of everything.
"So, for the weekend, we had three kittens in our house with a dog that was wondering why she was no longer the baby of the family."
Mr Hassell said that he was stunned and appalled to know that someone could abandon the kittens.
He explained: "Typically, I'm not a cat person, but what I don't understand is why someone would discard a kitten like that, just throwing it away in a bag and leaving them to fend for themselves.
"These were only seven or eight weeks old."
Ms Hassell added: "It did turn out, from the way they cozied up to us, that they had been with people.
"So they weren't from feral cats that had kittens; these were house pets that were discarded."
Ms Powell said that the problem of dumped cats had lessened over the years but was still common.
She explained: "Some people just feel like it's the easier situation and they think that you can throw any kitten out into the wild and it's going to hunt on its own and survive.
"But these guys are so young and they're not from the wild.
"Even kittens born in the wild are normally with their mother until they're about three months old or more."
Ms Powell said that the remaining kittens were expected to be adopted by the end of the week. She added that anyone whose cat had given birth could hand over the litter to the SPCA or a vet.
Cats Bermuda was set up to shelter cats and pair them with a family to foster or adopt.