Murdered teenager remembered by Raleigh resource room
Updated: Nov 24, 2020 12:09 PM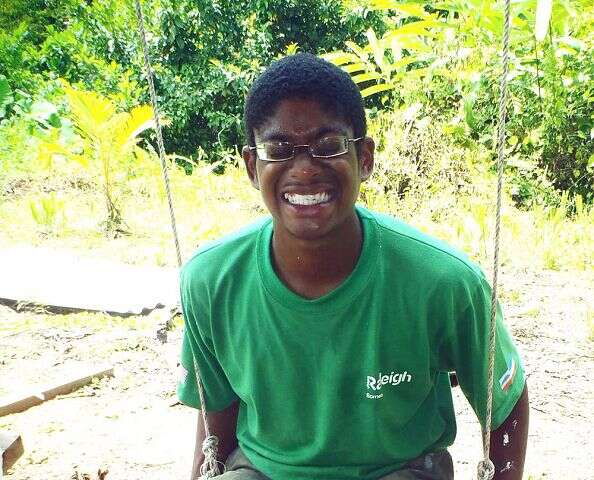 A teenager murdered almost a decade ago was honoured by a youth adventure charity yesterday with a resource centre named after him.
Raleigh Bermuda opened Malcolm's Room yesterday at its headquarters in Midsea Lane, Pembroke, in honour Malcolm Outerbridge, who was 18 when he was stabbed to death on the Railway Trail near his Warwick home in October 2011.
Kaywell Outerbridge, Malcolm's mother, who attended the ribbon-cutting ceremony, said: "He would be really excited to know that people thought enough to keep his memory alive."
The room was designed as a place where youngsters can get a reprieve from violent or difficult situations.
Ms Outerbridge, a board member of Raleigh, aid: "It lives up to his vision of trying to get people to think differently about where their path in life was going, just by them knowing that they can come to a space and occupy a space that they'll feel safe."
She added: "It's almost like, yes, he had to go in order for this to happen, unfortunately, but I think he would have felt that it didn't happen in vain.
"He'd think 'there's a space, so my legacy will live on because the room is in my name'."
Malcolm's Room also includes resources to search for jobs scholarships and will also be used for study of life coaching programmes offered by Raleigh.
Ms Outerbridge said her son had a passion for helping other young people "find their way" and that the room was a perfect tribute to him.
She added that her son had a keen interest in people and that "all he wanted to do was help others".
Ms Outerbridge said: "He didn't care who you were, where you were from – if you were in need, he was there to help."
Malcolm's Room was decorated by Raleigh alumni, pupils from CedarBridge Academy in Devonshire and the Berkeley Institute and Dellwood Middle School, both Pembroke.
Ms Outerbridge said: "What interests me is that they decorated the room with rainbow colours and Malcolm liked rainbows."
Malcolm died a month after he returned from a ten-week trip to Borneo, where he took part in community-building and conservation work with Raleigh.
Dany Pen, the executive director of Raleigh, said that Malcolm represented the group's mission to help young people find purpose and help them become "a leader in the community".
She said that the room was aimed at young people aged between 14 and 24.
Ms Pen added: "After Chewstick, there hasn't been any other alternative space for young people to access, so in essence we're launching the first safe space to be available now for young people to access.
"We're hoping that young people can see this place as an alternative safe space.
"We were supposed to launch this before Covid, but right when Covid happened everything came to a halt.
"Throughout the past year this room had been actively used but it hadn't been announced to the community.
"Young people already knew about this room and now it's being opened much more to the community as an access space."
Renee Ming, the Minister of National Security, also attended the opening ceremony.
She told Ms Outerbridge: "Out of something tragic we have managed to find something good.
"What I see here today is your son living on through not just this room but through other spaces and other people's hearts and minds.
"I pray and hope that this is used for exactly what it's supposed to be used for – a room of safety and a room of empowerment."