Patrons of three venues told to quarantine and test
Updated: Dec 08, 2020 11:13 AM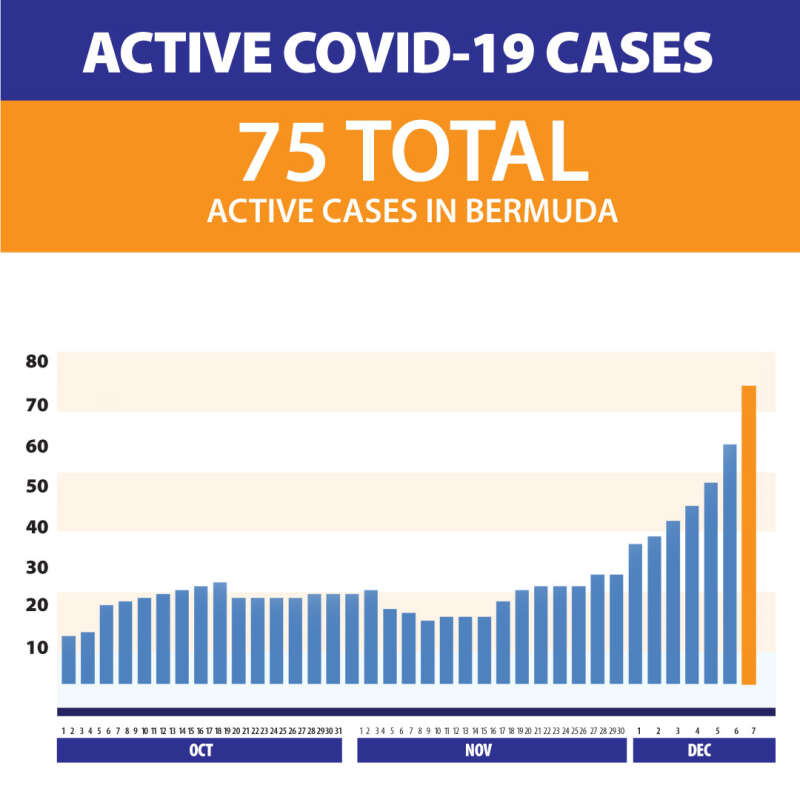 People who were at three entertainment venues at the end of last month were last night told to go into quarantine and get tested for the coronavirus.
A health ministry spokeswoman said anyone who was at Southampton Rangers Sports Club on November 27 or November 29 may have been exposed to the virus.
She added patrons of Flanagan's Outback Sports Bar in Hamilton on November 28 were also at risk, along with anyone who visited FryDay's Trampoline Park in Dockyard on the same day.
The spokeswoman said: "We are advising individuals who attended these locations on these specific days to quarantine from others outside of their household until they are advised by the Ministry of Health.
"In the case of children, their primary caregiver should also quarantine."
The spokeswoman said people linked to all three venues had tested positive for the coronavirus.
She added: "We would not normally issue this information in the public domain. However, our contact tracers have not received adequate contact tracing information from these locations.
"The Ministry of Health is issuing the advisory as the most expedient way to contact all those individuals who may have attended these events."
However, one of the venues, Fryday's, has disputed the ssertion that the Health Department did not receive adequate contact tracing information. A comment from Fryday's on this story said: "FryDays Bermuda Limited wants to categorically state that we supplied the Health Department with a list of all patrons before the official press release was sent out.
"FryDays has asked for a full public apology and retraction for damage to our reputation. So far, nothing has been sent."
The news came as the Premier signalled last night that stricter Covid-19 restrictions were in the pipeline after the biggest number of active coronavirus cases recorded in one day was logged.
The number of active cases shot up to 75 yesterday after 18 people tested positive for the virus over the weekend.
The previous one day record for active cases was 65 on April 25.
David Burt introduced some safety restrictions last Sunday after a spike in cases.
But last night he suggested that further action was needed after he became "concerned" about the latest increases.
Mr Burt said: "In the coming days, I expect the number of confirmed cases to increase, such is the scale of this outbreak linked to a few super-spreading events."
He added he would "be outlining further steps the Government is taking and also how affected persons and businesses can apply for assistance" at today's press conference.
Mr Burt said: "Some of the measures that may be imposed are preventative in nature and while they may not be immediately related to current clusters, they will be designed to protect the most vulnerable of our citizens and to likewise minimise the risk of further spread."
He added that the Royal Bermuda Regiment will be drafted in to help health officials with tests.
Mr Burt said: "Bermuda has the testing capacity that far exceeds other countries on a per capita basis.
"The fact that we are catching so many cases is unfortunate, but I am grateful to our teams who have built out our testing infrastructure to enable us to test and isolate cases so they do not infect others."
Bermuda has now logged 306 confirmed coronavirus cases since the pandemic hit the island in March.
A total of 73 of the latest cases are under being monitored by public health officials and two are in hospital – one in critical care.
The seven-day average of real-time reproduction has jumped from 1.08 to 1.12 and Bermuda's country status of "clusters of cases" is now under review.
The number of active cases has mushroomed in the last week.
The figure remained in the mid-20s in November, with just a handful of new cases recorded each day.
But the figures started to creep up and the number stood at 29 around the end of last month.
Kim Wilson, the health minister, said at the time that a shelter in place order was "extremely unlikely'"
But there were more than 40 cases recorded in the first week of this month and new cases a day hit double figures since the weekend.
The number of new cases has risen because of on-island transmission rather than cases coming in from overseas.
A total of 13 of yesterday's 18 coronavirus cases were said to be the result of on-island transmissions.
The other five are still under investigation, but they are all thought to be residents with no recent travel history.
The latest figures were released after a number of schools and businesses announced they were to close because of exposure to the virus.
Saltus Grammar senior school became the latest school casualty of the virus yesterday afternoon after a student tested positive.
All pupils from Year 10 to Graduate Year Two were sent home for contact tracing and other safety measures to be implemented.
A school spokesman said staff were confident that exposure had been limited.
He added: "The affected classrooms are closed and will undergo additional cleaning."
The department of health is expected to carry out a risk assessment at the school and further steps may include quarantine or testing for staff and pupils.
CedarBridge Academy closed its doors on Sunday after someone linked to the school tested positive.
Pupils were ordered to stay at home until a risk assessment was carried out and the school was given the all-clear.
Pupils at Clearwater Middle School, St David's, and Dellwood Middle School in Pembroke are under a 14-day quarantine order after both schools closed last week.
Two hotel spas have also closed down on a temporary basis after a staff member who worked at both sites tested positive last Friday.
The Three Graces Day Spa at The Loren Hotel closed last Sunday and the Newstead branch of the company closed yesterday.
It is understood that both spas will remain closed until all staff have been tested for the virus.
Kim Wilson, the health minister, last night appealed to the public to co-operate with health officials over close contacts in the wake of yesterday's results.
She said: "We need this to be able to trace the potential spread of the virus and potentially save lives.'
Anyone who attended any of the three venues on the relevant dates should contact the Covid-19 hotline on 444-2498 to arrange for a test.