Senator: Stop using December 2 for 'political point scoring'
Created: Dec 17, 2020 08:00 AM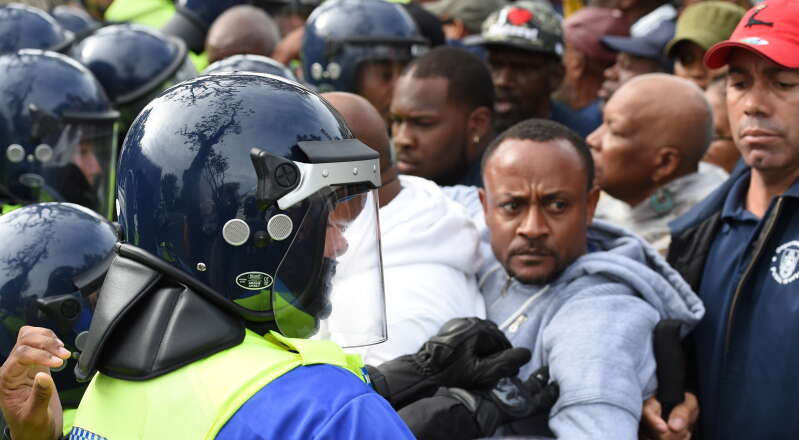 An Opposition senator has accused the Progressive Labour Party of turning the 2016 airport protests into a political football, using the suffering of protesters for point-scoring.
Marcus Jones of the One Bermuda Alliance said yesterday he did not want to diminish the suffering of protesters who were pepper-sprayed by police during the demonstration – but said some politicians were intent on putting a "negative spin" on events for political gain.
Protesters blocked the entrance to the House of Assembly on December 2, 2016, preventing MPs from debating the issue of the airport lease to a Canadian company.
A number of politicians have clashed on the issue in recent weeks following the fourth anniversary of the protest and the official opening of the airport last week.
Speaking during the Motion to Adjourn in the Senate yesterday, the Opposition Senate Leader said the new airport's completion should have brought all Bermudians together in celebration.
"One cannot deny that this particular edifice is nothing less than remarkable – all Bermudians should be proud of this particular building," he said. "It's getting rave reviews from locals.
"Unfortunately it's a project that came under a fair amount of contention and conflict. We cannot diminish or devalue the experiences of those in our community who were victims of this event. We do not dim their pain and suffering.
"But what I find sad and incredibly unfortunate is that there are some within our community that will use the trauma that some in our community had to endure as a means of political expediency.
"It's a sad day when we cannot come together and bring about healing as opposed to using it as leverage to make political points.
"When we use our people as leverage to get a political point, I think that is shameful."
Mr Jones was appointed to a Parliamentary joint select committee set up to examine the events of that day.
He claimed that many of the views and findings of the committee were watered down in a spirit of unity.
He said: "There was a fair amount of horse trading that went on behind the scenes to make sure that we came to an agreement on a report that we could live with."
He added that there were a number of decisions made by various groups and individuals – including both political parties, the People's Campaign movement, the then-deputy Governor, and the then-Speaker of the House – that culminated in some protesters being pepper-sprayed.
"There are many contributors to the bad decision making," he said. "My heart goes out to those who were traumatised by that pepper spray. Now is the time to use forgiveness."