New year wedding bells in Covid-19 safe car park service
Updated: Jan 02, 2021 08:29 AM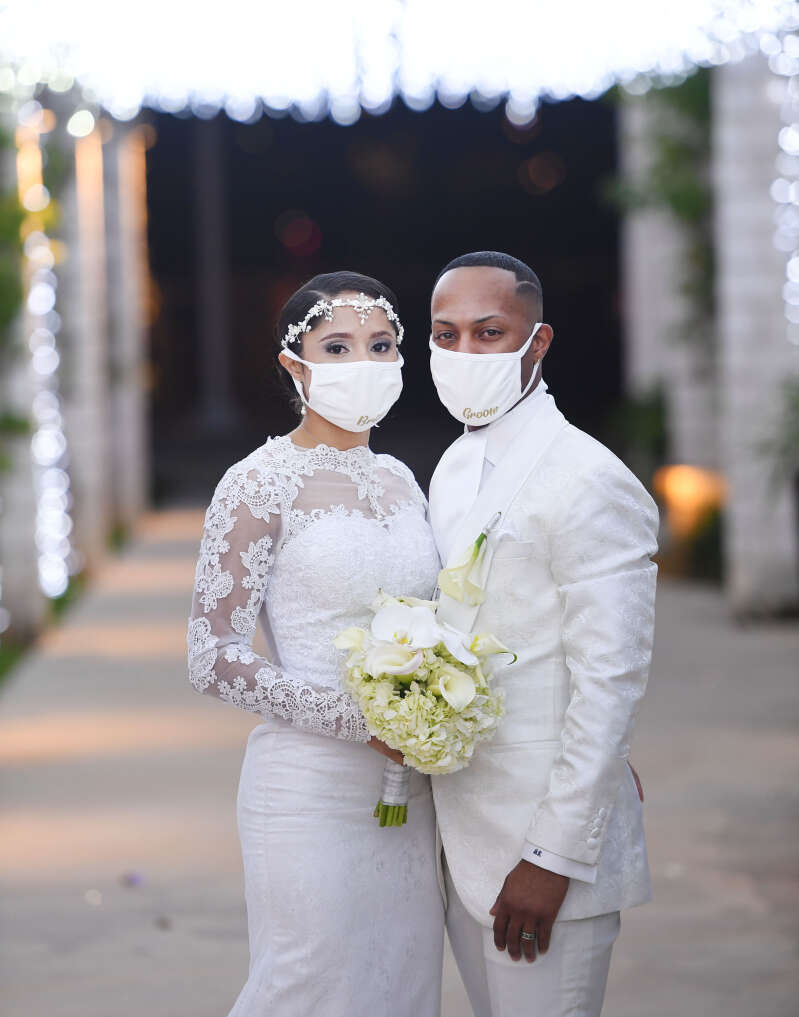 A New Year's Eve wedding swapped the traditional trappings of a church for a drive-in service on the third floor of a multi-storey car park.
Alfred and Keesha Roberts said yesterday they were determined to tie the knot surrounded by family and friends - despite tougher Covid-19 restrictions that limited gatherings to ten people.
So they hit on the idea of holding the wedding in the Bull's Head car park in Pembroke, with guests, who turned up in about 20 cars, remaining inside their vehicles for the service.
Mr Roberts, a 34-year-old business manager, said: "We realised we had to come up with a creative way to make this happen with all the restrictions – we had a wedding party that was larger that the gathering limit and we wanted our loved ones to be there.
"I had a dream and said: 'Let's have a drive-in ceremony'."
He added: "The date had significance to us – we were leaving a crazy year and starting a new year fresh and starting our new lives together."
Mrs Roberts said: "Our wedding party walked down the aisle socially distant and everyone who was invited to the ceremony stayed in their cars so they were in their own social bubbles.
"All the cars lined up to form the aisle for us, and we laid down carpet and drapes with flowers to make it look beautiful.
"Obviously, we couldn't hear people clapping like they usually do at weddings but everyone honked their horns instead."
She added: "It was a beautiful day, and we were happy we were able to follow the guidelines. It has been bliss."
The couple later celebrated the start of their life together at the Hamilton Princess & Beach Club — minus guests to keep in line with coronavirus restrictions.
Mrs Roberts, a 24-year-old medical assistant, said the couple started to date in 2018 after they met through work.
She added: "We technically met when he hired me — he was my boss for a while.
"He left that job, but at his new job they needed a medical assistant, so I applied and now we still work at the same place and he's my boss again."
The couple got engaged earlier this year and decided that New Year's Eve was the perfect date for the ceremony.
Mrs Roberts said: "The plan was always to get married on New Year's Eve, then it would carry on to New Year's Day with a late after party."
Mr Roberts added: "We were allowed gatherings of up to 75 people when we started planning.
"We had planned the event to be a ceremony and then a reception for 100 people — we applied for the exemption for 100 people — but, unfortunately, that's when Covid-19 started hitting hard and the restrictions changed.
"They dropped gathering sizes to 20 people, and then it dropped to ten."
He said that despite the problems, they agreed to push ahead with the Hogmanay ceremony — although Covid-19 regulations forced them to get creative.
Mr Roberts added: "It feels like something has been added to me and now we can build a life and move forward after a year that was horrific for everyone across the board."