Ted Ming (1937-2021): 'Bermuda has lost an icon'
Updated: Sep 14, 2021 11:56 AM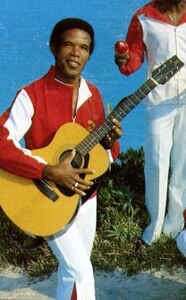 A band leader dubbed "Mr Entertainment" for his ability to enthral audiences was hailed as an ambassador for the island.
Ted Ming was a founder of the Bermuda Strollers, a group with sufficient international prestige to be bankrolled by the Department of Tourism.
Mr Ming, a guitarist and singer, led the band for an astonishing 50 years.
Tourism officials found the band were an ideal advertisement for the island and paid for the Strollers to play along the US East Coast from the 1960s to 1980s.
Dexter Dillas, a drummer with the Strollers, said Mr Ming was "an exceptional entertainer on the stage".
"He was a natural. When he stepped on that stage, he could grip a crowd. He could light up a stage like nobody else."
Mr Dillas added: "Bermuda has lost an icon."
He said unforgettable moments included the city of Boston proclaiming "Bermuda Strollers Day" and a concert in Washington DC where the group played for 100,000 people.
Rudy Ford, another member of the band, said Mr Ming was "a nice fellow to work with, a people person who did a great job for Bermuda".
"Ted played his part. I hope Bermuda appreciates us – we were ambassadors."
Dale Butler, a historian and a former government minister, said: "During their distinguished career in music, they cemented their music into the hearts of tourists and world leaders who heard them play.
"They were one of the most sought-after bands in Bermuda and did a great deal to raise Bermuda's profile.
"There should be a stamp to thank them and a street named in their honour."
Mr Ming and his friend John Johnson created the band in 1955.
The two started performing to entertain tourists at their job in the Elbow Beach Cycle Store.
The band caught on as Bermuda's tourism and entertainment scene hit new heights and they played at hotels and nightclubs such as the Forty Thieves Club in Hamilton.
Mr Ming in 1994 remembered the early days and talked about the closure of the Bermudiana Hotel in Hamilton.
He told The Royal Gazette: "John Johnson and I were 14 or 15 when we started out.
"I played guitar, and John played congos and maracas. We played three evenings a week for cocktails.
"We used to stroll among the guests, and that's how we got the name the Strollers."
The band grew quickly and proved a hit with the spring break crowds over college weeks.
The Bermuda Strollers were regulars at the Jerry Lewis Telethon, a major broadcast event that ran for decades on the Labour Day holiday weekend.
The band's calypso-tinged sound was also enjoyed by US Presidents John F Kennedy and Richard Nixon.
Even as mass tourism declined and US students headed for cheaper destinations such as Cancun in Mexico, the Strollers continued as an advertisement for Bermuda and toured the US into the 2000s.
Shows included a mid-1990s concert at Central Park for the New York Marathon in front of an audience of 300,000.
• Thaddeus Ted Rudolph Ming, musician and founder of the Bermuda Strollers, was born on December 27, 1937. He died in September 8, 2021, aged 83.