Businessman and powerboat racer dies
Created: Sep 27, 2021 07:57 AM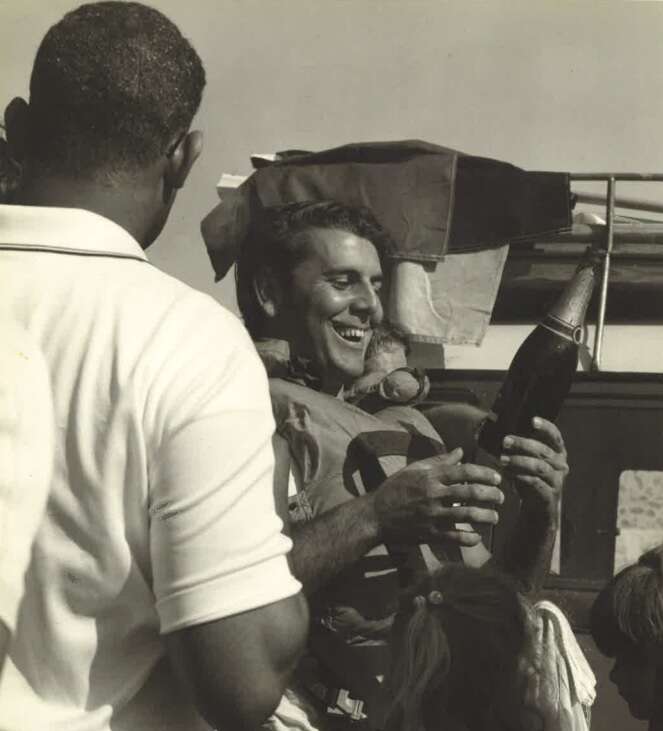 A successful businessman who founded his first company six years after he was kicked out of school was a man who liked "showing the world what was possible".
However, Mike Marshall, whose string of businesses helped build the island over decades, placed no importance on personal wealth but enjoyed accomplishment, his sons Alex and Craig said.
The two added that Mr Marshall, whose funeral was held last week, was driven by an urge to be in charge of his own affairs.
The entrepreneur started at least a dozen companies. He was a record-setting founding member of the Bermuda Power Boat Association, started his own shipping business and helped pave the runway for Bermuda's airport in the 1970s.
He was a third-generation Bermudian with roots in the Azores – his father, John, became the head of immigration for Bermuda's Portuguese community.
Mr Marshall attended Warwick Academy until he was 15, when he left to become a junior salesman at the E.R. Aubrey jewellery firm.
He saved his earnings and set off at 18 for the US to work in a jewellery store in Maine – followed by a stint selling cars.
His son, Craig, told The Royal Gazette: "He was told in school he would amount to nothing, and his response was just ‵OK, cool'.
"In 1962, at 21, he came back to Bermuda with a handful of pounds and started the island's first commercial cleaning company, Marshall's Maintenance."
The company is still in business almost 60 years later.
Mr Marshall told the Mid-Ocean News, where he was profiled as a successful business maverick in 1968: "I have done well and it's only through the help of others."
He said he had nothing but "a bundle of ideas and a bit of drive".
Mr Marshall added: "Sometimes it's a gamble, but if you never try, you never win."
He founded Marshall's Asphalt, later East End Asphalt, in the mid-1960s.
His son, Alex, said: "That almost ended up in disaster.
"The plant was dynamited by a rival – twice.
"In 1967, it got blown up before it was insured."
But Mr Marshall shrugged off the attack, rebuilt the plant and insured it.
It was targeted a second time that year, on Christmas Eve.
Mr Marshall, according to family lore, had words with the individual he believed was responsible, and the problems stopped.
His import business grew to include bringing in cleaning chemicals as well as concrete products, which helped fuel Bermuda's construction boom.
Mr Marshall also bought the Bermuda Stone Company from businessman Colin Horsefield.
His passion outside business was racing boats, in Bermuda and overseas.
Mr Marshall set a record in 1967 in a twin-engine speedboat.
His memorial said: "As he got older, he decided bigger boats were needed, and he upgraded to buying four container ships.
"At one point the ships were a lifeline supplying Bermuda when a major dock strike crippled the island."
Mr Marshall became the island agent for Glastron Boats, one of the first fibreglass speedboats – one of which featured in a famous chase scene in the 1973 James Bond film Live and Let Die.
Mr Marshall not only bought the speedboat from the film, but had it placed on the roof of the Rosebank Theatre in Bermudiana Road in Hamilton for the movie's Bermuda premiere.
Craig Marshall said: "He sold quite a lot of those boats on the island."
Among Mr Marshall's property coups was the purchase of a large property north of Dundonald Street on what was called Parker Hill, some of which he excavated for a concrete plant.
He sold off other parcels of the land at a profit.
He owned several Hamilton properties and in his early thirties ran unsuccessfully for a seat on the Corporation of Hamilton.
His shipping business, Caicos Cargo Ltd, based in the Turks and Caicos Islands, imported old Bermuda cars and many got a new lease of life as taxis.
Mr Marshall also brought in 750,000 tons of aggregate used to pave the airport runway in the 1970s.
He pitched in for the purchase of an aircraft in the 1980s and started Bermuda Executive Airways, which offered an air ambulance service.
Mr Marshall was twice married, to Bridget and then to Christine, who his family said was "at his side until the end".
His sons said he was determined to be his own boss and saw his business success as a way of serving the island.
Alex recalled: "He was humble, a salt of the earth guy.
"One of the last times I saw him, I told him I was proud of him – and he asked me, 'what for?' "
Craig added: "I will continue his legacy.
"But I feel like a child in his shoes."
• John Michael Marshall, whose businesses spanned cleaning, shipping and construction, was born on November 2, 1939. He died on September 16, 2021, aged 81.