Tommy Dickinson (1937-2021): ʽA gem of a gentleman'
Updated: Nov 22, 2021 09:34 AM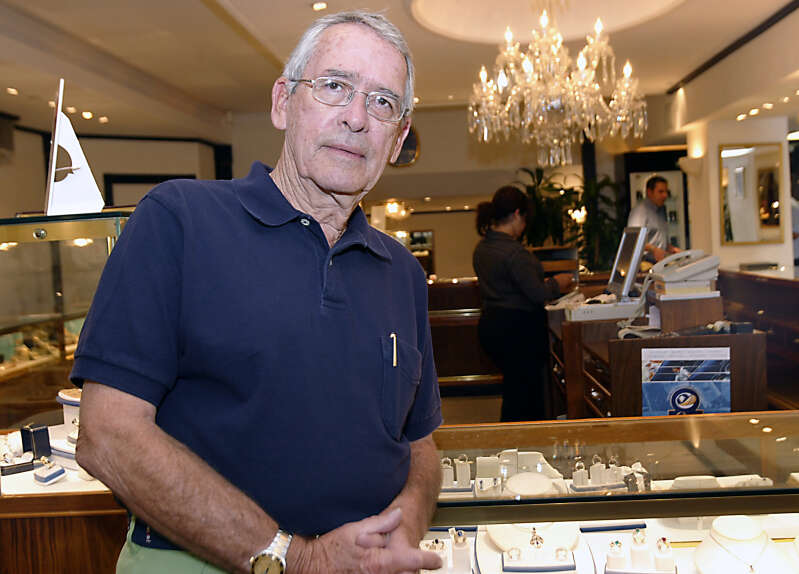 A respected businessman, sailor and former City of Hamilton alderman was "a leader wherever he found himself".
Tommy Dickinson, a former head of the Bermuda Chamber of Commerce, was somebody who "always picked up the torch when he was pushed forward to represent", according to his wife, Elaine.
He was widely known for years as president and managing director of Astwood Dickinson jewellers, but was "much more than a businessman", and had a passion for sailing.
"He loved sailing; he lived for it," Mrs Dickinson said.
"He loved the adventure and camaraderie, the friends and people he brought on trips. We were a very close group."
She added: "He was a gem of a gentleman.
"Sharing our life together was a gift I will be for ever grateful for.
"Never a day went by when his warm and loving spirit didn't shine through."
Charles Gosling, the Mayor of Hamilton, offered condolences on Friday for the longstanding Corporation of Hamilton member.
Mr Gosling added: "He was a tremendous asset to the City and helped to see various city projects through to completion."
The city flag will fly at half-mast for his private funeral tomorrow.
A keen transatlantic and Caribbean sailor, Mr Dickinson took part in the Marion-Bermuda yacht race from its inception in 1977 until his last run in 1989.
He was a navigator, later in charge of trophies, and served as one of the race's dedicated Bermudian trustees, becoming an emeritus.
He raced in the Bermuda Offshore Cruising Association, served as rear commodore in the Royal Hamilton Amateur Dinghy Club, and was once a record-holding president of the Bermuda Anglers Club.
Mrs Dickinson admitted she was "always on edge" until her husband returned to shore.
She recalled he once used a radio set to tune into a local station to point the boat back to Bermuda after they lost navigation.
The father of four quit competitive sailing in his boat Distant Drum in the 1990s to spend more time with family.
Mr Dickinson ended up in the family business of jewellery straight out of school.
His father, Reuben, had cofounded Astwood Dickinson in 1904.
The senior Dickinson, an optometrist, partnered with the Astwoods before selling off the optician's business and going into jewellery.
Thomas Dickinson attended Saltus, followed by Eaglebrook in Massachusetts and what is now the Loomis Chaffee School in Connecticut, excelling at sports and making lifelong friendships with his teachers.
Ms Dickinson said her husband had not planned on jewellery as a vocation, but ended up getting trained in all aspects of the business in Switzerland after finishing school.
It was a tremendous success, elevating Mr Dickinson in Bermuda's retail community as well as Hamilton affairs.
His tenure on the Corporation of Hamilton lasted until 2000.
But Mrs Dickinson said despite some political overtures, he was "not a politician – and said he never would be".
Mr Dickinson was known for giving candid assessments of the island's economic direction and its tourism industry.
The company branched out in 1995, forging a partnership with Bahamian-based Colombian Emeralds International that lasted seven years.
In late 2004, as Mr Dickinson sold his two Front Street jewellery stores to AS Coopers, he told The Royal Gazette the island's "horrendous" cost of labour and import duties had badly undercut retail.
Then aged 67, Mr Dickinson added: "If I were younger and had the stamina, I would probably enjoy digging in again and working.
"But for me, I'm quite happy with the arrangement now."
Mr Dickinson served on various boards, from immigration to the Bank of Butterfield.
He was also a chairman of the Lady Cubitt Compassionate Association charity.
Mrs Dickinson said: "He was a devoted husband and loving father, very supportive, and a very generous person.
"He was genuine, honest and fun loving."
Along with his wife, Mr Dickinson is survived by their four children: Robert, Stephanie, Samantha and Daniel.
• Thomas John Dickinson, a former president of the Bermuda Chamber of Commerce and of Astwood Dickinson jewellery stores, was born on November 4, 1937. He died on November 15, 2021, aged 84.