Ian James Farrow (1936-2022): Non-Mariner's Race founder was 'character' and snappy dresser
Created: May 17, 2022 07:47 AM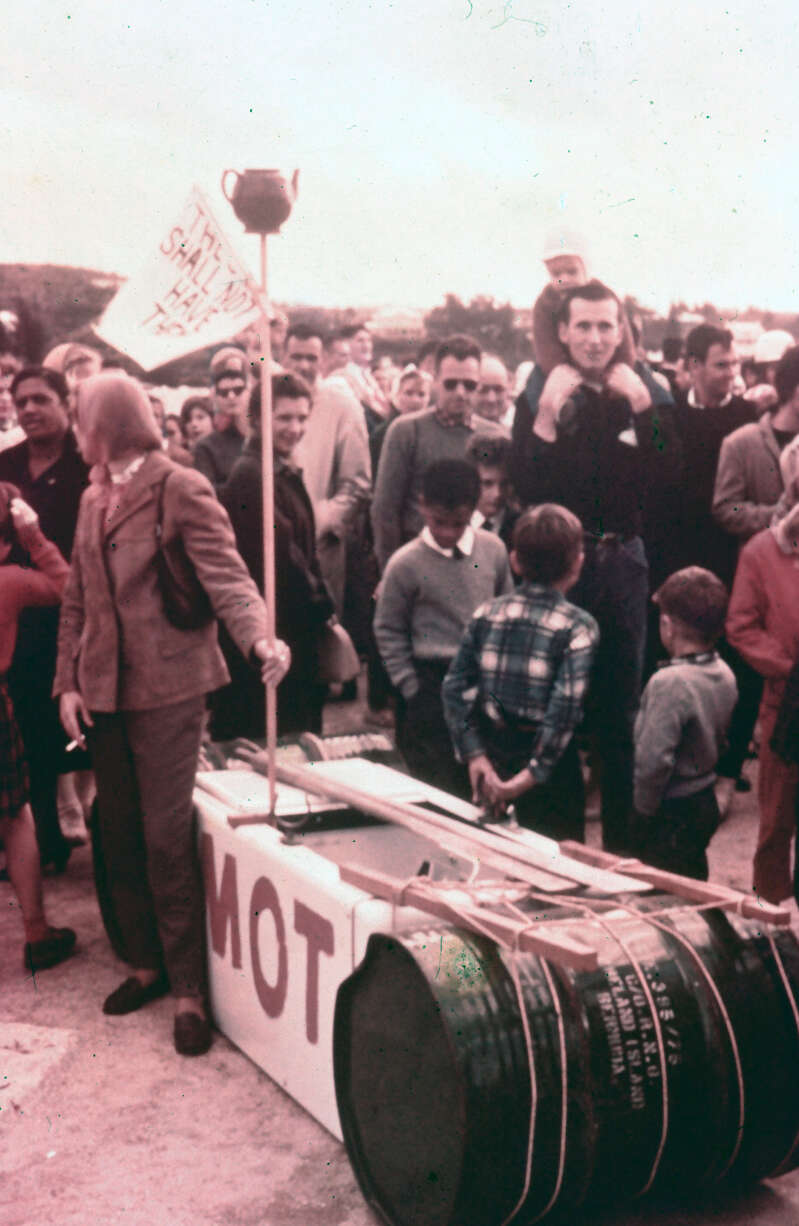 One of the originators of an offbeat annual tradition dating back the 1950s was a fun-loving mariner known for his personable nature.
Ian Farrow was a founder of the Non-Mariner's Race – an irreverent take on Bermuda's yachting tradition in which participants made a point of racing boats more likely to sink than win.
The yearly fiasco on the water, held at Mangrove Bay in Sandys in recent decades, stopped in 2018.
That occasion marked some 60 years after Mr Farrow, inspired by his friends, first took to the water for the non-race that originally went through Hamilton Harbour.
Mr Farrow, who got the nickname "Chappy" for his formal dress style, was also dubbed "the Sinbad of Bermuda" by the late MP Harry Viera, in a nod to his maritime adventures.
While the father of two enjoyed fishing and sailing his Sunfish, Mr Farrow and his friends hatched the idea for what became the Non-Mariner's Race as "a lark" in the late 1950s, his son Jonathan said.
"He was a character, no doubt about it," Jonathan Farrow added.
"My dad and his buddies were sitting around talking and decided they would have this race making their own boats.
"The next morning, my dad gets up and takes my old pram carriage down to Albuoy's Point, and he takes it out on to the water.
"Obviously, it sank. The others were surprised he even showed up. They went from there."
The brothers Eric and Anthony Amos were among the instigators of the Non-Mariner's Race, which grew into a midsummer tradition.
Anthony Amos later recalled the first trial run of the Non-Mariner's Race happening in 1960.
He told The Royal Gazette in 2012 that Mr Farrow on that occasion "jumped in the Sound one chilly January day astride a cello case".
"He and the case sunk rapidly – the perfect non-mariner's craft."
Originally from Liverpool, Mr Farrow came to Bermuda on a whim.
His aunt had been stationed on the island during the Second World War when the British placed a team of women to Bermuda - known as censorettes - to sift through mail and parcels in search of war secrets and suspicious communications.
Mr Farrow, who was starting out in the insurance business, remembered his aunt's postcards of Bermuda when he spotted work opportunities on the island.
"He was a newlywed looking for a job and remembered Bermuda being a beautiful place," Jonathan Farrow said.
"He came out here to help start up Colonial Insurance."
Mr Farrow and his late wife, Pat, had two sons in Bermuda: Jonathan and Christopher.
From its rocky start, the Non-Mariner's Race proved a hit, with a chamber pot functioning as an improvised prize.
Early entries included fridges and beds.
The event moved to the East End before settling at Mangrove Bay in 1972 – where the Sandys Boat Club ended up with the tongue-in-cheek "rules" for conducting it.
Mr Farrow was recalled as affable by all who knew him, his son said – and a diehard Liverpool football fan.
"The response has been phenomenal," he said. "Dad wore a jacket and tie and Bermuda shorts, and always had time to chat and joke with people.
"People always called him a gentleman."
· Ian James Farrow, a founder of the Non-Mariner's Race, was born on April 20, 1936. He died on May 9, 2022, aged 86.