Roland Mesnier (1944-2022): pastry chef who dazzled Bermudians ‒ and presidents
Created: Aug 30, 2022 07:54 AM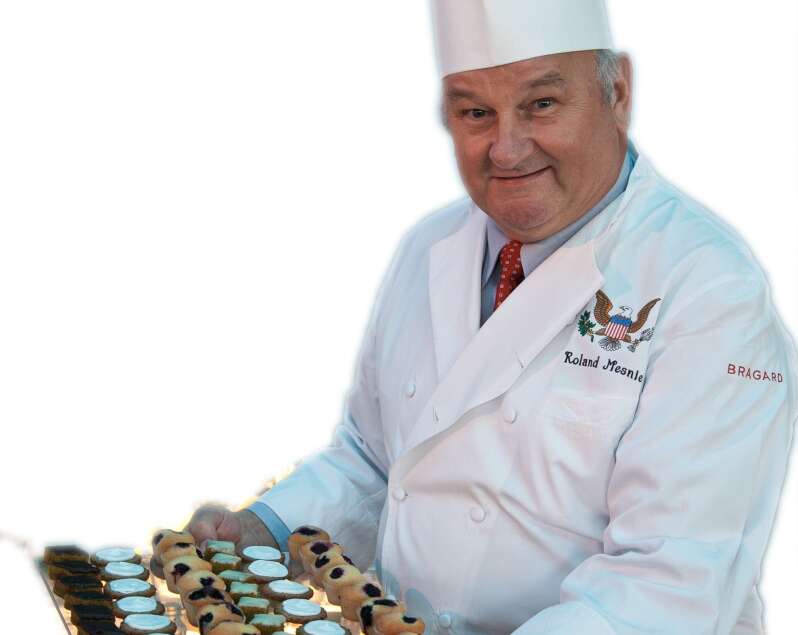 A pastry chef who dazzled Bermuda guests with his creations went on to a career at the White House spanning the terms of five American presidents.
Roland Mesnier worked at the Hamilton Princess Hotel in the 1960s, and was among staff who opened the Southampton Princess in 1972.
He served as the White House executive pastry chef from 1979 under Jimmy Carter, until 2004, under George W. Bush.
Bermuda held fond associations for Mr Mesnier, originally from the village of Bonnay in France.
He met his wife, Martha Whiteford, an American schoolteacher, after coming here in 1967.
They married two years later and had one son, George, in 1971.
He told The Royal Gazette in a 2012 interview: "I met my wife at Horseshoe Bay and got married in Bermuda and my first son was born in the Bermuda hospital.
"So Bermuda is a second home for us."
Mr Mesnier was working at the Savoy Hotel in London when he got recruited as head pastry chef at the Hamilton Princess by then executive chef, the late Eddie Gurret.
Mr Gurret's daughter, Nicky, said Mr Mesnier, who became a close family friend, joined the hotel during its "heyday".
"It was cracking — they were serving 1,000, three servings, à la carte, a night," she said.
"They worked together like they were in an orchestra."
Apprenticed at 14 in Besançon, a city near his village in the east of France, Mr Mesnier trained in Paris and what was then West Germany.
He honed his pastry work in German kitchens, learning to create striking works using marzipan and pulled sugar that would delight Bermuda diners.
Mr Mesnier, who admitted he had "no idea where I was going" when he came to Bermuda, said he told friends back in Europe that he had discovered paradise.
"It was really a big eye-opener," he recalled.
"The Princess was a wonderful property, a wonderful hotel. Business was extremely good in Bermuda, it was at peak, the best ever and the Princess hotel had groups of workers, chefs and others all coming from different European countries from around the world."
Chef Bernard Stemphlet, who works now at the kitchen shop International Imports in Hamilton, hails originally from a village not far from Mr Mesnier's.
Mr Stemphlet and his brother, Gerard, ended up getting hired by Mr Mesnier as word spread of his work in Bermuda.
Mr Stemphlet came to work at the Hamilton Princess and moved with Mr Mesnier to the Southampton Princess when it opened 50 years ago this month.
Mr Stemphlet said the older man became a mentor.
"Working with him at 19, it was almost like another apprenticeship," he said. "He was very strict, but always nice to me."
He said Mr Mesnier brought an exacting skill to the job.
When the two chefs worked together to host the opening night of the Bacardi Building on Pitts Bay Road, Mr Mesnier build a replica of the building from sugar.
His displays at festive times such as Easter and Christmas proved a hit with the hotel's guests.
Mr Mesnier went on to work in high-end cuisine in the US, leaving the island in 1976 for the Homestead resort in Hot Springs, Virginia.
In 1979 he got hired as White House pastry chef by First Lady Rosalynn Carter.
He remembered First Lady Nancy Reagan as a stickler who "pushed me to be who I became".
Ms Gurret recalled going to stay with the Mesniers as a girl, getting shown around the White House kitchens — and catching a glimpse of Ronald Reagan disembarking his helicopter.
She said Mr Mesnier was "a true raconteur".
"He had a lovely way of telling stories, very entertaining, and he had a beautiful accent — people loved him," she said.
"He was captivating to listen to, very warm and friendly."
Later, as president of the Alliance Française of Bermuda, Ms Gurret brought her longtime family friend back to the island to demonstrate his work.
Mr Mesnier was also an author. His books include White House Desserts and All the Presidents' Pastries.
During a visit to the island ten years ago, Mr Mesnier said he was as surprised by his success as anyone.
"I never imagined I would accomplish what I have," he said.
"I could see me staying in that small town of France and just working in a bakery or something, but again it shows you very well you never know where life will take you."
• Roland Mesnier, top pastry chef for the Princess resorts in Bermuda before putting in 25 years in the White House kitchens, was born on July 8, 1944. He died on August 26, 2022, aged 78.