I am from Bermuda
Created: Oct 21, 2021 08:01 AM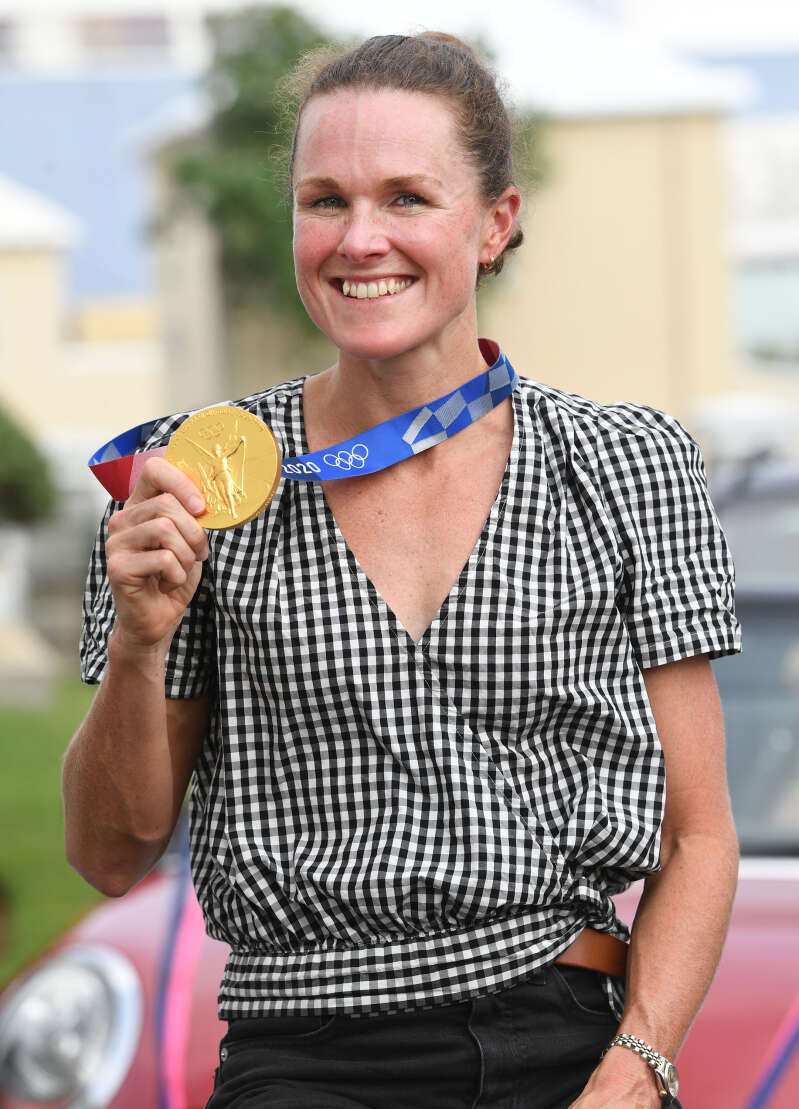 The following is Flora Duffy's speech delivered on Flora Duffy Day, October 18, 2021, when the National Stadium and Corkscrew Hill were renamed in her honour:
I am from Bermuda, where the beaches hint of pink, the street signs are all characterful, and the locals enjoy fish on raisin bread. Where homes are painted in proud pastels and scooters drive like I race my bike — impatiently — but yet double honk playful greetings back and forth like two kiskadees on a summer's morning. Where flotillas of boats link up to party on May 24 and Gombey drum down the streets in glorious colours.
I am from Bermuda, where Mr C (Port Royal Primary School teacher Troy Custodio) made it fun for us to run a session during our break time, where a gaggle of enthusiastic kids would gather on a Saturday for TriHedz practice — they still do 20 years later!? Thank you, Neil [de Ste Croix]. And where Steve Burgess mapped out an 800 metres lap in the Botanical Gardens that we repeated more times than I can recall.
I am from Bermuda, where sporting legends like Clarence Hill, Clyde Best, (Clarance) "Nicky" Saunders, Shaun Goater and Tyler Butterfield broke ground and paved the way for me. Where Nahki Wells first played a game, as I first ran a Front Street Mile.
I am from Bermuda where in 2018, streets got packed like a Cup Match oval, but for a women's triathlon!? Overflowing sidewalks, packed balconies. It was electrifying. And I gave that crowd, my crowd, everything I had, and they did likewise. I never knew I could be so proud.
I am from Bermuda, where a small federation with limited resources allowed my team to take advantage of that, to turn being from a small island into a strength. To the Bermuda Olympic Association — Judy (Simons), Brenda (Dale) and Branwen (Smith-King) — thank you.
I am from Bermuda, where at 6.30pm on Monday, July 26, 2021, the streets fell silent — because an entire nation believed I could do it. And where roughly two hours later, pots banged, pubs erupted and air horns echoed into the night.
I am from Bermuda, where Mr Fotogenik was "coming in hot" and did the best Olympic voiceover I've ever heard. And where Snoop Dogg found humour in saying The Triangle and the triathlon are cousins. Maybe they are!
I am from Bermuda, where streets were lined to celebrate and welcome me home. Bermudians danced, cheered and shouted all sorts of remarks, of which my outright favourite was: "Thanks for the holiday!" Who even knew there were so many Bermuda flags in existence?
I am from Bermuda, where Mayor [Charles] Gosling handed me the keys to City, which I am now trying to keep from my two brothers, who would like to take that key out for a night of drinking!
I am from Bermuda, where my government did not hold back on celebrating this moment. But went all in. For that, Premier [David] Burt, Minister [Ernest] Peets, Director [Norbert] Simons and Director [Kim] Dismont-Robinson, I am most thankful to you and everyone on your team.
I am from Bermuda, where little girls will drive down a twisty hill, while hearing their mom say: "This is Flora Duffy Hill." And that will mean something. And I hope that little girl will look out the window at that wooden street sign and dream big.
I am from Bermuda.
Thank you.
• Flora Duffy is the Olympic triathlon champion, three-times defending world champion, defending Commonwealth champion, five-times Xterra world champion and two-times Cross Triathlon world champion. And she is from Bermuda