Bermuda should be leading the charge on Eurocentric blacklists
Created: Apr 27, 2022 07:50 AM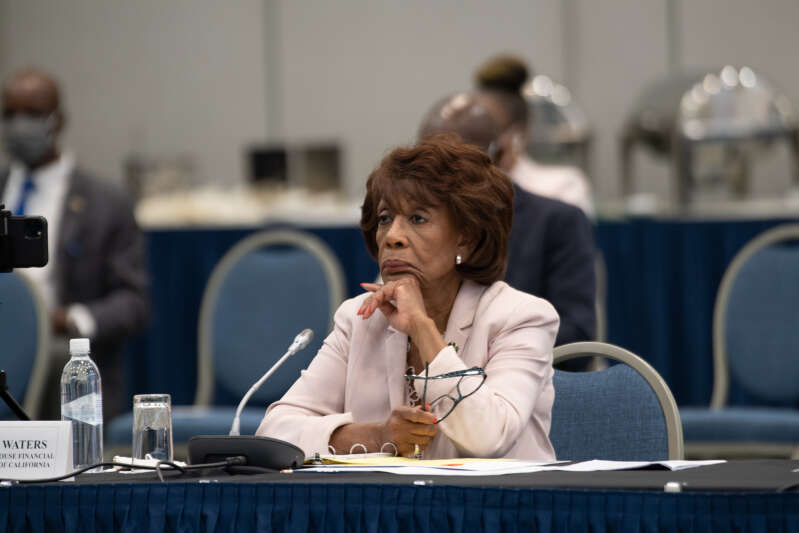 David Burt, The Premier and Minister of Finance, has recently returned from meetings in Barbados regarding the lack of banking services for proceeds of gaming, fintech companies and blacklisting, and how the status quo is inhibiting the economic prospects for island economies in the region.
Presiding over these meetings was the Prime Minister of Barbados, Mia Mottley, who has established herself as the voice and face of island nations on the global stage. Representative Maxine Waters, chairwoman of the US Congressional Financial Services Committee, was in attendance.
My Caribbean roots are strong. But we must not muddle the cultural, family and historic ties we have with our cousins in the Caribbean with our strategic economic interests. Our government must be clear eyed on matters of business relationships with the global economy. The question begs, how useful was this meeting in terms of the national economic interests of Bermuda?
No one can doubt that the banking community here in Bermuda, along with their vital network of overseas correspondent banks, has not always operated in Bermuda's best interests. They nickel and dime customers to death with fees, the spread between deposit rates and loan rates have got to be among the highest in the world, and the Know Your Customer (KYC) procedures are obscenely bureaucratic. It is harder to open a new account in Bermuda than anywhere else I know, even if, like most of us, you've already been their customer your whole life. So, no one can criticise the Government's efforts to improve the status quo of banking in Bermuda.
As minister of finance, I made two trips to Toronto in an effort to attract more banks to Bermuda to increase competition in the sector. I started my career in financial services in banking in Toronto. In those days, in the mid-1970s, any one of the major banks in Canada and the money centre banks in New York would have given their eye teeth to establish a bank in Bermuda. I learned that, sadly, the attitude towards the "islands" (they lump all of us together) had flipped 180 degrees since the 1970s.
I returned empty handed, having learned three important lessons.
First, and perhaps most importantly, with the advance of technology, they didn't need to have an office here to service Bermuda-based corporate clients, or those in the other islands.
Second, they had lost a lot of money in the "islands", so the attitude was not so much a "de-risking" issue as it was a "de-profiting" issue.
Third, there had been a rise in prominence of the Financial Action Task Force (FATF), the Organisation for Economic Co-operation and Development (OECD) and the European Union (EU). They all had taken aim at the "offshore world". Flagging banking profits in the "islands" had to be weighed against these new regulatory and reputational risks and the consensus was that, in the scheme of things, the small profit they made in the "islands" was not worth the soaring risks.
Let's take a moment and look at the alphabet soup: the FATF, the OECD and the EU. The FATF is a creature of the G7 to combat international money laundering and terrorist financing. The efforts of the OECD and EU are more geared towards collecting taxes than tracking down criminals or terrorists. They all share one thing: they are decidedly eurocentric. The headquarters of the OECD and FATF share the same office building in Paris, while the EU headquarters is in Brussels. The whole "offshore" concept was primarily a UK/US creation: UK territories or former territories using US capital. Continental Europeans have a built-in bias against the offshore world and are trying mightily to eliminate or neuter it.
Back to the recent meeting in Barbados; it's hard to understand the value of this meeting to Bermuda. First, despite what the onshore banks policies imply, unlike in George Orwell's novel Animal Farm, all islands are not created equal. To continue with that metaphor, some islands are more equal than others. At the top of the "island equality ladder" stands Bermuda. Our insurance sector has assets of more than $600 billion. That's almost two thirds of $1 trillion. Bermuda is the third largest insurance centre in the world, insurance being a vital component for the proper functioning of the global economy and a leading force in the battle against risks of climate change. We also survived the Paradise Papers exposé virtually unscathed.
Why aren't we leading this initiative, instead of being a mere photo-op attendee? No one can speak against the arbitrary discriminatory treatment of island economies by these onshore agencies better than Bermuda. Despite constantly shifting goalposts in this arena, and the theft of confidential data to produce the sensationalised Paradise Papers, Bermuda has managed to keep its fine reputation relatively intact and stay, largely, compliant. The strong must speak for the weak and not abrogate its responsibility to weaker island economies who don't have the credibility on the economic world stage that we do. Our government does not seem to understand this.
Second, what value does committee chairwoman Ms Waters bring to the table? The money centre banks that Bermuda banks have correspondent relationships with are regulated by the Federal Reserve, the Federal Deposit Insurance Corporation and the Comptroller of the Currency. While the Financial Services Committee of the US House of Representatives has oversight powers, it does not regulate these banks. Their unwillingness to deal with proceeds of gaming and fintech companies is not law or policy handed down from Congress. They gladly provide banking for US-based gaming and fintech companies. I doubt if it is an edict by their regulators either. It is likely a product of group-think in Wall Street.
I just cannot see Ms Waters' committee using up any political capital to have public hearings to help out a bunch of offshore small islands whose people don't vote in US elections. But it was a nice junket in the sun.
Third, the impetus for our banking problems come from Europe, not the US. The fact is, small islands are being targeted by these powerful alphabet organisations, engaged in a practice that is high-handed, extra-judicial discrimination, and one that stinks of hypocrisy. The World Trade Organisation's (WTO) website states, under the heading of non-discrimination, "A country should not discriminate between its trading partners and it should not discriminate between its own and foreign products, services or nationals." All member countries of OECD, FATF and EU are members of the WTO. Yet they freely dish out blacklists which are totally extra-judicial, ie are neither based in law nor regulation. Such lists are arbitrary and can have a ruinous effect on a small island economy. They are hypocritical because there are countries engaged in similar financial services within, say, the EU, that are never criticised nor sanctioned: for example Malta, Luxembourg, Liechtenstein, Holland, Ireland, not to mention several states in the US. We also now know that UK, via its "Non-Dom" legislation, has been a great haven for Russian oligarchs to deploy their money. None of these countries are targeted for blacklisting.
They pick on small islands because they consider us to be backward and helpless, unable to fight back – easy pickings. When I was minister of finance, the UK government, to curtail global tax evasion, announced, as if it was written on tablets of stone on Mount Sinai, a plan to assemble a register of beneficial ownership for companies, and that Overseas Territories should follow their lead. They were somewhat shocked to discover that Bermuda had had such a register for more than 70 years. They found it very difficult to accept that a small island had already been to that mountain top and the UK's stone tablet was a copy of ours. They even sent a man here to confirm that what I said was true.
The correspondent bank and fintech issue is an impediment for the development of future business. It is not likely to be solved via the Caribbean. In my view, the blacklist issue is far more dangerous. Blacklists threaten our current insurance industry and other subsectors of our International Business model – the only properly functioning industry we have in Bermuda. Along with Cayman, we must find a way to better fight this continuing threat from the North. We likely won't find it from the South.
Bob Richards was Minister of Finance from 2012 to 2017