Apology given, now what?
Created: Feb 13, 2023 08:00 AM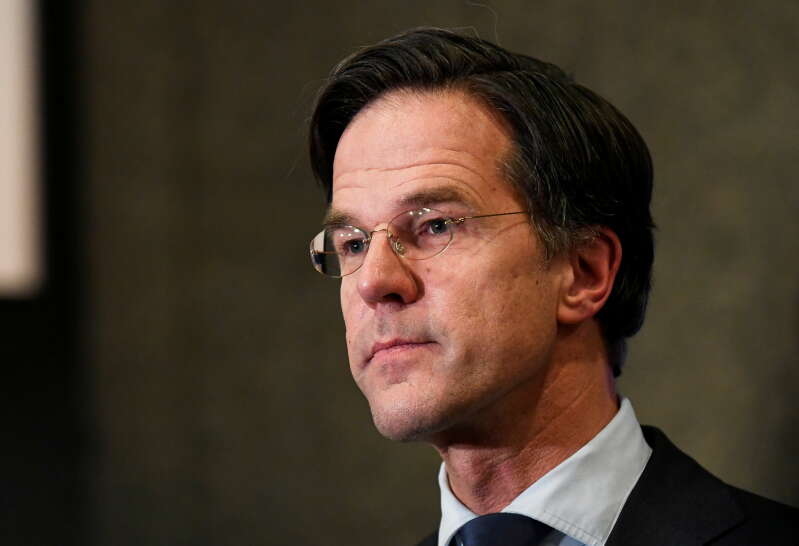 You would be forgiven if you missed an apology given at the end of last year, on December 19, by the Prime Minister of the Netherlands for its role in the Transatlantic Slave Trade. After all, the US media was occupied waiting for the delivery of the January 6 insurrection report, the sporting world was exhausted from one of the best World Cup tournaments in history, and Christmas was less than a week away.
In a previous op-ed titled "Crimes against humanity", I indicated an apology was forthcoming. However, by all accounts, I thought it might have taken place this year on July 1, which is the day generally referred to as Emancipation Day in the Dutch West Indies.
This year marks the 150th anniversary of the abolition of slavery in Dutch colonies past and present. There was a desire by some for the apology to be announced on the anniversary date; there were others who countered it should have occurred years ago and that there was no reason for further delay.
Nevertheless, the apology was given, and it was generally well received. In fact, many were surprised at its depth. While giving the apology, the Dutch prime minister, Mark Rutte, stated: "We who live in today's world must acknowledge the evils of slavery in the clearest possible terms and condemn it as a crime against humanity. As a criminal system which caused untold numbers of people untold suffering. Suffering that continues in the lives of people today."
The four-term prime minister detailed some of the historical facts, such as the hundreds of thousands of slaves the Netherlands shipped to America, the Caribbean and Asia. He spoke about the cruelty of the slave system and the unimaginable suffering the slaves endured: "We read of people being flogged and tortured to death. Of people whose limbs were hacked off or whose faces were branded with hot irons." Rutte further added: "They were wrenched from their families and stripped of their humanity. They were transported — and treated — like cattle."
The Dutch Government's apology was not a normal "we apologise for this" speech. It had substance, was widely accepted as being sincere, and it appeared the Government wanted to be accountable for the state's actions. It also followed the theme of the recommendations that were made throughout the Chains of the Past report. That is, acknowledgement, apology and recovery.
The Netherlands is the first European country to officially confess its role in one of the world's biggest crimes against humanity. The acknowledgement and apology, notwithstanding how important these first steps are to atone, were the easy part. The "recovery" aspect will be the more difficult and contentious steps moving forward.
The Transatlantic Slave Trade resulted in a huge loss of life. More than one million people died during the transport on the ships itself. The trade led to the destruction of human beings and cultures. The Dutch prime minister recognised this during the apology: "How do you do justice to all the spiritual symbols and rituals that are so very important to certain cultures? And how can you encapsulate so much injustice, so much pain, so many atrocities, in mere words?"
To right the wrong will take a long-concerted effort. Thus far, the Dutch Government has established a fund for social initiatives to help people in the Netherlands and in the Caribbean to learn more about the history of slavery. A total of €200 million (about $214 million) will be paid into the fund, which will cover the building of museums and monuments. Although Surinam has been independent for nearly 50 years, it will also be included.
Freedom fighters who were once seen as villains in the eyes of the state, such as Tula from Curaçao and One Tete Loke from Saint Martin, will now be more widely memorialised, like Bermuda's own National Hero, Mary Prince. Freedom fighters are known generally in the Dutch West Indies, but they are not well known nationally in the Netherlands.
There is now discussion among Dutch teachers on what age children should learn about slavery. The head of the association of history teachers is advocating starting in primary schools from age 7. Although the learning of slavery would be a sensitive topic for any young child, especially for the information to be properly absorbed and understood, the Dutch have plenty of experience of teaching age-appropriate material within their education system. Sexuality education begins as early as age 4, when children receive lessons on relationships, appropriate touching and intimacy.
Although a public apology and the building of museums and monuments are viewed as only symbolic reparations, they do play an important role in the overall recovery process. It displays truth and a level of accountability, and it helps to build trust. However, as the Dutch Government collaborates with the Dutch islands in the Caribbean on a path forward, as advocated in the Prime Minister's speech, the call for financial reparations will become loud and clear.
An apology needs to be followed by actions, and there are many that view financial reparations as a substantial part. If expectations are not delivered, the Dutch would risk their well-received apology as being nothing but empty words. I am sure Rutte is aware of this. Commenting on how inhuman and unfair the slave system was, he stated during his apology: "A system ... that in 1863 [end of slavery] it was not the enslaved people who received financial compensation from the state, but the slave owners".
Reparations was a topic that was once avoided but is now occurring. Rutte was correct to point out that "social awareness is growing". Just last month, the Church of England pledged £100 million to "address past wrongs", after its investment fund was found to have historical links to slavery. The money is to be used for communities affected historically by slavery.
A BBC correspondent's family, whose ancestors kept more than a thousand slaves in Grenada, recently donated £100,000 for the role their ancestors played in enslavement. The money will go into a community fund for economic development.
I am keen on how the Netherlands will tackle systemic and structural racism in its country, as racism today is not always conscious or outright visible. The Dutch prime minister has admitted this in his speech: "Centuries of oppression and exploitation still have an effect to this very day. In racist stereotypes. In discriminatory patterns of exclusion. In social inequality."
As the United States celebrates two African-American quarterbacks playing in the same Super Bowl for the very first time, ironically during Black History Month, one could ask why it has taken this long — specifically when Blacks make up 60 per cent of the players today and have been the dominant race of player representation since at least the 1990s. To put this in another way, there has been at least one White quarterback in each Super Bowl over the past 30-plus years, although Whites represented the minority in the NFL. Leading up to this year's game, only seven Black quarterbacks have played in the Super Bowl.
Historically, it was thought Black players were not intelligent enough to play quarterback, which is seen as the leader of the team and is the most difficult position in American football. Today, a youth football coach would not outright tell a Black player they are not smart enough to be a quarterback as they would have done in the 1960s and 1970s. However, there is still a racial bias because statistics do not lie.
Another example of discrimination against Blacks in sport is in the Premier League in England. Although 43 per cent of the players are Black, there is only one Black manager out of the 20 teams. Within the four other top football leagues in Europe — Spain, Germany, Italy, France — there is also only one Black coach. In total, out of 98 clubs in the top five leagues in Europe, there are only two Black coaches.
Systemic and structural racism is an outcome of slavery. It continues to build barriers and roadblocks for Black people, particularly in leadership positions, and not just in sport. There are unfair practices and a lack of opportunities when it comes to jobs and wages, even in Bermuda. As I pointed out in my previous op-ed on this subject, White Bermudians outnumber Black Bermudians in executive and senior positions in international business, and the median income for Whites is substantially higher than that of Blacks.
The only way to dismantle the walls of racism ingrained in our society is to stop putting off that "Big Conversation" among ourselves, which we have done for far too long. We have had sidebars here and there, but this is insufficient.
Perhaps we in Bermuda should heed Mark Rutte's advice that he made in his apology speech: "The dialogue on the history of slavery should be held as broadly as possible, not only in the Netherlands, but also, and especially, in the places where it happened, with everyone who is involved or feels involved."
Let us start talking and listening.
• Malcolm Raynor has worked in the telecommunications industry in Bermuda for more than 30 years. Benefiting from Cable & Wireless's internal training and education programmes held in Bermuda, Barbados, St Lucia (The University of the West Indies) and Britain, he rose to the level as senior vice-president. An independent thinker possessing a moderate ideology, his opinions are influenced by principle, data and trends