I relished intrepid army life
Created: Nov 10, 2016 08:00 AM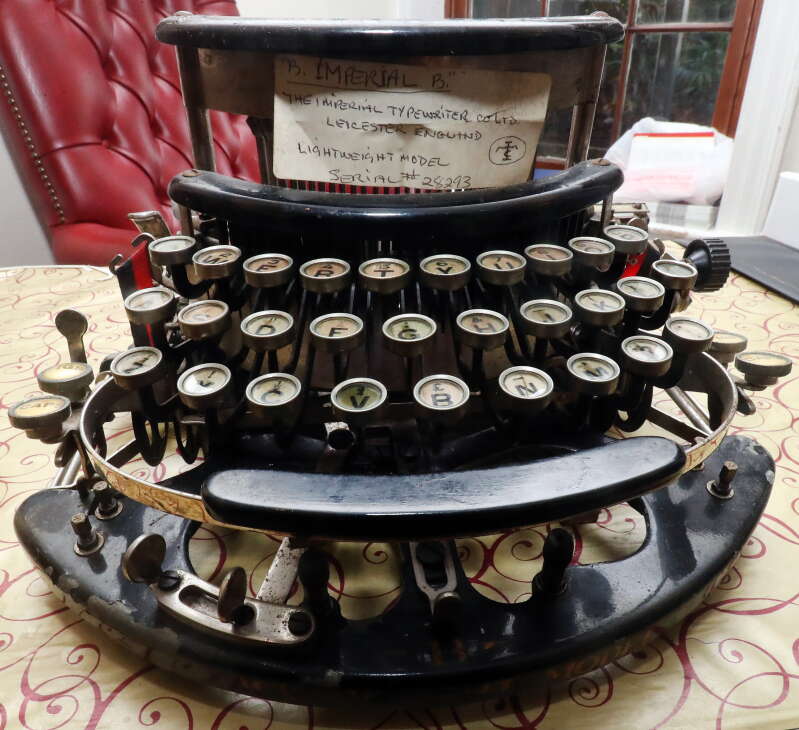 Everyone has a story to tell; some happy, some sad, some exciting, some bad.
This is my story, a little bit of all of that.
I was born August 1, 1930, and as a youngster growing up I thought everyone had a holiday for me, but of course it was Emancipation/Somers Day, better known as Cup Match holiday.
I come from a family of eight children and some of you know what that was like. I lived mostly with my great grandmother on Laffan Street, Melbourn House and on King Street, until I was about 8 or 9 years old, and with my mother and stepfather thereafter.
We lived on North Shore — from Government House Gate to Dock Hill to Friswells Hill — and this is where I left home.
I'm telling you all this to let you know where I got my streetwise education from. Being the eldest, at 14½ years old I left school to work and to help supplement the family income. It was Christmas 1944, the war was still on and times were hard. I was working at the Golden Gate, bagging candy for Christmas, when I decided not to go back to school. They didn't want to keep me on after Christmas so I found work at the Goody Shop Bakery across the road, where I stayed for a couple of months then got a job at the Bermuda Florist, delivering flowers and providing general help. I didn't like that either.
Then I started to think about a trade job and found my niche at PW & Co Stalls Machine Shop where I learnt a lot about lathe work, milling, welding and enjoying the environment that I was in. I went a step further at 16 years old and applied for an apprentice trade in the Dockyard and was told that I was too old to start. So I took the next best thing and worked as a helper riveter, riveting plates on HM ships like the Snipe, Sparrow, Portlock Bay, Padstow Bay and various others. This lasted a while until I heard of a job vacancy at the admiralty catering office where I worked at Maria Hill & Watford mess for the next 15 months. Then I went to work for the US Navy Base as a carpenter's helper — here's where the money was good.
When I was 17 and in the Bermuda Cadet Corps with Captain Arthur Card as our mentor, I talked to an officer of the Regiment stationed at Prospect who used to come down to give us instruction. I asked him if we in Bermuda could join the British Army, and he said yes.
I went 18 years old on August 1, 1948 and, after a great deal of thought, I joined the Gloucestershire Regiment on August 30, 1948. (I think that I was the first Bermudian to join the British Army since the end of the Second World War). I told my friend, Charlie Mullen, and he told David Dobson who told Bernard Martin and so on, until there were 11 of us. Five joined the Glosters and six joined the Royal Electrical Mechanical Engineers or the Ordnance Corps.
We left Bermuda from the Dockyard on the Empire Orwell on September 23 and arrived in Liverpool, England, on October 3. Since this was my first trip away from Bermuda, it was an awesome sight to see the pea green soup looking water of the harbour compared to ours — my first impression of a world outside Bermuda.
We managed to get to and report to Gloster HQ, only to be told we had to travel to Bulford Camp in Hampshire for ten weeks' winter training. After training (and now we are fully aware of what we have gotten ourselves into), we were deployed January 9, 1949 to various outfits all over the world. I was to go to the Wiltshire Regiment in Krefeld near Düsseldorf in Germany with the British Army of the Rhine. The other guys were to stay in the Glosters, some going to Jamaica and others going to other places. A couple, I think, went to Eritrea, East Africa. After all, this is what we joined for, to see the world.
I was to be in Germany for 16 months, taking advantage of every opportunity to see what I could while I was there. Since it was only four years from the end of the Second World War, a lot of areas — places like Essen, Hamm, Dortmund, Düsseldorf right down to Cologne — were still in ruins. I thought, what an experience for a Bermuda boy to see and learn from all this. When we got to Germany we had to go through another six weeks' winter training and after that we were split up to the various platoons. After various tests I ended up in the signal platoon, doing radio and telephone training, and was there for the duration of my service.
I became the Adjutant's signaller, riding around in Dingos and Brengun Carriers and fortunately got some perks in our exercises.
While in Germany I had leave in some of the places the German Army used.
The Wiltshire Regiment returned home on Thursday, April 18, 1950 after being away and all over the world for 18½ years. We regrouped and, after three months in the Devizes home depot, were to relieve the Devonshire Regiment in Malaya. After Singapore we were rerouted to Hong Kong as a training battalion for those going to Korea. I had 18 months in Hong Kong, training and defending the place in case of an attack or uprising, and came back home to Bermuda via the UK for three months leave in which time I had volunteered to transfer to whatever regiment was in the area. I got transferred to the Royal Welch Fusiliers stationed in Jamaica and with qualifications of a regimental signaller five star, they made me up to full corporal and sent me to Belize, British Honduras in charge of the detachment there. I was asked to go to Bermuda in June 1953 to help in setting up the communication line from the Mid Ocean Club to Prospect for the Big Three Summit of British Prime Minister Sir Winston Churchill, US president Dwight D Eisenhower and Prime Minister Joseph Laniel of France. Of course, I jumped to the offer.
We met with Mr Roddy Ferguson and some of his men of the Bermuda Telephone Company when we got here and went into details of the setting up of the telephone communication lines and, most importantly, the security of these lines at this time. My role too was to set up and maintain wireless communications. Also we had various parades and marches and drill practices to where we got as good as the Royal Guards (so I heard someone say). But all this came to an abrupt end when we were told the summit was to be cancelled and the Regiment had to return to Jamaica. In the meantime I was to be released from the service so I went back with the Regiment to finalise my Army career and get my papers straightened out. My five years was up and I can say that I got out of it just what I put into it. I learnt more in five years in the British Army than I could ever have learnt in 20 years in the environment that I was in, in Bermuda.
During these "world sightseeing tours" I managed to get my Army 2nd class and 1st class certificates of education and later my city and guilds qualification in telecommunications, which I couldn't finish. Unfortunately, when I returned home and got a job at the telephone company, I found that the telephone system here was different to those that I had been trained on. After the telephone company I worked on a variety of jobs, always moving on to better myself and never afraid to learn new skills — which I did with the help of books.
I worked on the ship Queen of Bermuda switchboard, and then Modern Supply Co doing motor and armature rewinding and other electrical work. I then worked at the Smoke Shop and ended up working for National Cash Register for 37 years. During my career I worked on a wide variety of machines including all office machines, locks, mechanical and electronic calculators, time clocks, cash registers, copiers etc. I retired in 1995 and still get called upon to work on some of these machines.
I married Dorothy Down in 1955, whom I met in Somerset in 1947. We corresponded while I was away and got closer when I returned from overseas. We have two boys, George and Michael, and we are in our own home, we are very fortunate, we are blessed.
You may ask what Armistice Day means to me and I can tell you, apart from the thousands of servicemen and women who lost their lives in two world wars, the Vietnam War, the Korean War, and now the Middle Eastern wars, that it hurts to have known the young men that you trained with and lived with and made friends with that we sent to Korea and we never heard from again, not knowing if they ever got back from home like I did.
•Bermudian Arthur Tatem joined the British Army as a teenager in 1948 and served for five years. The above biography was part of a speech he gave to St James Church in 2011