Private jet revenue expected to soar
Created: Dec 19, 2014 08:00 AM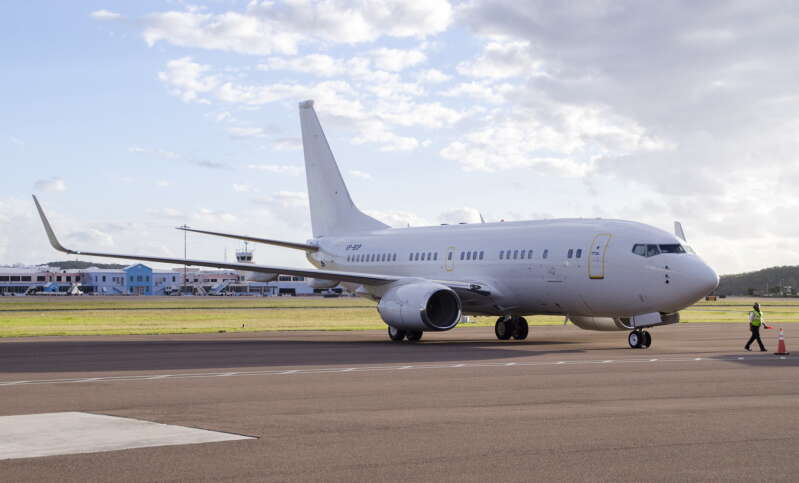 Private air travel boosted Bermuda's income by more than $50 million in just six months last year, according to a jet-setters' magazine.
The Island came seventh in the top ten Caribbean area airports for private jet arrivals in a survey by Elite Traveler.
Bermuda pulled in the cash from 726 private jet arrivals to the LF Wade International Airport.
But an Island private jet operator predicted that the upcoming America's Cup could send Bermuda soaring up the ratings in the run-up to the regatta.
Robert Mulderig, chairman of private jet charter firm Longtail Aviation, said he was unaware of the exact figure generated from executive jet arrivals and their high-spending passengers.
But he added: "I know it's a lot of money and we certainly get some of it here.
"We get kind of everything here — probably the most common is businesspeople, folks coming in to spend a few days in meetings, but we get lots of tourists who spend time and money here or people who have homes here."
Mr Mulderig was speaking after Elite Traveler said that ten Caribbean area destinations raked in $867 million from private jet passengers in the winter months of 2013-14 alone.
The Bahamas' main airport, Lyndon Pindling, pulled in $278.3 million from more than 4,000 arrivals, with St Maarten's Princess Juliana airport a distant second with $144.4 million generated from around 1,500 private jet flights.
Prividenciales airport in Turks & Caicos was third, generating nearly $95 million from 1,374 flights in on private jets.
The Caymans took the anchor spot in the survey, with its Owen Roberts airport pulling in almost $42 million from 606 private jet flights.
Mr Mulderig said: "I think the America's Cup will certainly increase demand for private jet travel — we've already had a number of preliminary enquiries we have responded to.
"We hope some of that charter business will come through Longtail."
Longtail manages jets on behalf of owners, including a massive Boeing 737, fitted out with a sleeping cabin, complete with en suite shower and bathroom for $15,000 an hour.
The firm also arranges charter flights through other operators through its network around the world.
Longtail can also provide secure storage for other jets in its massive hangar, as well as some repair and maintenance services.
The Elite Traveler survey — which covered November 2013 to April 2014 — used figures supplied by PrivateFly from WINGX, which used Prince & Associates data that showed private jets bring an average of $69,000 in spending to the destinations they visit, excluding landing fees and fuel.
And PrivateFly's marketing head Carol Cork said the statistics exclude those who own their jets outright and fractionally-owned planes, which were likely to boost the income per island even more.
A spokesman for Cedar Aviation Services, which services the private jet market and also carries out freight processing and cargo handling at the airport, said: "We are generally aware of the Elite survey results but think they might be a little low for actual arrivals to Bermuda since we do not know if the survey captured all executive jet operators and private owners that travel to Bermuda.
"Our arrivals are also augmented by periodic military aircraft. We do not have specific information about the on-Island spend of our visitors but know that Bermuda has a heavy emphasis on business travellers.
He added: "Our goal is to strengthen the appeal to business travellers and to expand our marketing to leisure travellers. Our marketing emphasis will be to the US eastern seaboard, highlighting our 90-minute flying time and hassle-free, on-Island experiences.
"When we factor in the America's Cup, upgrades at Hamilton Princess and new hotel construction, we believe there will be an increase in private jet travel to Bermuda in the near future.
"We are also aware that during the annual fishing tournament and the former PGA Championships, there is an increase in private jet travel. We therefore expect more demand in private jet arrival as we approach 2017 and beyond."