Jackson awarded Deloitte scholarship
Updated: Jun 13, 2017 02:22 PM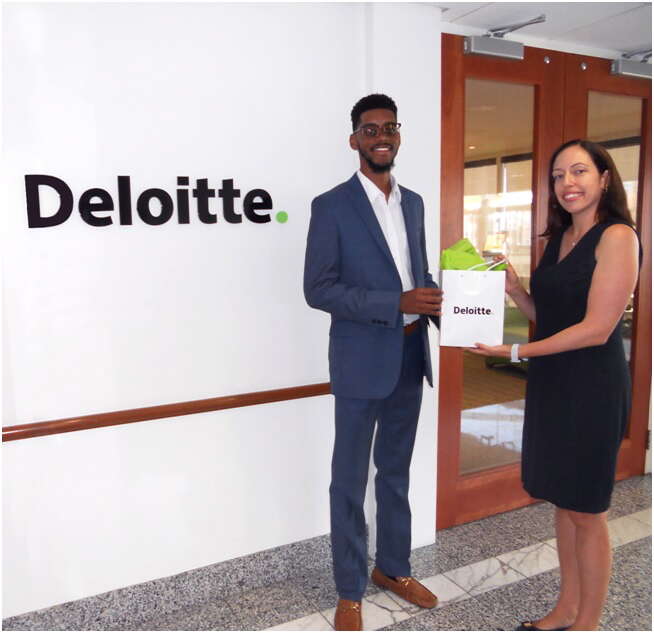 Antoine Jackson has been awarded the 2017 Deloitte Scholarship.
The scholarship award offers up to $20,000 per year for a maximum of three years and is available to Bermudians pursuing an undergraduate degree with an interest in accounting, actuarial or business related studies. As the recipient, Antoine will also join the firm as a 2018 Deloitte intern.
John Johnston, CEO of Deloitte's Caribbean and Bermuda region, commented: "Deloitte is a leader in developing the best talent globally, and in Bermuda we are committed to investing in future leaders through the Deloitte Scholarship. I am delighted to congratulate Antoine on receiving this year's scholarship award."
Antoine was selected from a group of high-calibre shortlisted scholarship applicants, standing out for his drive and determination to succeed, his outstanding academic achievement which reflects a passion towards his chosen area of study, and his commitment to family and community initiatives, the firm said.
After graduating from the Berkeley Institute, where he received numerous awards of honour including the Top Male Mathematics Award, Antoine graduated from Bermuda College with an Associate Degree in Business Adminstration (with merit). During this time he was awarded the Chartered Professional Accountants of Bermuda Donald P. Lines Outstanding Accounting Student Award.
Mr Jackson said: "I was thrilled to learn of my selection for this honour and I am deeply appreciative. In the fall of 2017, I look forward to continuing the pursuit of my Bachelor's degree and CPA designation. I thank Deloitte again for generosity and support. I thank Deloitte for making a commitment to me and in turn, I shall hold up my end of the bargain. I hope that one day I will be able to help students achieve their goals just as Deloitte has helped me."
Antoine is passionate about basketball and has played in Bermuda's under-16 and under-18 national teams and in the Bermuda College Men's Basketball League.
His sporting achievements have included being the chosen Varsity Basketball All-Star and Champion. His community involvement includes being a volunteer camp counsellor at Coach Crumpler's summer basketball camps, as well as on the volunteer team for Hurricane Youth basketball team.
Mr Jackson will attend Dalhousie University to study for his Bachelor of Business Administration with a concentration in Commerce.
Elizabeth Cava, Partner in Audit and Assurance stated: "Our focus as a firm is to make an impact that matters — and we are committed to the development of students in our community.
"Antoine has clearly demonstrated his ability to make an impact that matters in both his family, our community and through his academic endeavours. Antoine also wants to make an impact with Bermuda's youth. We applaud his achievements, admire his determination and wish him continued success as his pursues his dreams".
Deloitte in Bermuda says it seeks ambitious students or graduates and offers meaningful work experiences, attractive benefits, continuing local and overseas training and development, educational support, sports and social events, corporate social initiatives and wellbeing programmes.
Student programmes include high school work experiences, The Deloitte Internship Programme, Co-op Placements, the Deloitte Scholarship and the Deloitte Graduate Programme.
At Deloitte, we recognise the value in supporting students to pursue their educational goals. Interested students, parents and teachers should visit www2.deloitte.com/bm/en/toptalent for more information including details on the upcoming student networking event 'Deloitte Invites Top Talent' on July 27, 2017.