The big picture: A bold body of work by camera artists sheds light on social issues
Created: Jan 23, 2013 08:00 AM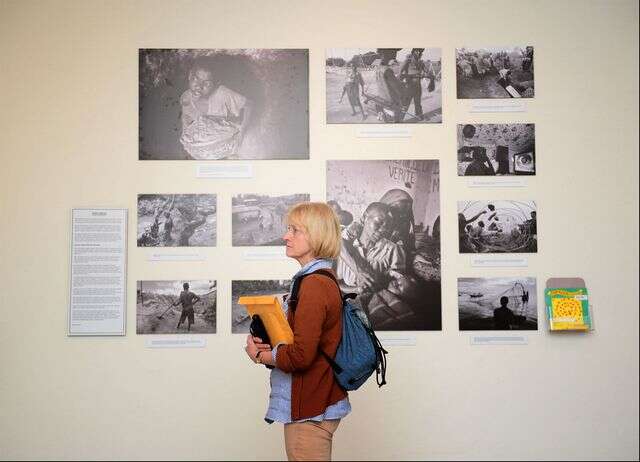 An art teacher stopped and wept halfway through a tour of the new Bermuda National Gallery exhibit, Eyes on the World.
The exhibition includes film and photo entries that deal with poverty in Bermuda, child labour, cultural identity and sex slavery.
"The images in Eyes on the World can be very intense," said BNG education and communication officer Dany Pen. "An art teacher came in and she was very happy that we were tackling social issues. She walked around and got to the excerpt we have from Lucinda's Spurling's film 'Poverty In Paradise', and she started to cry. The film is about poverty in Bermuda, and she said she knew many women who were going through the issues depicted in the film."
Eyes on the World was arranged in partnership with The Alexia Foundation, an American charity dedicated to the power of photojournalism and its potential for inspiring social change. The foundation was named after Alexia Tsairis, a 1988 victim of the terrorist bombing of Pan Am flight 103 over Lockerbie, Scotland. The foundation provided BNG with photos taken by several international photographers. The exhibition also includes work by Bermuda artists such as photographer Meredith Andrews and Ms Spurling.
One of the many arresting images in the show is of a Cambodian girl, her arms covered in scars inflicted by her own hand. As a small child she was sold to a pimp for $300. The self-mutilation was an attempt to escape from her emotional trauma.
The photo was taken by Tim Matsui the recipient of the first ever Women's Initiative grant by the Alexia Foundation in 2012. He is an Emmy-nominated multimedia journalist and producer focusing on human trafficking, alternative energy, and the environment.
Other topics covered included child kidnapping and forced labour in the Congo, poverty and violence in a small town in Pennsylvania, and the aftermath of the Jewish Holocaust for the current generation.
Ms Andrews, who currently lives in Europe, tackled the topic of single mothers in Bermuda. One of her subjects was journalist Carla Zuill, photographed as she helped her three children get ready in the morning.
The youngest photographer to exhibit was 16-year-old Berkeley Institute student Seta Douglas. She followed a student who was new to the Island around her school and filmed his struggles to fit in and be accepted.
"What I like about the exhibition is that it fits Bermuda into a global dialogue," said Ms Pen.
Organisations such as Citizens Uprooting Racism in Bermuda, Women's Resource Centre, Amnesty International and YouthNet have provided brochures which have been matched with the work of different artists. Women's Resource Centre, for example, has included coping tips for single mothers to go along with Ms Andrew's work.
"We want people to see that social issues happening here are happening worldwide," said Ms Pen. "We are not isolated. We are not going through this alone. We want action. We want people to be more proactive in the community. We want to ignite change for the betterment and progression of the community. We want to bring about greater unity."
The exhibition runs until May 11. There is also a separate show at BNG by Ms Andrews called Portraits of Power. This exhibition contains a series of portraits of women in Bermuda families.
The BNG will host a free development workshop for educators on February 2 from 10am to 1pm in collaboration with the Alexia Foundation. To reserve a spot, contact Ms Pen: education@bng.bm or 295-9428.
Useful website: www.bng.bm.