Concert to honour community stalwart Spence on 50th birthday
Created: Apr 11, 2013 09:00 AM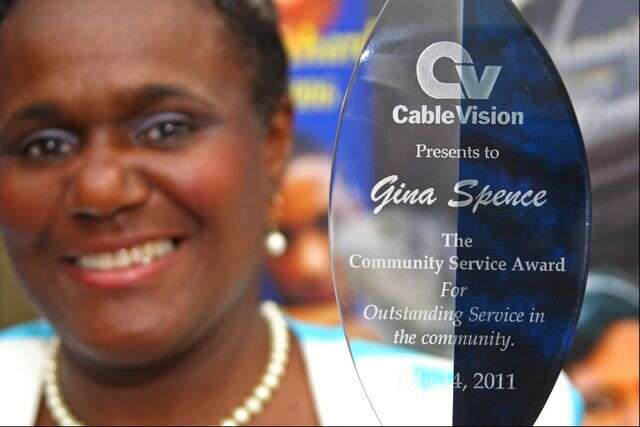 Local performers will honour community activist Gina Spence as part of her 50th birthday celebrations.
A concert has been planned for April 20, during which time the founder of Gina Spence Productions in Christ is expected to bask in the spotlight.
The line-up includes entertainers who "got their first taste of the performing arts through Gina Spence Productions".
Singer Kion Simmons, who has performed alongside superstars such as Mariah Carey and opened for Luther Vandross, Patti LaBelle and Kirk Franklin, and Nicole Frances, aka "Lady Tyson", will also perform.
Ms Spence said it was "humbling, overwhelming and exciting" to be recognised.
"I am just grateful that the board [of GSPIC] is doing this for me," she said.
"I was going to spend my 50th birthday quietly with my husband and children and they were trying to surprise me, but ended up telling me because there are so many people that were a part of my journey that I wanted to share this evening with."
Especially because she grew up in foster care homes, Ms Spence said she recognised the importance of family and giving back to the community from a young age.
"When I was in high school I did a few events like fashion shows to help a few people that were ill and I realised I could help people by putting on productions. It also helped me to escape from a lot of things I couldn't deal with when I was younger."
She used writing as an outlet. Some of her plays were based on her own experiences they typically had happier endings.
"The shows became very popular and people would say 'that scene was very real', and to me it was real."
Ms Spence was awarded a Queen's Certificate and Badge of Honour in 2002 for organising a host of youth street festivals and drama productions and being involved in extensive prison outreach programmes. She was also the recipient of a CableVision Community Service Award in 2011.
Through GSPIC, she has raised funds to help purchase a heart monitor for the Children's Ward at King Edward VII Memorial Hospital. She has also assisted in providing educational scholarships for young Bermudians studying overseas.
She served as a senator and Shadow Minister of Youth, Community Affairs & Culture with the United Bermuda Party. Ms Spence is now working as the producer and host of FM89 radio show Community Voices.
This month's concert at the Fairmont Southampton also serves as a fundraiser to support the charity's programmes helping children affected by gun violence.
Additional money will go towards providing school clothes and healthy food items to families in need; it will also help seniors to purchase their necessary medications.
Musician James Richardson will direct a live band at the event, while local entertainers Jah Simmons and Nadanjah Bailey will provide comedic relief.
Also on hand will be jazz singer Gita Blakeney-Saltus; radio personality Patrina (Power Girl) O'Connor, comedian Bootsie and a 50-strong choir led by Georgette Prime-Godwin.
Tickets, $50 or $100 for patrons, will be on sale at the Music Box and Bermuda Broadcasting Company or by phoning 704-0224 or 735-4488. There will also be a limited number of hotel rooms at the Fairmont Southampton available at a special rate of $189 plus tax.
Useful website: www.gspic.org