For Shine jazz is a great unifier
Created: Apr 25, 2013 09:00 AM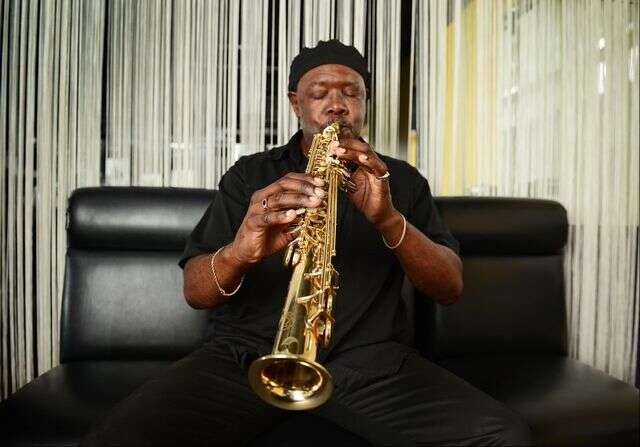 One of the things that saxophonist Wendell (Shine) Hayward loves about jazz music is that you can never tell what types of people will turn up for a concert.
"With other types of music, you can almost guess who will show up," said Mr Hayward. "With jazz, there are so many different variations of jazz such as smooth jazz, bebop, gospel, swing era music and so on, it has a much broader listening audience."
He believes that jazz can be a great unifier, which is one of the reasons he has brought the United Nations Educational, Scientific and Cultural Organisation (UNESCO) International Jazz Day to Bermuda. It will be celebrated on the Island on Tuesday with a proclamation at City Hall.
Jazz music played will be on local radio, jazz activities will take place in the schools and a special jam session will be held at Shine's House of Music run by Mr Hayward.
"I hope that Bermuda will embrace the day and the planned activities, appreciating the role that jazz has played in uniting communities," Mr Hayward said. "This is the first year Bermuda has participated, but we hope it will not be the last.
"Jazz is music you really listen to. If you go to a jazz concert or club you will see a lot of people just sitting there listening. There is very little talking going on, but their heads are bopping and they are getting into it. It calms people."
Mr Hayward said he was not always a jazz fan. He started out his musical career playing gospel music. It wasn't until he was a teenager and heard the sultry sounds of American jazz saxophonist Grover Washington Jr that he became hooked on the music.
"We both played the saxophone," said Mr Hayward. "He was at the top of his game. That was the attraction. I wanted to play some of his songs. From that point on, whenever I played in a band, I often played his song 'Mister Magic'. That was my signature song."
As a young man he performed with local musicians such as Artie Simmons and Duke Joell at the former Pickle Barrel nightclub on Church Street. He studied musical composition at the Berklee College of Music in Boston, Massachusetts and graduated with a professional music degree. After university he played with the Ghandi Burgess orchestra, and then later formed his own band, Shine Hayward and Friends, comprised of Dennis Francis, Anthony Cox and Derek Simmons and himself. He still plays under the name Shine Hayward and Friends although the musical friends vary.
Although jazz might not have as big a listening audience as some other music genres, it still has many fans throughout the world, Mr Hayward said.
"The international jazz listening audience is huge," he said. "In Bermuda, I don't feel as though the jazz listening audience is as huge as it could be. That is because there is not enough of us doing it here. There is not enough of it being played on the radio stations, so the exposure to jazz is not at the level it would need to be in order to increase the jazz listening audience. We are hoping that International Jazz Day would be the impetus for jazz education being increased on the Island, jazz awareness and also jazz participation."
He believes jazz music is the ultimate freedom of expression as it allows the musician to say anything and express any emotion.
Tuesday's proclamation on the steps of City Hall takes place at 12pm and will be followed by a jazz concert. The event is free and all are invited. There will also be a free jazz jam from 5pm to 9pm at Shine's House of Music in the Stables Building on Reid Street. Also listen out for jazz being played every hour on local radio stations.