New service to help in battle with autism
Created: Jun 06, 2013 09:00 AM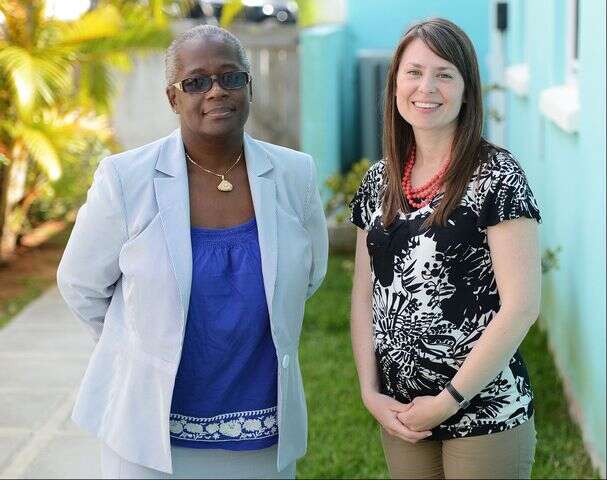 Until now locals who needed an autism evaluation faced expensive and frequent travel overseas, stress, and long waits for results.
All this might be over, or at least greatly reduced, thanks to the creation of a new on-Island autism diagnostic team.
"People who are not diagnosed and have problems with social skills and so forth often find themselves getting into difficulty," said Dr Sharon Apopa, Executive Director of the Mid Atlantic Wellness Institute (MWI).
Recently, Child and Adolescent Services, Child Development Programme (CDP) and Bermuda Autism Support and Education (BASE) joined forces to bring Dr Rhiannon Luyster, Assistant Professor, Department of Communication Sciences and Disorders at Emerson College in Boston to Bermuda.
She was here to set up an Autism Spectrum Disorder Assessment and Diagnostic team to provide resources within Bermuda for making accurate and timely diagnoses and providing early interventions to families dealing with this issue.
Dr Luyster trained the team in the use of the Autism Diagnostic Observation Schedule, considered the gold standard for diagnosis.
"It allows us to standardise the procedures we use worldwide to make sure we are all looking at symptoms in the same way and setting thresholds in the same way and classifying children and adults in similar way in terms of autism spectrum," she said.
Some autism experts have alleged that the spectrum is too broad and children are being wrongfully classified as autistic. In fact, last year the American Psychiatric Association began narrowing the definition of autism. Asperger's syndrome, for example, will no longer included in the Diagnostic and Statistical Manual (DSM) used by psychiatrists worldwide. The symptoms of Asperger's are now just considered another level of autism on the spectrum, rather than a separate disorder.
"I think that autism being used as a catchall is a hazard," Dr Luyster said. "I think that if you look through the history of psychology, and psychiatry, there are often diagnosis de jour. It can happen and we need to caution against that."
But she said standardising diagnosis, and doing things in a clear and consistent manner, were ways to protect against this kind of misstep.
"One of the challenges for clinicians and researchers is the fact that the autism spectrum is incredibly heterogeneous," she said. "You can have individuals who are non verbal and have a lot of behaviour problems and then you have individuals who have intelligence that is much above average and have wonderful language and lots of skills. There is this incredible range in skills and impairments and that can make it difficult for clinicians to feel comfortable encountering every different possible individual they might encounter in the diagnostic process."
Dr Apopa said historically, in Bermuda, autism diagnosis and treatment was handled by a physician led team. Experts would be brought in from abroad on a bi-monthly basis to provide services. They are switching to a psychologist led model now.
"Physicians will still be involved in the process as medications will have to be physician led," she said. "We have identified three teams we will be collaborating with. One will be led by Child Development Programme to catch the younger children up to four years old, one that will be operating from Child and Adolescent Services to catch persons up to 18 years old and another led by MWI to look at young persons who need to be diagnosed and have intervention."
Dr Luyster said, unfortunately, autism cannot be cured and is a lifelong disorder.
"There is a small body of research right now looking at something that people are calling 'optimal outcome'," she said. "A very small population, less than one percent of individuals on the autism spectrum, lose their diagnosis. If you brought them into a clinician they would no longer meet criteria for autism. There is a misconception that those individuals become typical. They don't become typical, they just don't meet criteria anymore. They may still have lasting social impairments and deficits. Parents of children diagnosed with autism should expect that their child will always be on the autism spectrum, but symptoms will abate, somewhat, for many children.
"For most children they will learn new language, adaptive and daily living skills," she said. "They will make cognitive and intellectual gains. It may be slow and hard work for parents, professionals and educators. Gains will be made, but also there will be new challenges with each new transition."