With video: Daughter's touching letter makes Father's Day
Created: Jun 14, 2013 09:00 AM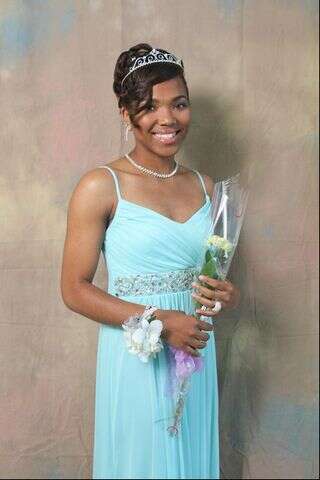 Shawnae Brangman has always been a self-confessed 'daddy's girl' at heart.
The 19-year-old said she treasures moments she has spent with her dad, Stanfield Brangman Sr, playing backgammon, watching television shows like 'Walker Texas Ranger' or just sitting off and talking.
She said their relationship only got stronger after she lost her mother to cancer when she was 12-years-old.
"My dad had to take charge and raise me, so I guess that is the main reason why we are so close and so strong," she said. "That's what we had to do to try and get through everything."
Miss Brangman spoke to
The Royal Gazette about the special man in her life in honour of Father's Day this Sunday.
She recently got the chance to tell her dad just how much he means to her, through a touching letter she submitted for the father-daughter event 'Princess For A Day'.
Held last weekend by Kings & Queens Productions at the Fairmont Hamilton Princess, the event served to strengthen those relationships and to honour fathers who are doing their part.
Miss Brangman, who is currently studying social work at Arizona State University, said it gave her some much needed quality time with her dad — and a chance to get dressed up.
Her kind words landed her dad an award and the chance to have a special father-daughter dance.
Mr Brangman said he was surprised to be recognised. "I was taken back because I had never seen the letter they read at the event," he said.
"It felt awesome because I had never been recognised, I was just doing my role as a father or single parent. I guess through the grace of God it has brought me through."
Miss Brangman said she most admires her father's upbeat, energetic and positive personality.
She said: "He has a good sense of humour and whenever I have a bad day he will crack a joke out of nowhere. It makes situations a lot easier to deal with."
Mr Brangman was able to use this positivity to cope with his wife's death in 2005; he also needed it to deal when his younger son Shawn, 31, had health complications and had to be confined to a wheelchair.
The loving father also has a good relationship with his daughter Shawnette, 26, and eldest son Stanfield Edwards Jr, 41.
Miss Brangman said her dad has always been an encouragement and was her biggest supporter in her days as an athlete representing Bermuda.
"I remember my first overseas meet in St Kitts in 2008, and he flew out there to watch me compete because it was my first one internationally," she said.
"It meant the world to me because I was far from him and it was an overwhelming experience, so it was nice to have my father there to support me."
One of the pieces of advice her father gave her about running was not to look back and lose focus — which also proves true in life.
Another useful lesson she learned from her father is to make the best out of every situation.
"There are a lot of people out there going through a lot of difficult issues and problems, especially with the way Bermuda is going," she explained.
"There are so many things that can be pushed in your life that can force you to make serious decisions, but my dad has always made the best out of the situation and always looks for the positive."
She said other men can learn for her dad's example.
Mr Brangman said being a good father is all about supporting your children through their good and bad decisions. Sometimes they can learn important lessons out of those bad choices, he said.
"It's not an easy road out there but all you have to do is stay focused and follow your instincts and be the best father you can," he advised.
"A lot of guys can be a daddy, but they can't be fathers. When you're a father you have an important role to play in their lives."
Mr Brangman is scheduled to work this Sunday, but considers any time he spends with his children a Father's Day.
To read Miss Brangman's winning letter about her father, see the sidebar.
'My father means the world to me'
Scores of young women wrote in to organisers of the recent 'Princess for a Day' event to tell how their fathers have touched their lives.
Rokeya Brown was one of them.
She described her father Eddie Brown as the "most kind-hearted, good spirited and patient person anyone could meet".
A tragic motorcycle accident in 2006, left him physically disabled and unable to do many things he once did.
But he stayed true to his duties as a father, by supporting her through the good times and encouraging her when she needed to be lifted up.
Miss Brown said: "My father means the world to me he is truly an inspiration, no matter what ups or downs he may be going through.
"His love is unconditional, and I'm choosing to take advantage of this opportunity to inform him. Today, I honour my father and I am eternally grateful that God spared his life."
She also wrote the following poem in his honour:
Dad, Today
I think of all the times
you've been there for me.
From the scraped knees and broken toys
you've mended
To the deep dialogues that carried
into the wee hours of the night
I want you to know how thankful I am for
Your guidance,
Your strength,
Your quiet wisdom,
Your love.
How thankful I am
that you are my father.
Love Always Rokeyah
The letter
My father, Stanfield Brangman, deserves to be recognised at the "Father/Daughter" dance because he's an EXTRAORDINARY DADDY!
After the loss of my mother, when I was 12 years old, my dad took on both roles for me and my siblings. He has been there through all of the good times and the bad. My dad always puts his children first!
He has always made time for me and has supported me throughout all of my extra circular activities. I could always count on him to be there either in the audience or in stands as he cheered me on to success. I have been encouraged by him to always do my best and to never give up; No Matter What!
It takes a "real daddy" to sacrifice everything he has for the sake of his children.
Recently my brother has had medical complications that have led him to be confined to a wheelchair. For the last year my father has been doing everything in his power to ensure that my brother's needs are met. He even took time off from his job in order to stay home and take care of my brother.
My father is always giving and never looks to receive anything in return. I am truly blessed to have him in my corner.
I know that he will always be there to make me smile and laugh. Anyone that knows him will tell you that he always looks for the positive things in life.
My father and I have a strong relationship which I will always cherish and I know the words "Thank you" will never be enough to express how grateful I am, but it is a start.