Bird life in the Big Apple featured at film festival
Created: Jun 21, 2013 09:00 AM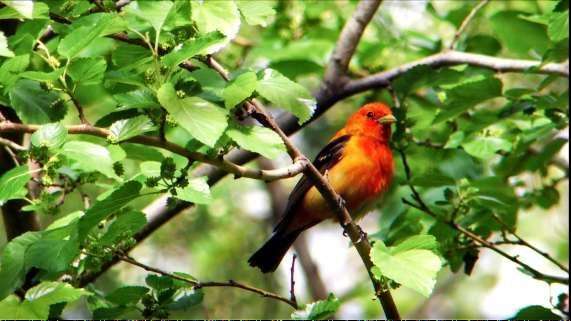 A "beautiful and heartwarming" nature documentary on the birds in Central Park and a "dreamy biography" on renowned French Impressionist artist Renoir, will be screened at Bermuda Docs Weekend Film Series this weekend.
"Birders: The Central Park Effect" will be shown at Bermuda Underwater Exploration Institute on Sunday at 3pm.
After the film, President of the Bermuda Audubon Society, Andrew Dobson, will share his knowledge about birds on the Island and be available for a Q & A period.
Series organiser Duncan Hall described the nature film as "a treat for the eyes and heart".
He said the film "reveals the extraordinary array of wild birds who grace Manhattan's celebrated patch of green and the equally colourful, full-of-attitude New Yorkers, who schedule their lives around the rhythms of migration".
Also on offer is "Renoir" based on the life of celebrated painter Pierre-Auguste Renoir.
Set on the French Riviera in 1915, it tells the story of the celebrated artist in declining health at age 74, and his middle son Jean, who returns home after being wounded in the First World War.
Mr Hall said: "In this dreamy biography, as sensually beautiful as the work of its subject, the elder Renoir is filled with new, wholly unexpected energy when a young girl miraculously enters his world.
"Blazing with life, radiantly beautiful, Andree will become his last model, and the well spring of a remarkable rejuvenation.
"At the same time, Jean also falls under the spell of the free-spirited Andree — and their beautiful home and majestic countryside grounds reverberate with intrigue, as both Renoirs, père et fils, become smitten with the enchanting and headstrong young muse."
Renoir is for mature audiences only and will be screened on Sunday at 5.15pm.
Trailers of the films can be viewed at www.bermudadocs.com.
Tickets are on sale now at the Oceans Gift Shop at BUEI or by calling 294-0204.
The 'Weekend Film Series' — sponsored by Gosling's — is a joint production of Bermuda Documentary Film Festival director Duncan Hall and the BUEI.