Getting creative at Christmas
Created: Dec 18, 2014 08:00 AM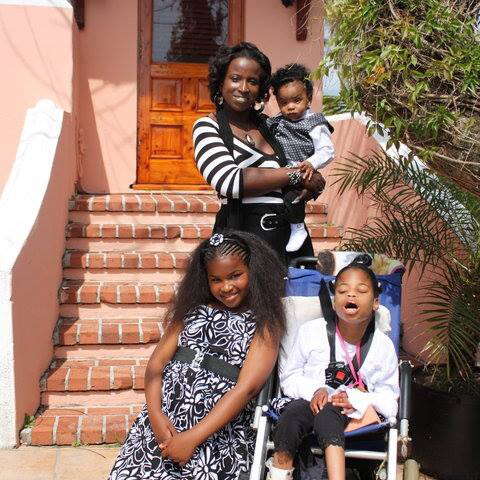 Sacha Richardson has to be creative at Christmas.
She's on her own with three children — one of whom has cerebral palsy and is confined to a wheelchair.
As a result, she's realistic with them about what they can expect in the way of gifts.
"To be honest I don't know how I manage around the holidays," the 35-year-old divorcee said.
"For me, generally, I just do. I try to please them and give them what they want for Christmas, but I am very realistic with them.
"I don't want to give them false promises. If they want a bike for Christmas, but I know I can't do it I tell them I can't."
Life isn't as difficult as it once was. In 2012, Ms Richardson was made redundant from her job at Appleby.
The family really struggled until she started her own company, Panacea Virtual Administration. It offers business administration solutions for small firms and charities. She's able to run it from home, which enables her to be there for her special needs child.
Despite the inroads she's made, she believes there are lots of stigmas placed on people who need help.
"You definitely need to reach out to any resources that might be out there," Ms Richardson said.
"I know for some people, myself included, it's hard to put yourself out there for it to be known what you are going through, but it's so important to find people who can advocate for you."
She's learned a lot having experienced all she has; the most important lesson has been not to judge others.
"Anyone's circumstances can change in an instant, whether it's due to a death in the family, someone getting sick or them getting sick themselves," said Ms Richardson, who battles with her own health challenges, including the systemic autoimmune disease Scleroderma.
"They could lose their job or any number of things that could change their circumstances in the blink of an eye.
"They could fall on the same situation of someone they are looking down on now, so I urge people not to judge."
Even though she doesn't have much, Ms Richardson has found herself on occasion giving her last. She recently learned that a friend was seriously ill in the hospital.
When she asked what she could do to help, the sick friend gave her a list of toiletries and food items she needed from the store.
But in hindsight, Ms Richardson questioned whether she could actually afford them. She purchased them anyway.
"Even at the cash register when I went to pay for the stuff I was saying to myself 'How am I going to do this?
"I didn't even have a Christmas tree for my kids yet, but I had to trust that God would find a way for us.
"Dropping off the items was even hard for me because I knew we needed some of these things ourselves."
A few hours later, Ms Richardson received a blessing in return. She received a holiday food hamper from Free Food Bermuda — a Facebook page that provides the needy with free resources.
Her family was also given a Christmas tree. Through the experience she was reminded of the value in giving, even when you don't have much.
"I know you can't always give, especially if it's your last," Ms Richardson said.
"But if there is a spirit to give and you have the opportunity to do something, I am learning that you will be taken care of."
She said life in general could be a bit overwhelming at times; the holidays especially so. She has to be extremely organised to meet the needs of her daughter with special needs, as well as her other two children but she tries to make Christmas about them.
"I am always with my family so it's definitely a family thing for me. My favourite part of the holiday is seeing them happy," she said.
<p>Why Santa's visit does not have to drain your wallet</p>
That's the word from mother-of-three Sacha Richardson, pictured left. The business owner gave us a few tips for ways parents can think outside-the-box to make the holiday special for their children.
1. Make It Fun
"Find other ways to make Christmas special, rather than gifts that cost a lot of money," Ms Richardson said.
"One year, maybe last year or the year before, I decided to buy a lot of smaller gifts for my kids. For instance, for my middle daughter I bought her some earrings and for my five-year-old son I bought him some small cars. Then I created a scavenger hunt which had little clues for them to solve to find the gifts. For them it was really exciting and at the end they had a whole bunch of little presents.
"It wound up being cheaper for me than buying one of those big toys or electronics that they play with once and then forget about."
2. Be Creative
Ms Richardson said she might try and repurpose a beloved old toy that's falling apart at the seams. Or find a way to redecorate something that wasn't really touched after the holiday last year.
By making it look new, children might give it a second chance, she said. You can also try your hand at making gifts, if you are artistically inclined.
You can get a tin and fill it with all of the ingredients to make a batch of homemade cookies or put together a themed basket filled with inexpensive items.
3. Find Support
There are many times when Ms Richardson can't get every item on her children's wishlist. But she said she is grateful for added support from local charities, families members and even the children's godparents.
Even small gifts can make a big difference to single parents during the holiday season, she explained.