Trip down memory lanes with bowler "Woody"
Created: Nov 07, 2015 08:00 AM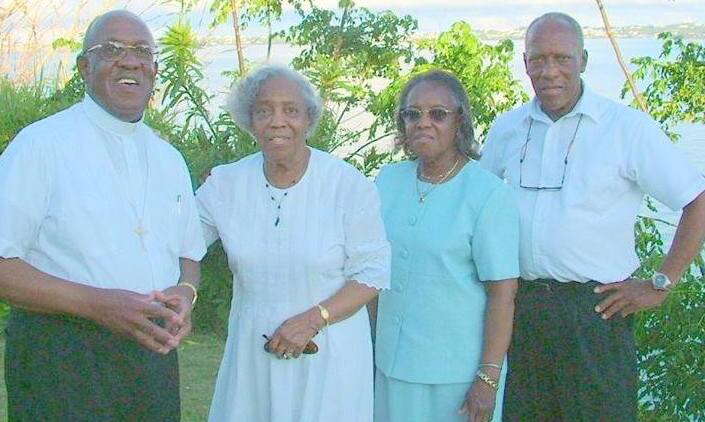 Longtime bowler Alfred "Woody" Jones was recently honoured for his commitment and dedication to the sport.
The 80-year-old is a member of the Thursday Night Bowling League. Committee member Colbert Pearman noted how his friend had been bowling since the early 1960s, giving instruction and advice to fellow bowlers.
The Thursday Night League is the TBI Men's Classic League. It bowls for 32 weeks every year, starting in September and finishing in April.
In addition to coaching his fellows, Mr Jones has dedicated his energies at the bowl, dressing lanes, fixing machines and even operating the front desk or whatever else needed to be done.
He's proud knowing that his son Antoine Jones is now manager of Warwick Lanes and he's complimented when friends remark how true it seems that 'apples don't fall far from the tree'.
There are more than 40 million United States Bowling Congress-registered bowlers worldwide. Mr Jones has bowled in the USBC Open Championship Tournament for 49 consecutive years, with the 50th coming up. It is believed that there are few, if any, who could match his record.
He'll celebrate his 81st birthday this coming November 19th and plans are in hand to present a plaque to him on that date as an acknowledgment of his commitment and dedication to the sport; also embraced will be his soul fan, his wife Claudine. She will not be required to make a cake for the occasion; many thanks have already gone out to friend Marge Correia.
• Farewell to my brother, a trusted servant of God
My brother, Howard Wilfred Philip passed away peacefully in his home in Dayton, Ohio, exactly a week ago.
He was 86, the fifth of Marie Pearman Philip and Aubrey Thomas Philip Sr's eight children.
Howard had a happy life growing up with his siblings and the neighbourhood youth of Bob's Valley, Sandys. He indulged fully in the outdoors life — swimming, fishing, and playing football and cricket in season.
Howard was both ambitious and industrious. He attended West End Primary School. He secured a job at the Bermuda Telephone Company's exchange in Main Road, Somerset. Eventually, he was in charge of the facility. Concurrently, he established and operated his private painting company.
He was married twice. He and his first wife, the former Constance Fox, had two sons — the late Howard Jr and Randy. Seeking broader horizons the family migrated to Dayton, Ohio, attracted there by his older sister, the late Myra Philip-Wallace.
Howard, like his siblings, was bought up as a devout member of Allen Temple AME Church. Above all, he was a humble and trusted servant of God. He dedicated his life to the Lord as a young child while attending Allen Temple. In recognition of his commitment, he was ordained as an elder in the AME Church four decades ago and served a host of congregations during that period. In Ohio, he became a member of the Wayman AME Church family and was a member of the ministerial staff. Howard was a genial man, with a warm personality that won him many friends.
Howard was predeceased by his youngest brother, Erskine, sister Myra Alice Wallace, brothers, Byron and Aubrey and sister Rosaline Philip Darrell. Surviving siblings are Ivy Philip Simons of New York and Ira Pearman Philip in Bermuda. Also surviving are son Randy, granddaughter Brandy and grandson Michael. Sisters-in-law Leola and Marilyn Philip, a host of nieces, nephews, great-nieces and great-nephews and great-great-great niece and relatives and friends are located in Bermuda, California, Washington, DC, Maryland, New York, Atlanta, Trinidad, France, Spain, Africa, Jamaica, Dominican Republic and India. Last rites are to be held on Monday at 11am at Wayman AME Church, Dayton, Ohio.
• Michael Curry installed as US presiding bishop
I joined historians worldwide watching as Michael Curry was installed as the first black presiding bishop of the Episcopal Church in the US.
The former Bishop of North Carolina will lead the denomination's 2.5 million members.
He was elected to succeed Katherine Jefferts Schori as the 27th presiding bishop following a landslide vote this year.
He stressed that one of his larger goals would be that of racial reconciliation.
The Episcopal Church has had a history of condoning slavery, itself indulging in racial segregation; in 2008 Bishop Schori led a service to atone for the church's past actions. Bishop Curry shared his own experience: his mother was given Communion at a white Episcopal parish and allowed to drink out the same chalice, something which prompted his father to become a priest.
He took after his father, graduating from Yale Divinity School and rising through the ranks of priesthood to become the Bishop of the Diocese of North Carolina, where he served for 15 years.
His election comes at a time when the Episcopal Church is battling dwindling numbers and finds itself at odds with its British counterpart, the Anglican Church, over the issue of gay marriage.
Bishop Curry is known for his support of same-sex marriage and sees no reason to discontinue with his stance. He has said he hopes to boost the image of the church and increase its membership, largely eroded by differences over the same topic. Evangelisation is another priority of his. Bishop Curry believes change could happen if Episcopalians went out and shared God's Word and lived in a way God would approve of. He pointed out Archbishop Desmond Tutu, who belongs to the Anglican Church, as an example.
The Episcopal Church was the denomination that many of America's founding fathers belonged to.
Some likened Bishop Curry's election to that of President Obama, although he shrugged it off.
More than 2000 people attended his installation at the Washington National Cathedral, where a dashiki-clad gospel choir from a Philadelphia Episcopal church sang its rocking rendition of Bill Gaither's He Touched Me.
Piscataway Indians drummed and chanted as 150 bishops processed into the cathedral; scriptures were later read in Spanish and Lakota. Catholic, Jewish and Muslim faith leaders took turns offering prayers of blessing.
Members of the Union of Black Episcopalians, who have called Bishop Curry's election their "Obama moment", hosted a vigil Saturday at the DC Armory. That group also provided a live-stream of the installation on large screens at the same location as dozens of churches held viewing parties across the country.