The reef rescuer
Created: Aug 18, 2016 09:00 AM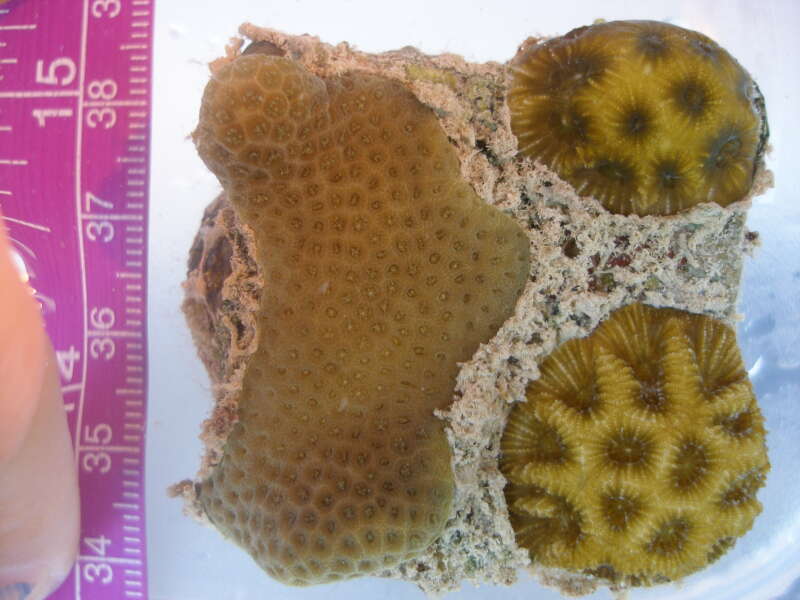 From oysters, to scallops, mussels and conchs, Samia Sarkis has made a career in growing shellfish for consumption.
The marine biologist and aquaculture specialist thrives in "early life cultures" — that period from the egg stage to juvenile — but is now turning her attention to corals.
She helped launch the Coral Garden Initiative in June; the project is the brainchild of Living Reefs Foundation, which started in 2013.
She sums aquaculture up as "sea farming".
"My whole career has been focused on developing techniques for culturing marine organisms, [particularly] growing for food.
"Like when you go to Aberfeldy and buy your seedling of tomatoes. I produce that seedling of tomatoes," she explains.
"We started the foundation as a means to engage tourists in conservation of coral reefs," she said.
Dr Sarkis had been working with the Department of Conservation Services when she discovered that reefs are an undeniable "asset" to tourism.
"Coral reefs are supporting the island in a lot of different ways. They provide coastal protection against hurricanes; they provide fish for food; they're basically essential to the residents' wellbeing and livelihood.
"Tourists very much appreciate the beauty and pristineness of Bermuda's coral reefs."
They have now introduced their Adopt-a-Coral Programme to Tucker's Point resort to develop coral gardens, a new practice that is increasing worldwide as a tool for restoration.
"The concept is that you're providing a base or structure on which you attach juvenile corals and they grow," Dr Sarkis told Lifestyle. "You maintain them until the point that they reproduce on their own.
"In that way you're actually boosting the coral recruitment in that area and at the same time you're boosting the population of any species that is associated with coral — reef fish or other inverts — so it affects the whole reef community."
The site was targeted to benefit the reefs of Castle Harbour that were severely damaged during the construction of the naval base and the airport in the 1950s.
"To date the reefs haven't really recovered," Dr Sarkis said.
"At the same time it's a good way to engage the guests and members of Tucker's Point. Our guests will come and attach a juvenile coral if they like to their coral garden frame or they can do a tour of the various coral gardens."
Not solely restricted to guests of the hotel, the "eco-experience" is available to everybody.
The first coral garden has been adopted by 11th Hour Racing, a US-based NGO and sustainability partner for BAR (Ben Ainsley Racing team for the America's Cup).
"An individual or organisation can adopt a coral garden, and their sponsorship enables the culture of corals, production of juvenile corals, transfer to coral garden, monitoring and maintenance for one year, or until new corals are successfully established.
"This includes coral gardening experience while snorkelling or diving, and a follow up of your coral garden through time lapse photography.
"You'll be able to follow your coral garden over time.
"A similar programme has been going on at the Four Seasons in the Maldives for a number of years which has proved extremely successful"
The pyramid-shaped rebar frames are approximately 1m high by 1.5m and anchored around the reef before the juvenile corals are attached with underwater cement.
Unlike other sites that typically use branching corals for their fast growth, Dr Sarkis and team are favouring boulder corals to give a true representation of Bermuda's reefs.
They have collaborated with Samantha DePutron, Coral Reef Ecologist at Bios, who has been culturing corals for past ten years. Dr DePutron is an expert in larval seeding for production of juvenile corals.
"This is pioneering work in Bermuda; although increasing worldwide as a restoration tool, most use branching corals, obtaining juveniles from fragmentation of colonies; Living Reefs is keen to investigate new techniques based on the production of larvae by coral colonies, and growth of juveniles from these larvae."
"It's much more sustainable, but it also hasn't been studied very much. Scientifically it's also very innovative," she added.
There are at least 20 coral species documented in Bermuda.
Dr Sarkis has lived in Bermuda for 22 years, having first come as a volunteer at Bios when she was 23. Growing up by the sea in France, she said her career choice was "instinctive", but "what really got me started was I did a volunteer internship with Earth Watch".
"I used to teach in Turks and Caicos, in South Caicos," she said.
"At the time there were fantastic reefs. Unfortunately, there was a big bleaching event in 2005 that destroyed a lot of the reefs.
"Bermuda's lucky in that sense. We are less vulnerable to bleaching than more southern islands.
"The driving force behind all this is to actively protect and restore the reefs. Bermuda's reefs have been protected since 1966. Bermuda's done a great job of protecting and conserving reefs, but it's always been more of a passive protection.
"Really you're going to gain so much understanding on how to best restore and grow corals."
Dr Sarkis and Dr DePutron will further collaborate on the development of a Reef Health Index to assess the performance of the coral gardens and the health of reefs around Bermuda, providing a comparison with reefs in the Caribbean Region.
Dr Sarkis called it "the perfect study site" for visiting scientists.
She said the first attachment brought "instant gratification".
"It was very exciting to see on the first day that, within half-an-hour of the first corals being attached, there were foureye butterfly fish zooming in and out of the frame and nibbling on the coral. It's very exciting to see how much interest this project has triggered. When I think about that now I think, why didn't we think about it before?"
Anyone interested in adopting a coral garden can contact ssarkis@livingreefs.org. Updates on the Coral Garden Initiative are posted on Living Reefs Facebook page: www.facebook.com/livingreefs/