The Purple Grumblies are coming to Bermuda
Created: Nov 09, 2016 07:00 AM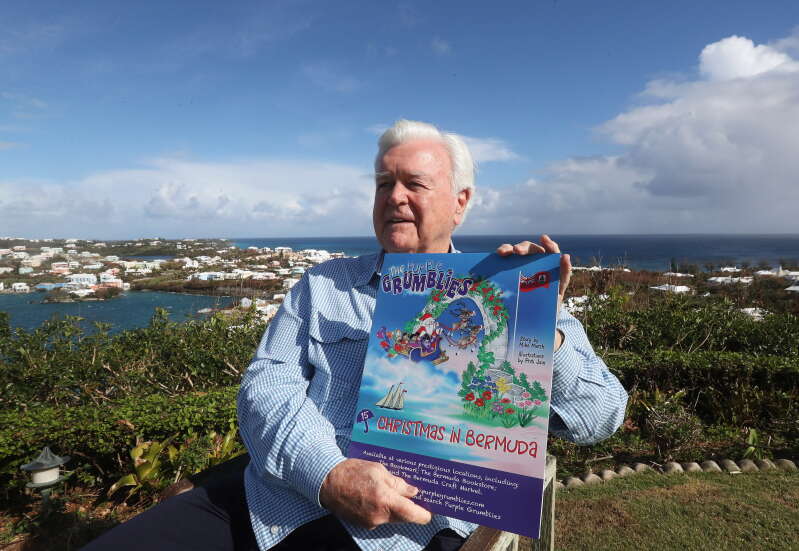 Gombeys, pink sand and moongates — Mike Marsh's Purple Grumblies are travelling to Bermuda for their next adventure. Their first visit here just happens to coincide with the Christmas holidays; Santa makes a special appearance. The author believes the characters could eventually bring tourists to the island. Look out for more of their escapades here in future books.
Q: What's The Purple Grumblies Christmas in Bermuda about?
A: This particular story involves the Grumblies invited to Bermuda to see a circus at Christmas time. They don't like seeing the animals in cages and whips being used on the tigers. One of the comic characters of the Grumblies is Fearless Gertie. She teaches the owner of the circus, Mr Fleabag, a lesson he won't forget.
Q: This is the 15th book in the series. Why do you continue?
A: Because it's fun. I have four children and they have children and I was encouraged by them to write the stories. This is the first Bermuda story.
Q: Do you think the Grumblies will make a return trip?
A: In Prince Edward Island, Canada, the mythical stories of Anne of Green Gables has taken on a life of its own and has resulted in a boom in tourism. It may be ambitious, but I would like to think that The Purple Grumblies could follow in the footsteps of Anne, and become a new small industry for Bermuda. It could attract a lot of visitors. I have many thoughts on this subject; eventually, perhaps, a museum for the Purple Grumblies, models of the characters, animated films and sales of all kinds of Grumblie-related items such as the grumbrella — that's a special umbrella the Grumblies use for all kinds of things. I'm now promoting the books on my website and on Amazon and would like to see it take hold in the US and encourage visitors to come and see Bermuda — where the author lives, where the characters landed in Bermuda and so on. Perhaps government will support the idea.
Q: The illustrator for the book, Priti Jain, lives in India. How difficult was it for her to recreate a place she's never visited?
A: Bermuda is depicted as close as she could get. I sent her pictures, tried to show her the colour of the sand. I think she's done a wonderful job.
Q: What do you hope that readers take away from the books?
A: First I want children — and parents if they're reading the story — to have fun! I wrote them for fun and I hope there's always plenty to laugh at but, in addition, I try to emphasise certain values. The Purple Grumblies are underdogs. They have certain handicaps, such as being unable to run, and so have to use their minds to defeat enemies and solve problems. They have to think outside the box if they're to come up with a solution. The stories are all about things like honesty, loyalty, courage, stopping cruelty to animals, or bullying, using lateralthinking tosolve problems and so on. If kids are taught lateral thinking you'd be amazed how quickly they can solve problems. So I like to have in each book a message which kids might appreciate.
Q: Such as?
A: I've written three stories (7, 8 & 9) about saving the whales to get kids to understand the importance. The Grumblies find a mother whale washed up on the beach. She's crying. Some nasty fishing trawler has caught her baby in its nets. The Grumblies save the baby and teach the nasty trawlers a lesson they won't forget. Then there are three stories (9, 10 & 11) about saving the elephants from extinction.
The books are available locally for $14.95 or on Amazon for $9.95. Visit www.purplegrumblies.com