Giving Christmas gifts to needy children
Created: Nov 17, 2016 08:00 AM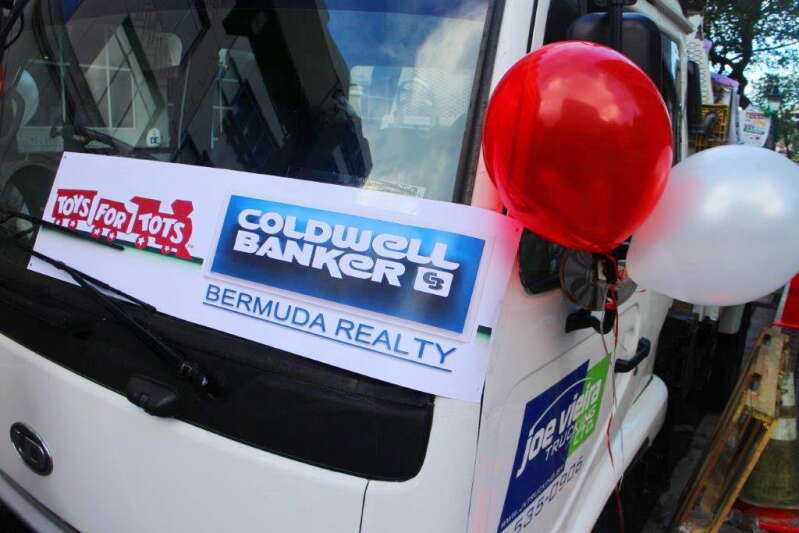 Kim Webb's goal was to find 240 toys to give to needy children. The plan worked better than she had hoped. Toys for Tots, the initiative she started under Coldwell Banker Bermuda Realty 14 years ago, gave away 300 presents that first year. The annual drive now raises closer to 1,500, with more than 20,000 gifts handed out since it started in 2002.
Q: Where'd you get the idea for Toys for Tots?
A: I was actually in Vermont for Christmas 15 years ago and saw the Toys for Tots sign on the Coldwell Banker office in Quechee. I found out that there are many Coldwell Banker offices throughout the States that collect toys every year for needy children [as an] extension of the Marine Corp Toys for Tots initiative. When I returned to Bermuda, I had a conversation with Sheilagh Cooper from the Coalition for the Protection of Children; they had just lost their sponsor for their toys for the Christmas party they hold every year. I decided that I would raise the toys for [them] under the Toys for Tots banner — that was 14 years ago!
Q: Don't people donate hand-me-downs all the time?
A: I want to make sure that every child in Bermuda, no matter what their circumstances are, gets a NEW gift at Christmas. [This way] they get to experience ripping open the crinkling Christmas paper to find something just for them.
Q: Do you consider it your legacy to Bermuda?
A: Funny, I have never thought of it like that, but I guess it is. I should stress though that it is as much Coldwell Banker Bermuda Realty's legacy as well. I was away from Coldwell Banker for four years and everyone carried this on. Last year, every employee in the company contributed 100 per cent to our drive. Without the help of so many in our office we could not pull this off. Some of the key people would be Ann Rego, who handles our reception area and counts every toy that comes in each year and manages the window that they go in, Quinton Burgess, our marketing coordinator, and Carol Birch who has designed the poster and art work. They are amazing with the time they give to this.
Q: Many say the recession is over. Why continue?
A: Bermuda is definitely taking a turn for the better but it will take many years for everyone to get back on their feet so there is still a huge need. The programme will continue as long as I am with Coldwell Banker and, I am sure, for as long as there is a need.
Q: What's the public response to the programme been?
A: As always, the public response is amazing. Bermuda is full of many generous people and the corporations and companies assist as well. Markel, KPMG, XL, Amlin, Endurance, CD&P, PWC, Argus and the BMA are only a few of the companies that gave very large donations of toys last year. The schools love to partake as well. Warwick Academy has been in from day one, BHS, MSA, Somersfield and Bloomfield and so many others have also donated. For the past seven years, Jenny West and Jonelle Smith (fellow agents from other companies) have had a party for their friends at their homes and everyone brings gifts. It is just so heart-warming!
Q: And the Coalition response?
A: The Coalition has always been extremely grateful for our assistance. The first years might have been a bit difficult; I don't think that they anticipated the amazing generosity of Bermuda as a whole. They now have some excellent systems in place for dealing with the influx of toys and, as a result, [are] able to share the toys through many charities, churches and schools. This really has become the central toy drive in Bermuda and it is just amazing how we are able to help so many.
Q: What types of toys are needed?
A: It's basically all children from 0-16. Any type of toy for the younger ones. I love to see them being kept active: balls, hula-hoops, skateboards, we even receive a few pedal bikes each year, which is amazing. Books are really well received. If you donate toys that need batteries, please provide them as well. For the older children, gift certificates for iTunes, hair and nails, movie tickets ... I would love someone to donate a few ice skating tickets.
Q: Who does all the wrapping?
A: Companies give their time, individuals, schoolchildren use this for their community hours but the key ones are the mothers who come in to pick out toys for their children and wrap them.
Q: How long do people have to drop off gifts? Where is the drop-off point?
A: The drop off points are all over the island: Annex, Gorham's, Al-Mil, Arnold's Discount Warehouse, Price Rite stores, Hunt's and Heaven Sent Boutique, Little People's Toys and Bermuda Book Store. Red Steakhouse is also offering a discount on lunch if you bring a toy for their box. And of course our office at 11 Par-la-Ville Road, Hamilton. The elves for this year are myself (Kim Webb 247-1821), Angela Hanwell (247-1833) and Clare Marshall (247-1829). Angela and Clare are both new to our sales team and were really keen to help out. You can give us a call if you need your gift to be collected. Delivery day is December 2nd this year. You can buy your toys any time up until December 1.