An hour of fun, dexterity and much humour
Created: Mar 02, 2017 08:00 AM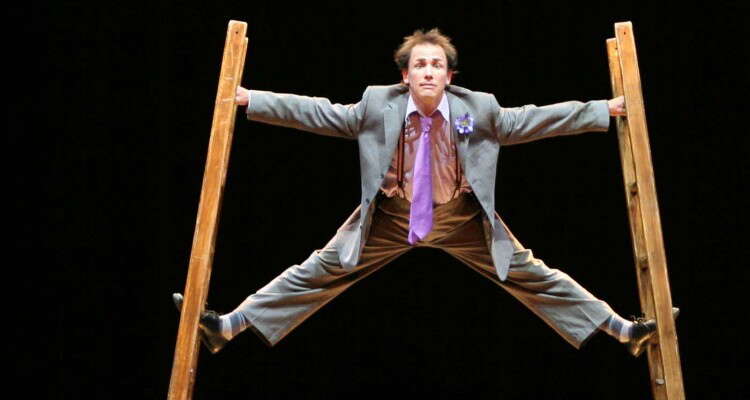 Circus Incognitus
Sunday, February 26 at the
Earl Cameron Theatre
That one man can engage an audience ranging in age from 8 to 80 for more than an hour with virtually no dialogue and minimal props is magic.
Except that it isn't.
What it is, in fact, is an extremely skilled clown, acrobat, tumbler, juggler, dancer, mime presenting a fast-paced series of circus acts all on his own.
In a series of "scenes" hung loosely on a narrative of a comic working the kinks out of a new routine, Jamie Adkins held his audience enthralled. Circus Incognitus, presented at the Earl Cameron Theatre, had as its premise a performer who has come up with a fantastic new show but struggles to overcome production problems.
A metaphor for everyday life, Adkins' performance shows how everyman, in desperate times full of uncertainty can, with humour, overcome whatever life throws at him (including melons), and triumph.
Entering a minimal set, Adkins brought light into the darkness with a flashlight and clever light play. Teetering on the edge of a rather animated chair, he kept the audience on the edge of their seats as he struggled to extract the script from his cardboard box, integrating juggling, sleight of hand and tumbling with precise comic timing.
Trying out his new costume was also a challenge, as his bowler hat had a mind of its own; it refused to stay on his head and instead ran along his arms and over his back, repeatedly ending up back in the suitcase from which it was first extracted. There was also a running gag about a rather unsavoury sweat cloth that had once been a dress shirt.
Great agility was also on display as increasingly large objects — starting with a strawberry on a fork and ending up with a melon on the spike of a hi-hat — were skewered adeptly on the end of a variety of utensils. Really rather remarkable!
The children in the audience were delighted to be invited to participate, and did so with gusto.
It's just as well that except for some rather expressive sounds, the performance was in mime, as even the microphone and stand caused problems, producing ping-pong balls that Adkins caught and then juggled with his mouth.
The grand finale was the high wire act — only the wire had to be rigged first, and the ladder available proved unstable, as bits fell off and sections came apart, leaving Adkins to make his way around the stage using the ladder legs as stilts.
Not content to merely walk from one end to the next, Adkins danced lightly on the wire and juggled a number of coloured hoops before dismounting with a flourish. And as no clown worth his salt would leave the ring without pedalling a cycle, Adkins took his curtain call on the smallest two-wheeler I have ever seen.
Of course the younger members of the audience were totally engaged, but so were the adults, anticipating Adkins' next move or marvelling at his skill and agility.
It was a delightful hour of good fun and, on another level, of good advice — with a little dexterity and much humour, you can manage whatever life throws at you.
For the full list of Festival shows visit: bermudafestival.org