The white wines of New Zealand, California
Updated: Jun 23, 2017 10:04 AM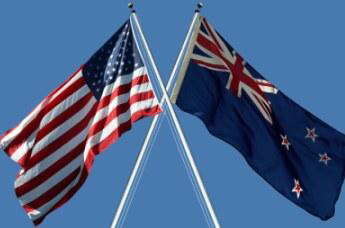 Chances are that two countries might dominate the local news this weekend and, although our virtually non-existent diurnal temperature variation and shallow soils make our island a poor place to grow wine grapes, we can take pride in our ancestors showing the world how to design and build the fastest sailing craft.
As New Zealand shows off modern technology, let's go to their oldest winery and Bermuda's most popular grape. Te Mata Estate Sauvignon Blanc 2015 from Hawke's Bay in North Island has perfumes of passion fruit, gooseberry and citrus blossom that all jump out of the glass. Subtropical fruit, lime and guava sparkle across a bone-dry and brilliantly crisp palate. With balance, structure and length through to its fine, fresh finish, this Estate Vineyards Sauvignon Blanc delivers all the charm of vintage 2015 in one refreshing mouthful. Wine & Spirits Magazine gives it a very credible 90/100. $22.50.
Rodney Strong 2015 Estate Vineyards Charlotte's Home Vineyard Sauvignon Blanc from Sonoma is described by Wine Enthusiast magazine as "revealing complementary aromas and flavours of mango, peach and melon accented by fresh-cut grass and honeysuckle. Mostly stainless-steel fermented, with just 10 per cent of the wine given time in barrel, it remains crisp and clean, with just the right amount of texture and body". 91/100. In the land of Silicone Valley, Rodney Strong was the first to designate single vineyard sites. $23.80.
Possibly you are thinking that you would like to enjoy a grape that hovered on the brink of extinction 40 years ago with only one small vineyard planted with it in the Rhone valley of France? Happily, like the bald eagle of the USA, viognier is once again in recovery mode. Te Mata Zara Viognier 2014 is a fine example of why I find this grape so enticing. Luscious aromas of white peach and white flowers give way to a soft, flowing palate of exotic mandarin, apricots, hazelnuts with hints of lavender and honeysuckle.
When pouring viognier, and we have it from a few countries, it is rather hard to describe but it seems to have a roundness to it. It's almost "oily" and has a viscosity that you can actually see as it exits the bottle. The wonderful purity of fruit is a treat indeed on a hot summer's day. $27.30.
If you have been impressed by the magnificent J boats visiting us, what better way to salute them than with a bottle of J Vineyards Pinot Gris 2016 from Judy Jordan in Sonoma. Judy's deep understanding of geology and the interaction with soil, climate, rootstock, clone and every step of the way from farming the grapes, to making the wine, to enjoying it, are meticulously reviewed and continually improved. This is what they say about their pinot gris: "We first made pinot gris in 1996. Our version of this variety is crisp with bright fruit and a kiss of minerality. J Pinot Gris combines the best of both New World and Old World styles. We draw fruit from a combination of warm and cool climates for a blend of citrus and tropical notes with a notable fleshiness and firm acidic backbone." $23.70.
To get quite a different effect you could try our Mt Difficulty Pinot Gris 2014 from their Bannockburn Estate in Central Otago which is situated in the South Island of New Zealand. Aromas of white peach and pear blossom mingle with crisp, red apple notes. The palate is full, creamy and well textured. $24.75.
A wine that I rather selfishly have to keep in stock is Robert Sinskey Vin de Terroir Abraxas 2014 Scintilla Sonoma Vineyard, Los Carneros District, California. I use the word "selfishly" as we do not sell very much, probably because of a price of $51.20 and the lack of understanding of exactly what one of my favourite wines is all about — I just may be forced to consume most of it myself! Or better still, why don't I tell you why I am so impressed.
If we ignore earthquake and drought, 2014 was a beautiful year with gorgeous berries — thicker skinned and more intensely flavoured and perfumed than many vintages. Not only is this vineyard certified biodynamic, but the weaving together of 43 per cent riesling, 29 per cent pinot blanc, 17 per cent pinot gris and 11 per cent gewurztraminer is magical. Imagine honeysuckle, lilac, lychee, almond, white pepper, kaffir lime, citrusy notes, pear, pineapple, green apple and a firm mineral background. Enough said I think. Since a sommelier poured my wife and me a glass in Napa Valley some years ago, it has been on our must-have list. Of course it goes without saying that Abraxas is the god or goddess of 365 paradises.
• This column is an advertorial for Burrows Lightbourn Ltd. E-mail mrobinson@bll.bm or 295-0176. Burrows Lightbourn has stores in Hamilton (Front Street East, 295-1554), Paget (Harbour Road, 236-0355) and St George's (York Street, 297-0409). Visit www.wineonline.bm.