Home-grown, how sweet it is
Created: Nov 30, 2018 08:00 AM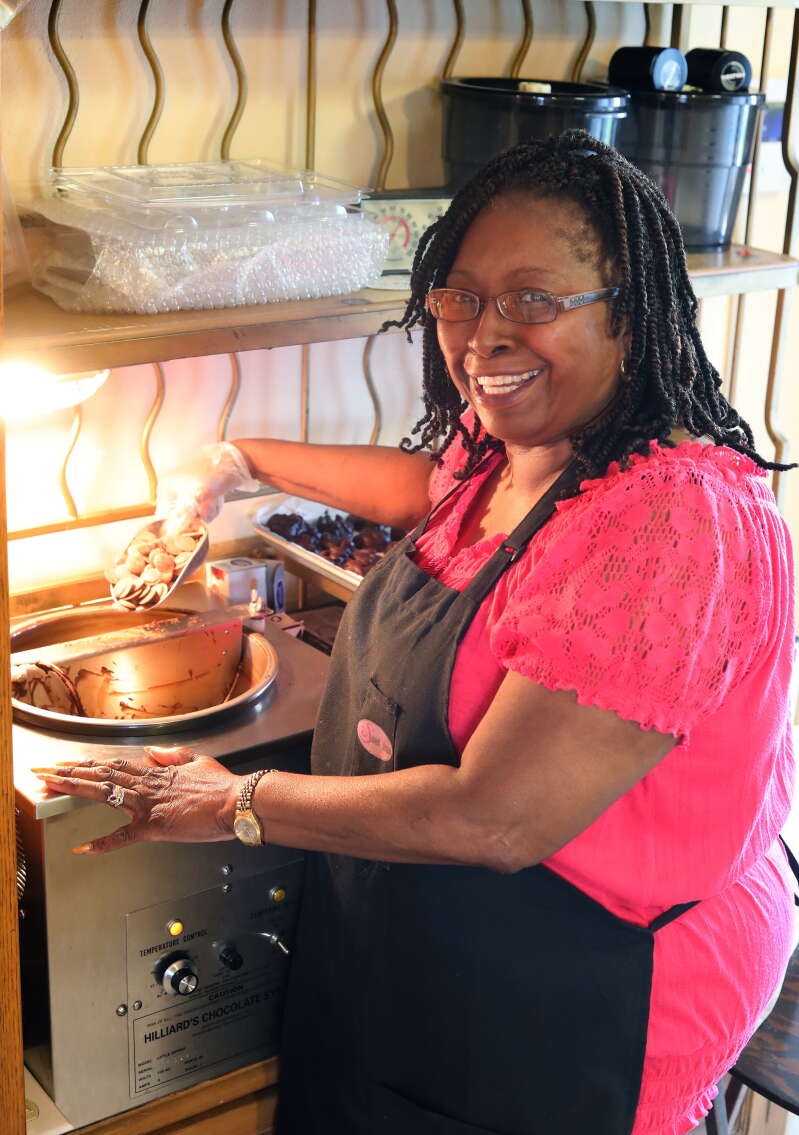 Almuriel Simons-Busby has always had a weakness for chocolate peanut clusters.
Ten years ago, frustrated because she could not always find them in stores, she tried to make her own. "I couldn't do it," she said. "It wasn't right."
The heat and humidity in her kitchen were partly to blame. The ideal temperature is 72F for chocolate to harden properly and reach a desired consistency; it was much hotter than that in her house, especially in the summer.
"That was when I said, "Let's see what else can I do'," she said.
She had air conditioning installed in her kitchen and ordered a chocolate tempering machine. "It cost about $1,000," she said. "I talked to the store owner abroad and he said that I should start with that one and then if I started a business I could buy another which costs thousands of dollars."
At that point she really just wanted a constant supply of her favourite poison.
"It was for fun," she said.
The new machine made the process a breeze. Finally, she was producing the chocolate she wanted.
"A neighbour of mine came over," she said. "He said, 'Mama Buzz, these taste well! You need to sell them in the stores'."
She began selling her concoctions at the rubber tree next to Warwick Post Office. That went well, and so she started selling them at White's supermarket and Lindo's in Warwick, under the name Sweet Tease.
"White's closed so now it's just at Lindo's — in the bread section for some reason," she said.
The chocolates really took off once she started selling them at the annual Home-Grown Alternatives Fair. She will be there again this year, with a host of other vendors.
Although people now line up for her chocolates, she remembers one man who was a little reluctant to sample them.
She finally convinced him to try a small one.
"He said, 'This is good. Give me a bag'!" Ms Simons-Busby said. "He took the bag, got to his car, then came back.
"He said, 'I finished those, can I have some more'?"
Her husband, Winston Busby, is another huge fan.
"He would just tear through the stuff if I let him," she said. "He has a real sweet tooth. I've had to put the brakes on that. He has a sugar problem."
She also has to watch her own consumption. "I try not to, but sometimes I get on a chocolate binge," she said. "You have to sample what you are making, not necessarily eat, eat and eat."
She makes clusters with different types of nuts and different types of chocolate.
She also offers more unusual items like boxes of chocolate where both the box and the chocolates inside it, are edible.
"Some people feel soothed looking at waves," she said. "Chocolate does that for me. I like being creative with it."
She thinks her artistry is hereditary. Her sister, Arlene Simons, is a photographer; another sister, Maxine Simons Burton, makes glass products in Nebraska; her daughter Nicole Ratteray is an art teacher.
"It's in the blood," Ms Simons-Busby said.
She started cooking while a teenager at Prospect School for Girls and really liked it, But at home, her parents preferred her to study. "You do the books, we'll handle the cooking," she was told.
Once older she got back into it, often hosting dinner parties for her friends. She then married into a large family and frequently found herself cooking for 50 people or more.
"It wasn't pot luck," she said. "I'd do the appetiser, entrée and dessert all myself. I loved doing it."
She then began making cakes, which led to a series of prizes at the Annual Agricultural Exhibition; family and friends came calling.
Once she got hooked on chocolate, however, she gave up the baking. She is busiest with Sweet Tease around Christmas, Valentine's Day and Easter.
"I have found that the high season for chocolate is in the cooler months," she said. "Right now, my biggest show is HGA."
To prepare, the retired reinsurance processor works from 10am to 10pm baking, bagging and boxing her treats. When things get particularly busy, family members help.
• Almuriel Simons-Busby's treats range from $5 for a box of mint chocolates to $25 for more complex items like her chocolate box. Home-Grown Alternatives takes place tomorrow from 10am to 4pm at St Paul's Christian Education Centre in Paget. Visit hga.bm