Bringing balance to senior swans
Updated: Mar 11, 2019 01:15 PM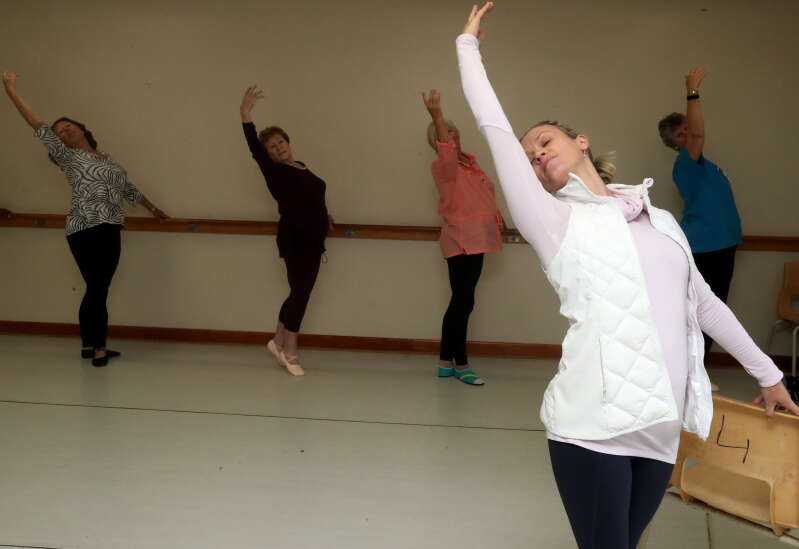 A tomboy as a child, Debbie MacKenzie refused to take ballet lessons.
By the time she was 71, she had a change of heart and, fortunately, stumbled on a class created with her in mind.
Called the Senior Swans, it meets once a week under the instruction of Mary Faulkenberry and Jayne Burnet. The idea came from a similar class taught at the Royal Academy of Dance in London.
Ms Faulkenberry found a video, posted it on Facebook and had a huge response from senior citizens interested in having the veteran dancer teach them.
She had a bad knee at the time and was already teaching Pilates at Exhale Spa, but couldn't resist the idea.
"I was a professional dancer," she said. "That was my life at one point. I missed that feeling, but was also smart enough to realise I couldn't just jump into a class and do that any more. I thought, 'What if I found someone to do this with me'?"
Ms Burnet seemed a logical choice. She had trained at the Royal Academy and taught at the Somerset School of Dancing for 23 years.
As it turned out, she had also heard of RAD's ballet programme for seniors and had also thought about introducing something similar here. Together, they came up with a course that was mentally and physically challenging for seniors but also took their agility into account.
A taster session held last autumn went over well. The pair launched Senior Swans in January, out of the dance studio at the Bermuda College. Students aren't required to have a particular fitness level.
Elah Raynor, 71, said she had never done any ballet before but was having a lot of fun and had made many new friends.
"I was nervous when I started and still am," she laughed. "It looks easy until you start doing it."
Jill Amos Raine, 76, joined looking for a challenge and some exercise. Like a lot of the Swans, she struggles with balance.
"As you grow older, [it is] one of the things that doesn't work as well," she said.
"Balance problems can make you fall and that can cause many more problems.
"A lot of people say it's not for me, I'm a senior, but it is for everyone."
She could not say if ballet was having a positive impact because she also does line dancing and Tai Chi. "I'm not sure what is affecting what," she said.
Margot Cox, 82, has noticed all the seniors have improved posture since starting the class.
"I find we are carrying ourselves better," she said. "We are more aware of our bodies and are more loosened up.
"At my age things start breaking down. I don't get a bad back from this. It is not stressful on the joints or hard on the knees. I know we don't look like ballerinas, but it gives us a feeling of being graceful."
Meanwhile the former "tomboy", Ms MacKenzie, said while the ballet teachers were extremely patient, there was no "namby-pambying".
"They stretch us," she said.
Ms Faulkenberry said she loved teaching the class.
"It is not like teaching any other adult class and it's particularly not like teaching a child's class. We pick and choose what we teach. We choose things that will be beneficial and will not hurt anyone.
"You are learning direction, you are learning weight transfer — which is important for everyone. You are sliding but then you are pushing and have to get all of your weight on your leg.
"Being 63, I think I have a pretty clear picture of what ageing is.
"My father is 94 and lives in Baltimore. He goes to the gym every day.
"There is a big sign outside of the gym that says, 'You don't stop moving because you get old, you get old because you stop moving'."
Dancers show up for class understanding they won't have to perform in a recital or wear a tutus.
"We spread the message that being active and learning new things is important and good and brings you a lot of joy," Ms Faulkenberry said.
Elaine Ritchie, 73, said that by the end of the class she definitely felt as though she'd had a workout.
"I am also having a great respect for ballet dancers, because actually it can be quite strenuous in its own way," she said.
Sue Houghton, 62, said there are other adult dance classes held on the island but they tended to be at night.
"This is a good opportunity to do it in the daytime with people around my age," she said. "No matter how bad I feel before I come, I feel wonderful afterward."
Ms Burnet said the senior students were like sponges, soaking up everything they were taught.
"They are completely focused and ask intelligent questions," said the 44-year-old, who is planning to get certified by the Royal Academy as a dance instructor for seniors.
"They are enjoying it and having fun at the same time."
• The Senior Swans meet Wednesdays from 12pm to 1pm at the Bermuda College. The cost is $70 for 12 sessions. Visit college.bm or call 239-4029