From a passion to business
Updated: Feb 28, 2020 09:36 AM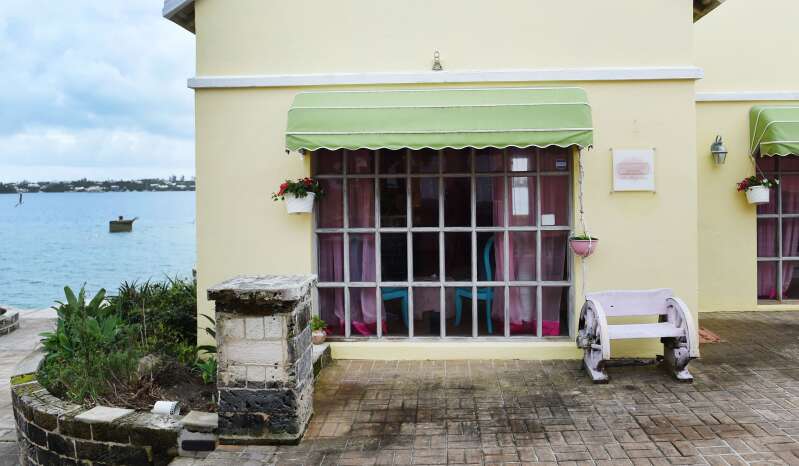 At 8, Astoria Smith became a magician. A huge part of the thrill was the make-up she put on before she went onstage. Despite that, she made business her focus at Nipissing University in Canada.
"I went to Bermuda High School for Girls, and my parents had invested a lot in my education," she said. "They wanted to make sure I had a career, so I followed through and got my degree."
Back in Bermuda her honours degree was welcomed, first in hospitality — at both Fairmont Southampton hotel and Elbow Beach Resort she was promoted at a rapid rate.
"Then I moved into the [business] sector. I joined a financial institution as a supervisor. I was thinking I would find something that really held my interest and that would take into consideration my business background. While I enjoyed the financial aspect, my passion was always with beauty."
It was her early experience with Bermuda Magic that got her hooked.
The now defunct charity offered workshops to locals, and ultimately put them onstage with professionals from overseas.
Ms Smith was involved for ten years, until she turned 18.
"I started doing my own make-up through that and always had a passion for beauty. Once I was actually working, I found the hospitality and the finance industries really weren't for me ... that's when I had the freedom to send myself back to school, to take up beauty classes in Toronto."
George Brown College offered the programme she wanted and had an on-site spa that allowed students to practise on clients.
Ms Smith worked "days, nights and weekends" to save, and enrolled in 2017.
"It was an awesome opportunity to get real work experience," she said. "When I came back, I was certified in several different areas of the beauty industry and worked at a few places, but started really to work on my own as a mobile technician, providing services at home, at events, at hospice — wherever people needed mobile services. Everyone needs to feel pretty, despite their circumstances."
Her work with people with health issues and women who were pregnant or on maternity leave, got her thinking about the ingredients in the products she was using and the effect they might have on her clients.
"I found a less toxic option for nail polish which then led me kind of down a rabbit hole in terms of what we are using on our skin on a daily basis and the changes I could make," Ms Smith said.
The 27-year-old decided "green" was the way forward. In January she opened Lacquered Lounge, a beauty studio that she operates in addition to her mobile services, Lacquered On Location.
"I really started with nail polish," she said. "I reached out to a couple companies to find samples, in terms of ingredients and what they excluded.
"I was lucky to connect with one company, Ella+Mila. They carry a huge line of polishes which is kind of what attracted me to them.
"I think people [when they think of environmentally sound products] think of limited colour range and things that are not very exciting.
"Ella+Mila have upwards of 50 to 60 nail polish colours. They're vegan and cruelty-free, PETA-certified and 7-free, which means they've removed seven of the known harmful chemicals in traditional polishes."
The fragrance-free brand also offers a soy-based remover that's enriched with vitamin E and lavender "so it's not harsh and really moisturising for the nails".
"I think that green beauty and the discussion around making the change and switching over from toxic products can be a heavy one and possibly a boring one," Ms Smith said. "I wanted products that were exciting and colourful, so people don't feel they're missing out on the excitement and beauty [of make-up] just because they've removed the toxins in traditional products."
She chose St George's as a base because of her ties: her family owned the former Carriage House restaurant; her grandmother, Juliet Herman, owns Temptations restaurant.
"I think St George's needs as much love and attention and new blood and activity as it can get," she said. "I felt if I opened a space anywhere, it had to be St George's."
Once that decision was made, a "big learning curve" followed.
Lacquered Lounge doesn't have any plastic bags, drinks are consumed out of glass or aluminium containers; there aren't any reusable plastic filters for the coffee and tea machines.
Instead of a traditional water heater, there is an electric one and the trash bags are all compostable.
"So when you start getting into the nitty gritty, whether you're doing it on a daily basis or just with the products you're using, it can be overwhelming.
"When I looked into enhancing my product line, a lot [of brands] say they are healthy, but if you Google the ingredients then it can be terrifying.
"One product I looked at recently was a mask that was supposed to be algae-based. I looked up the first ingredient listed and it was linked to cancer and respiratory issues."
She's happy to have connected with other entrepreneurs here that are also on the "green path", such as Mia Chambray and Jennifer Page, who have a line of beauty products called Cassine.
"We've been able to bounce ideas off each other and share frustrations," Ms Smith said. "The green beauty industry is continually evolving. They're constantly finding different chemicals that are not good for the reef, or good for us.
"When you think of the products you use on your body on a daily basis, all those things, even if trace or minute items or toxins, those are all going into your system.
"It's definitely worth switching over wherever you can and places like myself or Cassine are giving awesome options."
She's pleased with the reception she's received to the "bright, fun and colourful" space she created at 16 Water Street.
"It's going really well; it's been great. I'm lucky to have had some clients before and people are really receptive in St George's as well to a new space. I think people are excited when something new happens, so the reception has been really good."
•For more information on Lacquered Lounge: @lacqueredbda on Instagram, ilovelacquered.com, 735-2265