Turning page from finance to fiction
Created: May 21, 2020 09:00 AM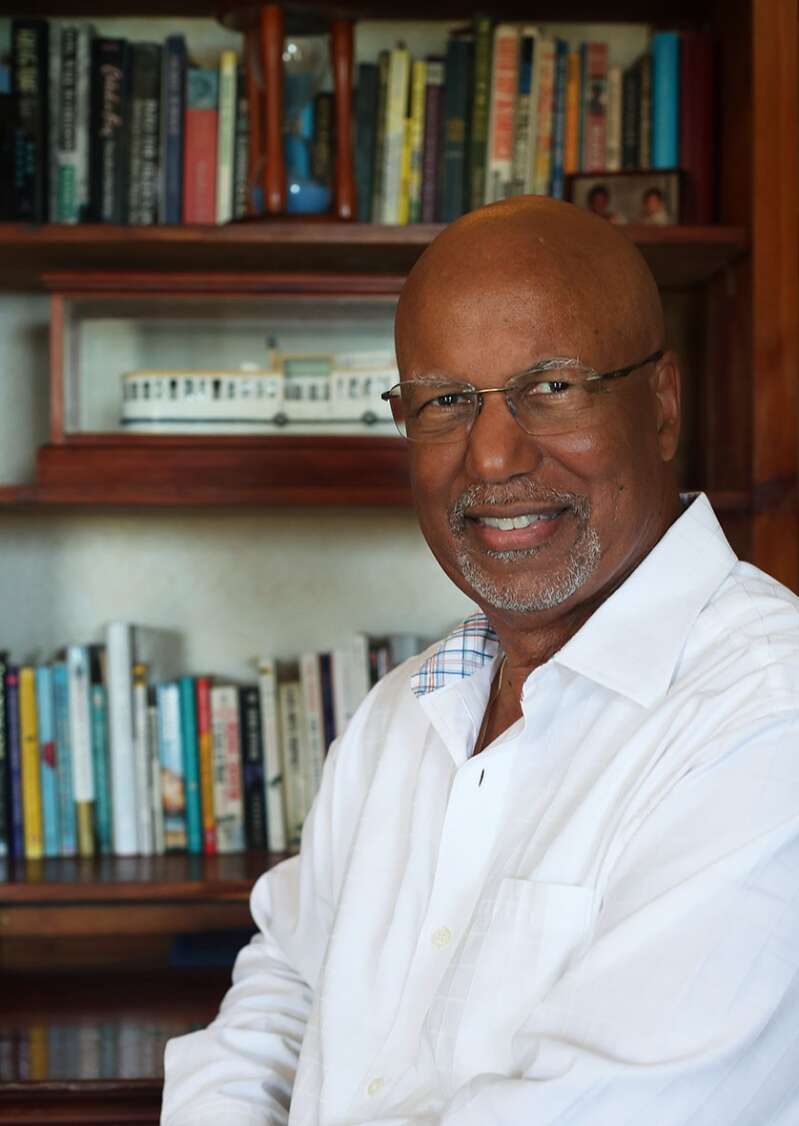 Bob Richards has written three novels — and they've made quite an impression on the literary world.
The former finance minister has an agent, a genuine hope of being picked up by a publisher and the real possibility of seeing his stories played out on the big screen.
Asked how he achieved the near-impossible feat with his debut work, he said it helped that he finally had the time to do it.
"This is what happens when you retire, you have time. I retired from politics, retired from business. You get to thinking ... what the heck should I be doing here?"
Also helpful was that he had an ace up his sleeve. Mr Richards' sister is Angela Barry, the author and former lecturer at the Bermuda College.
"During my political career, unlike many politicians, I wrote my own speeches. So I'm a writer," said Mr Richards who is also the author of a book about the battle to pull the island out of its financial crisis, Bermuda Back from the Brink.
"But writing fiction is different. I can tell you the first, second, third and fourth iterations that came off my computer were trashed by her so badly.
"I've been very fortunate to have somebody of her calibre in my family and I have used her. She's been my coach, my mentor on this thing. It's been a steep learning curve."
Triangle of Treason started 14 years ago as he sorted through the "encyclopaedic memory" he has of anything to do with boats and began making notes of everything he remembered about the ferry system.
To that he added research and interviews with "old-timers", the few pilots that were still around. However, as he was busy with his professional career and politics, the work was shelved.
"That's how it started," said Mr Richards, whose long career in finance included banking and asset management.
"I grew up taking the ferry to school. Like most Bermudians I love boats, and I realised that I knew and experienced an era that has disappeared.
"I thought a history book on the ferry system would bore everybody to tears, so I decided to write a fictional story that involves a lot of the stuff that I researched.
"And that's what we have here with Triangle of Treason. A lot of the research I did is in this book and the storyline is laid over that."
Set in the 1940s, Triangle of Treason follows a "tight cluster of intriguing characters": Captain Rodney Horatio Grant RN (Retd) who meets Hitler through Hans Lindeman, a German friend who "shares his antipathy towards Jews"; Alan "Hooks" Jones, a ferry pilot who is expert in navigating Bermuda's waters; and Harley Harvey, a US Naval aviator with the call sign Swordfish, whose squadron is posted here.
"Grant ends up muddled in espionage on behalf of the Third Reich and is forced to bludgeon his housekeeper to death with a skillet after she discovers his Enigma encoding devices," the synopsis reads.
"Alongside the tales of violence, war and death, the novel runs a parallel plot of a love story between Swordfish and Becky, who is a cinema cashier. Further tension arises as they are an interracial couple in segregated Bermuda and thus have to keep their relationship secret."
Mr Richards said: "We in Bermuda tend to focus on the negatives in our history. There are a lot of positive things that we have done and been involved with in Bermuda in the 20th century that hardly get any attention and this book kind of deals with that and looks at these things from a positive light.
"Our involvement in saving the world in the Second World War [for example] — how much have you seen written about that from a Bermudian context? We've been involved in some really globally pivotal things because we just happen to be one of the most unique places on earth. These geopolitical things come looking for us because of our geography and so that's sort of what gave life to this story and the other two."
Although started as a single book, Triangle of Treason soon "evolved" into a trilogy. The timing could not be more perfect said Susan Mears, Mr Richards's agent. Thanks to Covid-19, Hollywood is on shutdown with little new content on the market.
"The project to get a publisher is going out to tender this week and we are confident we will get that," she said.
"There is a background story on the global publishing market, which is the US is really becoming a dominant engine now in the way the UK used to be.
"As well, we are finding that physical printing in the UK is proving quite difficult in the current environment. We're doing shorter print runs and we're doing e-books; it may be we launch simultaneously as an e-book out in the UK and a print production out of the US."
The expectation is that the books would "go into contract by November with a view to publication next spring, assuming there is some kind of normalisation" regarding the pandemic.
"It's a textbook airport summer book — that would be the market we're looking to hit," she said, describing the stories as more John Grisham than John le Carré in style.
"I think Bob's political training has helped him communicate well to a bigger audience than maybe someone who'd been merely a financier in life.
"There are some humungous writers out there and some are writing into their nineties so Bob is putting himself on a hamster wheel of scale if this thing takes off."
An added bonus was that the books might help bring back attention to Bermuda tourism "in a very small way".
"I think the timing of this has been unexpected," Mr Richards said. "When I engaged in this, obviously nobody knew a pandemic was coming and that Hollywood would be closed down. It was only when I started talking to Susan and she realised that this sort of opportunity was presenting itself.
"The whole move towards streaming in the States — the Netflix of this world — just means the sort of stranglehold that Disney and the other major movie players had on movies has gotten kind of shifted off to other players. It's been a bit fortunate that something out of Bermuda can potentially surface."