Mid Ocean could block Tucker's Point plans
Updated: Mar 02, 2011 09:11 AM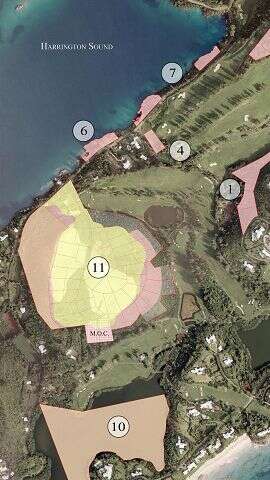 The Mid Ocean Club looks set to block part of the expansion of Rosewood Tucker's Point despite it winning a Special Development Order (SDO) yesterday.
But Tucker's Point president Ed Trippe insisted the bulk of the project for another 78 homes and 70 hotel rooms at the site is still likely to go ahead if the SDO is passed in the Senate.
Mid Ocean Club vice president Alan Dunch yesterday confirmed part of the land earmarked for development is subject to a Deed of Covenant meaning nothing can be built there without permission from the golf club.
Mr Dunch said the club is unlikely to allow woodlands near the top of Catchment Hill to be developed because it would impose on three of its fairways.
Mr Trippe said the Deed of Covenant pertained to the pink portion of development to the right of section 11 on the SDO plan.
He said when he met with Mid Ocean board members previously they seemed to be supportive of the development.
When told that the Mid Ocean now appeared to be against some of the development he said: "This is an arrangement between two private parties. It is an issue and we will have to discuss it. That may be their position."
He added they would still "do what they can" with the remaining area they already have permission to build on, section 11 on the SDO plan, and the area to the left, which the SDO gives principle planning permission to develop.
Meanwhile Progressive Labour Party MPs are said to have expressed concerns in caucus because of the history of the land in question at Quarry Hill and Paynter's Hill in Hamilton Parish.
The proposed extension will be on land mostly black families were removed from in the 1920s to promote tourism.
It's understood a three-line whip was not in place when the SDO passed on Monday, but some MPs said they felt under pressure to vote in favour anyway.
Former Environment Minister Elvin James and fellow backbenchers Dennis Lister and Walter Lister were absent from the vote, with Mr James and Walter Lister declining to comment when approached for their views yesterday, and Dennis Lister unavailable.
All other PLP MPs voted in favour with all United Bermuda Party MPs voting against.
Meanwhile, the Bermuda Democratic Alliance was split over the move, with House Leader Shawn Crockwell voting for it, Donte Hunt against and Mark Pettingill absent sick.
Sources say many in the BDA were against the move, but Mr Crockwell said the Alliance hadn't established a position because it didn't expect a debate during the Budget period.
The SDO was approved 21 votes to ten on Monday, despite the concerns of historians and environmentalists, who complained pristine land would be destroyed forever.
During the debate, UBP MP John Barritt said he believed the Mid Ocean Club had a covenant in place to prevent any development in certain areas.
Mr Dunch said yesterday: "I can confirm that the area that's the subject of the nine new lots on what was known as Catchment Hill now known as White Crescent Hill is a parcel of land in respect of which there exists a formal Deed of Covenant which was entered into between the Mid Ocean Club and Bermuda Properties Ltd in February 2000.
"This Deed of Covenant was one of a number of formal agreements that were then entered into between the parties and its intent was to protect the woodlands that currently exist between the top of Catchment Hill and the Club's sixth, eighth and ninth fairways.
"Under the terms of the Deed of Covenant, Bermuda Properties Ltd is not able to develop that woodland area without the consent of the Mid Ocean Club, and that consent has not been given.
"In the current environment, I would think it highly unlikely it would be given. That's hardly surprising bearing in mind the whole purpose of entering into the Deed of Covenant was to protect for all time the woodland in question, so as to ensure that there was no negative impact on the golf course, and also to ensure the surrounding environment was protected for future generations."
Mr Trippe told
The Royal Gazette the two entities have had a great relationship and he would be discussing the matter with Mid Ocean board members.
Mr Crockwell, who said he backed development because "allowing Tucker's Point to fail is just not an option", told this newspaper how he and Mr Hunt came to vote differently.
"We were not expecting the SDO to come up during the Budget debate. That could be partially my fault as House Leader," he said.
"I have never seen in my limited experience them debate major legislation during the Budget. We felt we had time to fully ventilate the issue in caucus, to take a caucus position.
"So we had no official line. We had some communication back and forth throughout the day, trying to get a feeling of how people felt. Myself and Donte decided it would be a vote of conscience.
"I intimated how I was going to vote and there were persons who didn't agree with me. But this is politics, this is democracy."
Mr Hunt said: "I thought we were going to be in unison as a party but it ended up being a conscience vote at the end of the day.
"Quite frankly, when I had the decision between saving the last real pristine land that has endemic plants and life on it, I'm not giving that up to development which is questionable in terms of its success."
The MP echoed claims Government was simply bailing out a resort which is close to insolvency.
"It's such a sad situation. I would not forfeit that parcel of land for a project I feel has been put forward to save a company that could have otherwise gone into receivership," he said.
"It's going to be sold to the highest bidder. Everybody keeps their jobs and we move forward."
Mr Pettingill said he was sick with the flu but would have voted against the SDO due to the Covenant issue.