Law Students raise money for two local charities
Updated: Aug 16, 2011 09:25 AM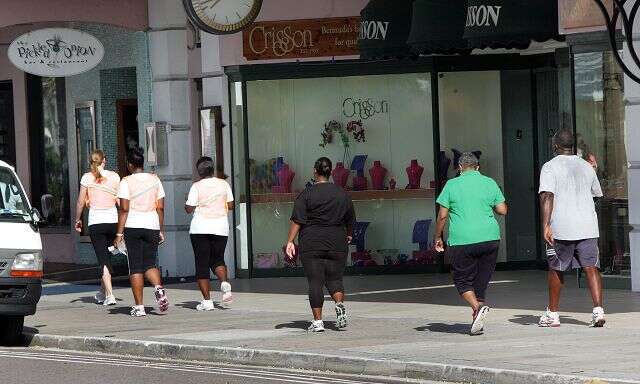 The Law Students' Association of Bermuda raised funds for two local charities during their inaugural Walk for Justice this weekend.
Around 20 students, their friends and families set off from the Senate on Front Street at 9am on Sunday. The route took in legal landmarks including top law firms and the Dame Lois Browne Evans court building.
All adults who participated made a charitable donation of at least $5, and $2 for children.
Association president Sarita Ebbin explained: "The Law Students' Association helps Bermudian law students through the study of the law. We can help them find a job and qualify, but we felt it was important to instil in them a sense of community service and giving back as well. We decided to put on a walk to the benefit of the WRC [Women's Resource Centre] and to donate equipment to The Centre [on Angle Street]."
She added: "This is the first time we did it but we're looking to make it an annual event. We started small there were probably less people than there would have been as we advertised the event for last week but had to cancel it due to the weather."
The association has another event lined up this week its annual general meeting takes place at the Royal Bermuda Yacht Club tomorrow, from 5.30pm until 8pm.
A short address will be given by Chief Justice Richard Ground, and anyone with an interest in the law is welcome to attend. RSVP to bdalawstudent[AT]gmail.com to by 3pm today.