St George's will not have a regular cruise ship in 2012
Updated: Aug 17, 2011 10:02 AM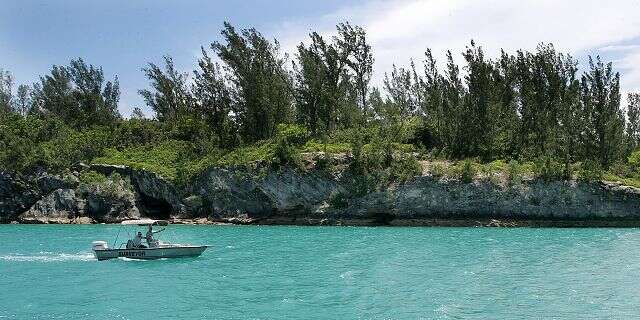 The
Veendam will not be visiting St George's next year, leaving the town without a regular cruise ship in the 2012 season.
However, St George's Mayor Kenneth Bascome said that he has already discussed the possibility with area businesses, and believes that the move could be a positive one.
"I honestly believe that we could make it work to our advantage," he said. "I think it would be better to have tours coming to St George's rather than leave from St George's.
"I had previously asked the business community if they would be receptive to the ship bypassing the town.
"I caught a whiff that the principles involved were looking at that particular proposal, so I went to speak to the business community again."
He said business operators were disappointed, but supportive of the
Veendam travelling directly to Hamilton in the future, provided that a system is put in place to get the visitors to St George's.
"There are logistics that need to be worked out to make sure that St George's benefits," he said.
"It is hoped that we would be able to go to the principles and the minister to get those people to come back to the town.
"Once we know what is happening, we will form a committee and put forward proposals that we believe will be a benefit to the community."
Businesses in St George's have suffered in recent years due to the reduced number of visiting ships. For the last two years the East End has had only one regular cruise ship, Holland America Line's
Veendam. Because of its size, the ship cannot safely pass through Town Cut and instead moors at Murray's Anchorage, with passengers ferried into St George's.
Poor weather has frequently caused the ship to bypass St George's and dock in Hamilton.
Yesterday evening, a Holland America spokesman confirmed that the ship would no longer stop at St George's, but that shore excursions to the town would still be offered.
"The cruises will now feature a three-day port call in Hamilton, Bermuda (previously two days) and will no longer call directly at the port of St George's.
"All booked guests and travel agents are being notified of this itinerary change."
The Government did not respond to requests for comment by press time last night while Joe Simas, general manager for Holland America's local agents Meyers Shipping, declined an opportunity to comment.
While the
Veendam may not visit St George's after this season, Mr Bascome said the town still sees cruise ships as a part of its future, saying that the results of a report on modifying Town Cut could be released in the next two weeks.
According to Mr Bascome the report, announced by Governemnt last December, is now completed; he expects Government to make a public statement in about two weeks.
"I have some information myself, but not all the details," he said. "I'm just hoping that whatever is determined in the report that the community is behind it.
"We hear much about the cruise ships not benefiting the economy, but we know when they are there," he said. "When the cruise ships are in, the cash registers start ringing."
The $238,500 study by Moffatt & Nichol was also expected to look at the possibility of modifying Two Rock Passage to allow Panamax or post-Panamax ships into Hamilton.
Transport Minister Terry Lister told the House of Assembly in March that the study would be completed in May. He said then that Government was still looking to find smaller cruise ships that could serve both areas.
Shadow Tourism Minister Patricia Gordon-Pamplin said the results of the channel study should have already been released to the public.
"For the people of St George's, this is their lifeline," she said. "People need to know what the heck is going on.
"They need to get up and say whatever recommendations are made or at least let the public know what the reason for the delay is."
Useful websites: www.stgeorgestown.bm, www.hollandamerica.com, www.oba.bm, www.gov.bm.