Supermarket boss aims to be the oldest person to run in the Everest Marathon
Updated: Aug 23, 2011 09:44 AM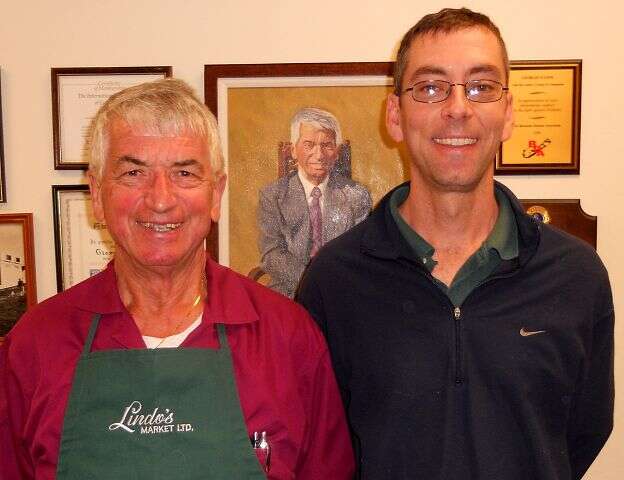 One of Bermuda's most recognisable runners, supermarket boss Giorgio Zanol, is to run a marathon on the slopes of the world's highest mountain Everest.
At 70 years old he is set to become be the oldest athlete ever to tackle the marathon on the 'roof of the world'.
And he'll be once again raising funds for the Bermuda Diabetes Association, continuing his support for the group, which has seen more than $250,000 raised in recent years through his running adventures and the annual 10K race held between the two Lindo's stores.
Normally no runners over the age of 65 are allowed to compete in the Everest Marathon due to the extreme physical demands faced by competitors, which include freezing or near freezing temperatures and a start line three miles above sea level.
However, Lindo's boss Mr Zanol is a veteran of numerous ultra-distance races across the Alps in Europe, and has just completed a 50-mile race in Davos, Switzerland.
His extensive background as a long distance runner, and a personal recommendation from his sports physio Annabel Carter who has previously worked with the people running the Everest event led to the organisers giving Mr Zanol the opportunity to compete. However, he first had to meet all other entrant criteria, including stringent medical tests.
He passed the tests and is now preparing for one of the greatest challenges of his life an experience he will share with his son, and fellow runner, Marco Zanol. And the epic adventure will raise funds for the Bermuda Diabetes Association and a children's hospital in Nepal.
"I'm looking forward to it. I'm not going to do anything stupid, but I'm going to do my best. I'll be the oldest person who has ever done the race," said the running veteran.
Only two athletes over the age of 65 have run in the event previously. One finished but broke his shoulder, while the other had to pull out of the race.
Since he took up the sport in the late 1970s, Mr Zanol has raced 52 full marathons and, in recent years, taken part in events over much longer distances many of which have featured cross-mountain routes.
In the mountains he feels a special affinity with his surroundings, which may have something to do with his being born in Cavalese, in the Italian Dolomites.
Asked why he progressed beyond the classic marathon race distance, he said: "I wanted to do something different, but I also wanted to do something more than 100K races.
"I love the mountains. I was born in the mountains. When I'm on top of the mountains I see snow, waterfalls, pristine lakes down below. It is hard to explain. I can stop and hear a fly go by, it is so quiet."
The Everest Marathon start line is at an altitude of three miles above sea level and is just below the base camp used by climbers looking to conquer the world's highest peak.
Runners will need two weeks to acclimatise to the altitude and conditions before the race. They will also be expected to carry additional clothing that may be required during the marathon, the route of which gradually winds downwards.
For those who know Mr Zanol, it is perhaps not too surprising to hear that he is once again seeking to raise funds for the Bermuda Diabetes Association with his sporting endeavour. He has done so for many years, ever since he spoke to a woman with a daughter who had type 1 diabetes.
In the intervening years it is estimated that his fundraising, together with that from the annual Lindo's to Lindo's 10K road race, has raised $250,000 for the Bermuda Diabetes Association and a UK diabetes charity that helps young people.
Trevor Madeiros, a Bermuda Diabetes Association board member, said: "Giorgio has been phenomenal. There's no diabetes in his family. He does this all from his heart. He is well-known and that helps with the fundraising. We have had a great deal of support from Giorgio and from Lindo's."
Some of the money raised previously has helped the association organise summer camps for youngster with type 1 diabetes. Mr Madeiros explained: "The camps take them away from their normal environment and they learn tricks and tips from each other about how to deal with diabetes."
The association also brings in speakers and experts to talk to diabetics, physicians and locals, something that is expected to happen again in November, which is designated 'Diabetes Month'. By coincidence November is also the month that Mr Zanol and his son will travel to Nepal for the Everest Marathon, with the race itself staged in the first few days of December.
Giorgio's son Marco added: "We are doing it for a good cause. It is going to be an experience and something that we want to do."
l
Anyone who would like to support Mr Zanol's fundraising efforts can do so through the two Lindo's stores or by contacting the Bermuda Diabetes Association on 297-8427.