Ancient Cedar root found nine miles offshore could be older than previous find
Updated: Nov 25, 2011 06:58 AM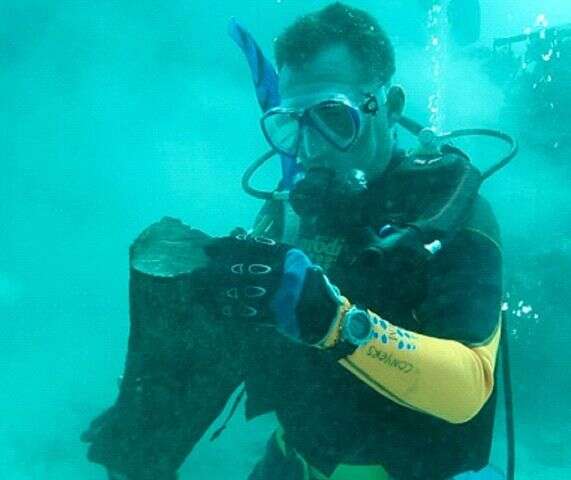 A local architect diving nine miles off the coast of Bermuda made an unusual discovery this summer a tree root planted 53ft below the surface.
Harold Convers, who made the discovery while diving with Triangle Diving, said: "At first I thought it might be a piece of a wooden shipwreck just emerging from the sand and wedged up against the undersea cliff.
"Tree roots on occasion can and do get swept out to sea and can be found wedged under rocks after hurricanes, but this seemed different to me. It did not look like it tumbled there, but that it was
in situ, that it had grown there."
While tree roots have been found off the coast of Bermuda in the past, at around 35ft below the surface, this discovery is significantly deeper.
Renowned local diver Teddy Tucker said the discovery could have international implications, helping the scientific world better understand changing sea levels. "If this root does prove to be in situ it is likely to become a story of global significance, furthering our knowledge of sea level rise during the past 10 millennia and, perhaps, providing greater insight to what the future may hold," Mr Tucker said.
Dr Philippe Rouja of the Department of Conservation Services said: "A new discovery is always exciting, especially one as potentially relevant as this."
Last month, researchers including Dr Rouja and Mr Tucker, returned to the site to examine and take samples of the root. Divers cut sections of the root and brought two samples to the surface. It was said that the inside of the root appeared well preserved, and still carried the distinct smell of Bermuda cedar.
Samples from the root have since been sent to Professor Steve Balsco at the Bedford Institute for radiocarbon dating, with the results expected sometime early next year.
Mr Tucker had previously located a drowned cedar forest 35ft below sea level near Gurnett Rock.
Carbon dating revealed that the trees had been alive and above water 7,290 years ago.
The data was used to help map the rising sea levels in the Atlantic. Mr Tucker explained: "It is the deepest sample we have to date and if we can get a clean radiocarbon date it will help us establish where the sea level had not yet reached at a given time.
"We could speculate that it will be significantly older than the roots submerged at Gurnett Rock in 35 feet but as with all things on the ocean I am prepared to be surprised.
"If the date is close to that at Gurnett Rock then it could suggest that sea level rates were rising much faster 10,000 years ago than we had previously thought.
"Regardless of what date comes back we will have another confirmed point to help us reconstruct Bermuda's sea level history a history that scientists consider to be an important benchmark for sea level rise in the Atlantic."
And by mapping the past of the Atlantic Ocean, Dr Rouja said researchers would be better equipped to predict what will happen in the future.
Dr Rouja said: "Has sea level been smoothly and incrementally coming up over this time?
"Has it been coming up in a series of evenly spaced bigger jumps with occasional regress or has the rate increased exponentially in the last 1,000, 500 or 100 years? This latest find may well add yet another critical piece to the puzzle so we can better understand sea level rise."