Carpenter work permits being refused, Minister
Updated: Feb 24, 2012 08:23 AM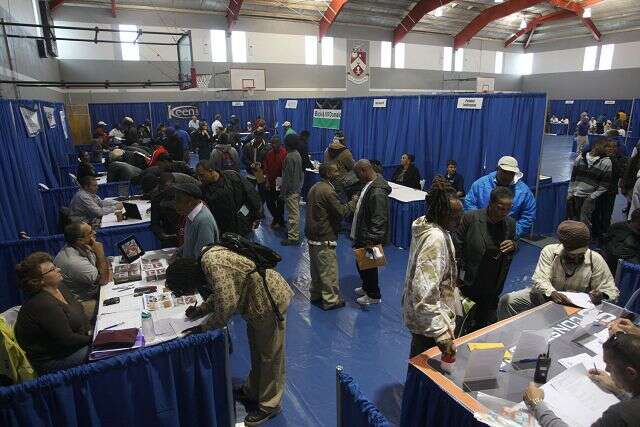 Work permit applications by construction companies for non-Bermudian carpenters are being flatly rejected, at least for the time being.
Minister of the Economy, Trade and Industry Patrice Minors made the disclosure to
The Royal Gazette yesterday as she attended the Construction Jobfair with the Premier.
Hundreds of people turned out at the Bermuda College to sign-up with 26 companies in the hope of securing employment. But there was much disappointment in the fact that no one received a job on the spot something many had come looking for.
The Minister said the event was billed as a registration sign-up, to get the information needed to follow up with applicants. But more importantly she said the Department of Labour will focus on the employers to see just how many Bermudians actually get hired.
She also revealed that her Ministry is reviewing work permits on a regular basis especially for those in construction and carpentry.
"Permit applications for non-Bermudians who are employed as carpenters within construction companies, to be quite honest, I'm refusing them outright.
As it relates to the numbers of mason/carpenter work permit refusals Ms Minors said: "To date 64 work permits have been refused.
"Why I wish the Bermudian carpenters to have first dibs in working in a construction company rendering out carpentry service. That is what's happening.
"If there is displeasure with that decision they have a right to appeal. With carpenters who are specialised in fine carpentry who are working with a carpentry company then the approach is completely different.
"There are many expired work permits out there dating back to 2010 for which the employer has not made submissions for them to be renewed for additional periods.
"We're looking to employ our carpenters having Bermudians employed in their skill set within a construction company with the hope that the companies are going to give them the opportunity. The same applies to masons."
One hundred and sixty people had pre-registered for the event. "We have 26 employers here, the National Training Board and the Bermuda College.
"One young man brought his resume and some of his carpentry work. That to me is an indication of somebody showing their worth and value that's the passion that I'm seeing and hearing from the people here.
"What's important now is that we follow up with all of those who did register in a week's time on the result of their submissions and also check with the employers on how many people have they employed."
Premier Paula Cox said: "I think its sobering that so many people need to be here, that's the one issue. The other issue is the fact that I'm glad people are believing that they can get some help and are coming, so I'm pleased that the Ministry and the Department of Labour have taken the effort to make available resources.
"But the rubber meets the road really with the follow through. We're not here for photo ops or PR, every person you see here has a story and that story means that they may not be able to do some of the things they wish to do for their families and themselves.
"We have an obligation as a community, particularly where we are not just the policymakers but also as employers to take care of Bermudians first where they are available and willing to work and have the skills.
"We also have the responsibility not to try to exploit the foreign worker as a result of trying to deny Bermudians."
Alex DeCouto, owner of Greymane Contracting Limited said: "It's sad to see so many people who appear to be out of work.
"My objective is to see just who's out there, I'm looking for finish carpenters, drywallers, supervisory staff, I'm really looking for master tradesmen. I'm here but I'm not looking to hire anybody at the moment.
"I don't have any work permits, I've got 30 Bermudians working for me and I don't really need to hire anybody, I came here to see who's out there.
"Business is slower than slow, it's all about the next job and the pile of jobs that are next is going down. This is probably the worst I've ever seen it."
Craig Faries, the general manager of Mid Atlantic Steel Supply Limited, said: "I'm looking for young Bermudians who are interested in welding, fabricating in steelworks, machinists, these are highly technical jobs, you don't learn them in two days.
"They have had programmes in welding at the college through Hobart, but there's such a lack of interest that they can't keep the numbers to keep the courses going.
"We're hoping to get some people that are interested to maybe watch our welder, learn and have an interest. Then the National Training Board would sponsor them to go to Hobart.
"There has been no interest whatsoever, I've had two young guys that are willing to come down and see me at the shop. They don't know much about this, it's just not taught to them in school, so there's this void where you don't have young people interested in this trade."