Storage unit auction brings delight for some
Created: Mar 12, 2012 10:01 AM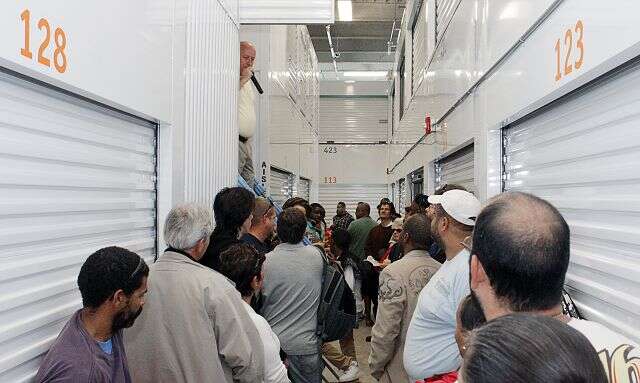 A public auction drew about 50 bidders to gamble on the unknown contents of storage lockers, with prize porcelain and a trove of musical instruments among the spoils.
In a token of the economic times, the owners of Island Self Storage believe more auctions are to come.
"Yes, there will probably be more," co-owner Don Mackenzie said. "We've thought about different ways, but auction is the standard around the world."
The six units went under the hammer because their former owners fell 90 days behind on payments. Within a half-hour of opening on Saturday morning, the storage house had accrued an excited crowd.
"Something different," said one attendee, when asked why he had come. "It beats a house sale. I might find a treasure chest somewhere."
"Curiosity," answered another.
Sensitive to the fact that the auction was a last resort after customers could not or would not pay their bills, company owners were reluctant to join in the inevitable comparisons to the 'Storage Wars' reality show.
Calling herself a big fan of the show, Samantha Sangster said she hoped to pick up antiques.
"Probably the one thing I'm interested in is furniture and artwork," she said.
Once the practised patter of auctioneer Declan Harris got going, bidding was brisk. Calvin Virgil took a unit of commercial samples and display stands for $35, and was immediately approached by a latecomer interested in purchasing something from unit 539.
Mr Harris continued: "This one appears to have a ton of musical instruments. There appears to be 20 to 30 boxes." In keeping with the rules, he pointed out: "We don't know what's in them. They could be empty."
Bidding this time was fast, with Mr Virgil again taking the lot, for $1,050.
"I could have the Virgil Marching Band," the successful bidder said, examining a saxophone from one box. Mr Virgil estimated that a single trombone could bring him $1,000, once restored.
An oven and computer monitor went for $325, and miscellaneous personal items took $70.
Lot five went for $550 to Eugene Smith, who said he liked the look of the trunk on offer, and hoped to find some clothing in the plastic containers.
"I'm giving them away," he said. "I'm sending three barrels of stuff down to Jamaica to give to people, and I want some clothes."
As the crowd moved swiftly to the final unit, lot six, the auctioneer said: "I was going to start bidding at $525, but I just heard a whisper of $1,000." The unit, containing lamps, furnishing, figurines and artwork, was taken for $300 by Edie Murray.
Elated, Ms Murray said she was a collector who had been keen to buy two statues of the coveted Lladró porcelain.
"They're worth about $800," Ms Murray guessed, although she did not sound in any hurry to sell them on. "This will be about Lladró number 60 for me," she added.
In the aftermath, Mr Mackenzie reckoned Island Self Storage had recouped 30 to 35 percent of their loss. After e-mails, phone calls and registered letter, he said he had not been contacted by any of the units' former owners.
"Because it went according to plan, it would be our intention to have this again in the future," he said.
With two floors and about 300 lockers totalling 23,000 sq ft of space, the company said the six units would be emptied in 48 hours, and put back up for rent.