Arson not ruled out as cause of huge Pembroke dump fire
Updated: Mar 30, 2012 09:03 AM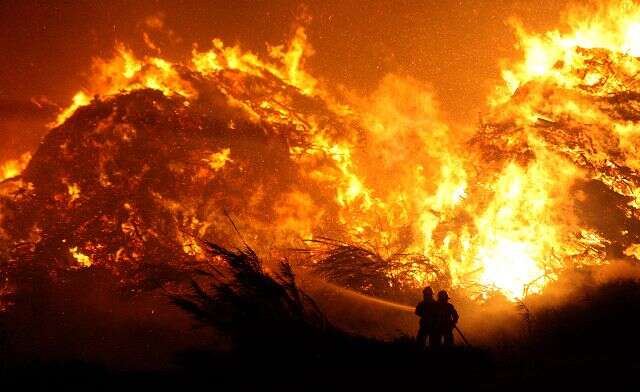 A huge fire ripped through Pembroke Dump last night, fanned by high winds and sending thick smoke over hundreds of homes and sparking a massive operation from firefighters.
Giant flames lit up the sky while winds of up to 40 knots carried smoke for miles around, leading to fears of mass evacuation at one stage.
The blaze, which started shortly after 8pm, involved two piles of tree cuttings; firefighters are investigating how it began and have not ruled out arson.
By midnight more than 60 officers were at the scene, dousing the fire and appearing to keep it under control after receiving voluntary supplies from a number of private water trucks. It is understood that after midnight, units of the Bermuda Regiment were embodied to assist.
At that stage the Fire Service was unable to say how long the blaze would continue for, although Fire Chief Vincent Hollinsid said it was comparable to the dump fire of 2007, which burned for a week.
Friswell's Hill and Perimeter Road suffered the most from the blanket of smoke that descended on Pembroke, with visibility extremely limited in those areas, and a number of roads closed by police.
At 10pm, Public Works Minister Michael Weeks called a press conference at a smoke-drenched Victor Scott Primary School to announce CedarBridge Academy was being set up as an emergency shelter in preparation for evacuation.
This morning, a smaller team of firefighters remained at the dump as smoke continued to pump out from the blaze. However, by 8.30am the fire had clearly subsided from the roaring furnace of last night, and Works and Engineering staff appeared to be going about their routine business at Marsh Folly.
Much of the blanket of thick smoke had also cleared from nearby roads.
Last night residents were urged to stay off the roads and keep their windows shut, but no official evacuation had been called at the time of going to press.
Many ignored the warning to watch the spectacle from outside their homes.
Mr Hollinsid told
The Royal Gazette: "It's a massive operation. There's quite a bit of wind tonight and it's sending smoke everywhere, but we are trying to deal with as quickly and efficiently as possible."
One of the fires was about 60 feet by 200 feet, the other about 50 feet by 60 feet. They were about 50 yards apart.
Mr Hollinsid said firefighters were concentrating on putting the smaller blaze out first because tackling both at once could lead to officers getting trapped between them.
He praised the calmness and professionalism of his team, saying: "It's an opportunity for them to shine and show their skills, although it's unfortunate that they have to do it."
Mr Weeks, who is also the MP for Pembroke East Central, said: "We are taking this situation very seriously and our top priority is to ensure the safety of area residents.
"CedarBridge Academy has been made available should any residents affected by smoke need to evacuate to a safe place.
"We will update the public as this situation develops, but I urge people to stay clear of the area and allow the emergency services to carry out their work.
"I must commend the excellent work of BFRS Chief Vince Hollinsid and his team for doing such a great job and staying calm under pressure. The Bermuda Police Service is also to be commended for keeping the area clear and traffic flowing."
Premier Paula Cox, the MP for Devonshire North West, e-mailed this newspaper from New York, where she is on Government business.
"I have seen the pictures. It is a very concerning and sobering situation," said Ms Cox. "The paramount consideration is to ensure that the area residents' concerns are addressed so that any safety issues are properly attended to and we minimise any detriment to them.
"That has been the prime focus of the discussions between the Min of Public Works and myself. This is an area that will affect sections of our Devonshire/Pembroke communities.
"And we are keenly involved. We all value and appreciate the work being done on the ground by our Fire Services and public sector workers to tackle the situation. The work continues.
"At this time one wishes the residents to be assisted as some may need to move and this is being addressed so that the public interest is properly tended to.
"I am sad that I am not there. When our community is hurting you want to be there and on the ground. I know in my absence that all that needs to be done is being done under the lead of the PW Minister."
* For more pictures click
here.
* Are you affected? Email news@royalgazette.bm
Schools closed
Michael Weeks, Minister of Public Works, this morning advised that, due to the fire at the Marsh Folly Composting Facility, Cedarbridge Academy, Victor Scott School and Prospect Primary will be closed this morning until a health and safety assesment has been carried out to ensure the schools are safe for students and teachers.
The fire has also caused the closure of the Department of Environmental Protection today.
The department will reopen on Monday at 8.30am.
As a result of the closure, the deadline for the annual fisheries licensing period will be extended until 5pm on Tuesday.