Landscape gardeners qualify through Govt scheme
Created: Apr 09, 2012 09:20 AM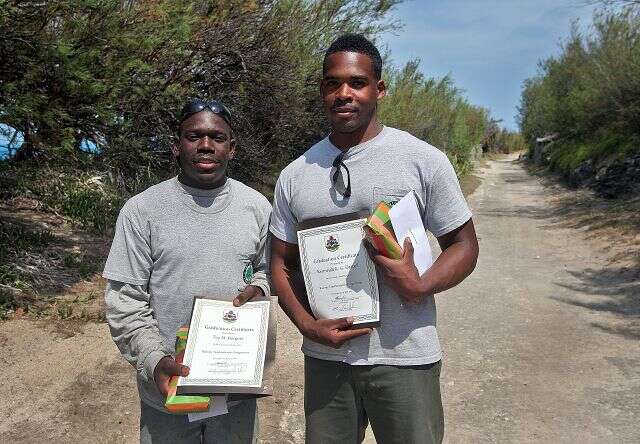 Two Bermudian trainees have graduated from a public-private partnership scheme as qualified landscape gardeners.
Kennejah Darrell, 21, and Teo Burgess, 27, were employed and trained by Green Man Landscaping.
The company was hired by Government to maintain the Railway Trail, with Government specifying that Bermudians must be hired as trainees as part of the deal.
Mr Darrell and Mr Burgess were kitted out with tools and equipment and hired full-time for six months. Monthly progress reports were submitted by Green Man Landscaping to the Department of Parks.
Minister of Public Works Michael Weeks said he was happy to see Government providing an opportunity for Bermudians to find work "during these tough economic times".
He presented the trainees with certificates and gifts and told them: "Kennejah and Teo, let me offer my congratulations. You have done all of us in the Ministry of Public Works proud.
"I encourage you to stick with it, work hard, and perhaps someday soon you will own your own landscaping business."
He added: "My thanks go to the contractor, Green Man Landscaping, and owners Valter and Lidia Medeiros who have been so enthusiastic in helping by employing these young Bermudians and training them on the job in all aspects of landscape management. Thanks also to the Parks staff who have been involved in getting this programme up and running."
Mr Weeks said there were initially six trainees, but four dropped out due to what he described as "initial teething pains". He hopes more people will graduate from the programme in future.
Mr Darrell, from Southampton, explained: "Before I got this job I was not working. I was going to school and I was going around signing applications. I found out about this, and one thing led to another. I've learned to cut the hedges and lay the mulch and learned about the different plants such as which ones to cut and which ones not. It's a good job at times. The weather makes it a good job at times."
Mr Darrell is glad to see the public-private partnership. "It's a good opportunity, and they are doing something positive," he said.
Mr Burgess, from Hamilton Parish, worked on "hustles" prior to getting the traineeship and also worked as a horse handler and groomer.
He heard about the opportunity to qualify as a landscaper from former Minister of Public Works Derrick Burgess, who he knows from St John's AME Church, where he is a member and musician.
He explained that working as landscaper showed him "the Lord blessed me with a gift I never knew I had. I have learned different things, different plants and how to make things look professional".