Unions weigh in on possible end to term limits
Updated: Jan 24, 2013 08:38 AM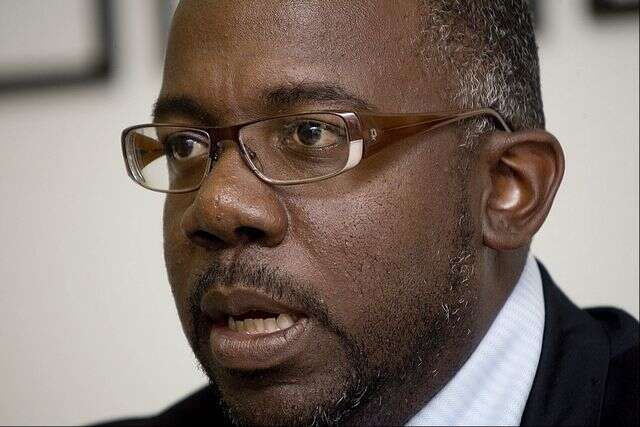 Training of Bermudians should be a key part of the Island's work permit policy, Bermuda Industrial Union President Chris Furbert said yesterday.
Mr Furbert also called for a forum to determine what should be the sustainable size of the workforce in an interview with
The Royal Gazette yesterday.
"You can't just pick a number and say that's the magic number," he said.
"If the Government's not prepared to organise something, I'm prepared to go to my general council because we are one of the major stakeholders."
And, he said, Government should engage in more dialogue with the international business sector to better able it to match their wants with the needs of Bermudians.
Mr Furbert was reacting to Home Affairs Minister Michael Fahy's announcement that work permit term limits could be eliminated altogether.
The One Bermuda Alliance had promised to suspend the policy for two years during the election campaign.
He said the training of Bermudians to take over work permit holders' jobs should be part and parcel of a work permits policy — something that did not happen under either the United Bermuda Party or the Progressive Labour Party Governments.
"I think that you should have a policy in place and the policy should be followed by all," he said. "There has to be some accountability on the Immigration Department and there has to be some accountability by the Government to make sure these policies are put in place and the policies have got to be followed."
On Tuesday, Ed Ball Secretary General of the Bermuda Public Service Union reinforced the point in his reaction to Sen Fahy's announcement.
"As the OBA has indicated they wish to create 2,000 jobs for Bermudians over a three- to five-year period, there will have to be strict guidelines that the Immigration Board/Department will have to adhere to if term limits are suspended," he said.
"The Union is acutely aware that Bermudians who possessed specific professional degrees were made redundant then the employer rehired foreign nationals to carry out the same duties.
"Then when the six years' limit was up, even though there were qualified Bermudians, the employer wrote to the Minister asking to waive advertising the job even though the foreign worker was proven to treat Bermudian workers unfairly. Yes, we need foreign expertise but we also need fairness. The BPSU will be vigilant in monitoring the creation of jobs."
Mr Furbert said the Minister had already made a decision on term limits. "They've made a decision to suspend it for two years and then they are going to have dialogue to see whether they're going to do away with it altogether."
Asked what the union position is on term limits, Mr Furbert said: "What the Government needs to do is have a conversation with international business and find out what exactly the problems they have with to term limits," he said.
"We have to put them up against the need for Bermudians to have a job in their own country. Once you come up with that balance, I think that we can have a win-win for everybody."
Asked whether he agreed that there was a need for more people on the Island in order to have economic growth, he said that Bermuda had to decide on the size of a sustainable workforce.
"Bermuda has to decide what's a reasonable workforce that's acceptable to have a really robust economy," he said.
"I think Larry Burchall and everybody is looking at the magic number of 40,000 which is 2008 numbers. Well if you look at all the other years, we had the year before that 39,851 and before that 39,686. So is between 38,000 and 40,000 a reasonable number of jobs to have for Bermuda in the economy?"
He said the answer to that question depends on the health of the construction and hotel industries. "If the construction industry should remain robust then its reasonable to expect that we can have probably between 37,000 to 39,000 jobs here and be satisfied."
He added that the number of workers in hotels had dwindled to around 2,500 from a high of more than 5,000 as the industry contracted by half from around 100 properties.
"Unless we are going to be able to grow hotel jobs and construction jobs, it's going to be very difficult" to maintain the workforce at 37,000 to 39,000.
"If we have 38,000 jobs and we only have 28,000 Bermudians to fill those jobs, we still have to bring in 10,000 people," he said.
And if the construction industry levelled off by about 2,000 workers there's no reason why those 2,000 workers could not be retrained to work in international business.
"I don't think we've been serious about getting people trained and retrained under both governments (UBP and PLP)."
He added that there had been a "paradigm shift" over the last ten years in which Bermudians lost a significant share of the jobs in the international business sector.
"This should be our challenge right now — what percentage of jobs would be acceptable enough for Bermudians to be able to work in international business?" he said.
"We can't have a situation where seven has to be foreign and three could be Bermudians" if there are trained, qualified Bermudians.
And he rejected, as "political posturing" the argument that international businesses had left the Island because of term limits.
There had been a slight dip in the number of international businesses here but that was due primarily to the economic downturn, he contended.
Mr Furbert also noted that Bermuda also has to look seriously at new revenue streams.
l
Brain Drain - see page 5