Bring this killer to justice
Created: Jan 25, 2013 08:00 AM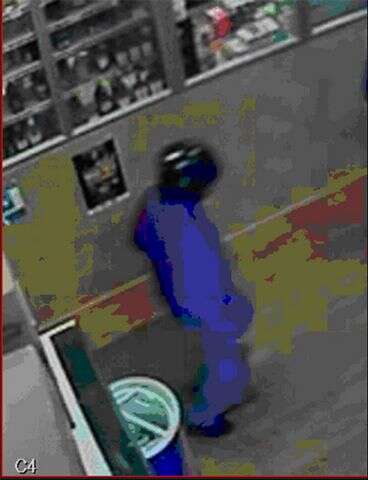 This is the chilling moment that a gunman burst into a Pembroke store and shot two young men dead.
Police released the dramatic images yesterday afternoon in a bid to bring the culprit to justice, and a 21-year-old man from Sandys was arrested over the double murder just hours later. Authorities believe the slaying is gang-related, and the Governor has appealed for calm.
Meanwhile the families of the two victims, Ricco Furbert, 25, and Haile Outerbridge, 34, spoke of their shock and grief (see separate story).
The double killing at Belvin's Variety on Happy Valley Road on Wednesday was the first fatal shooting of 2013, and happened when a female employee was in the store. It also marked the first double murder since the escalation in gun violence which has left 23 men dead and dozens injured since May 2009.
Speaking at a Government House press conference yesterday, Governor George Fergusson called on the public to help prevent "any form of retaliation" over the latest killings.
Mr Fergusson said that "hard-core gang members" are unlikely to listen to politicians or the Police Commissioner. But he said there is a risk of retaliation, and called on family and friends of "those who might commit such offences" to do their part in putting the brakes on the cycle of violence.
"There are people around the people who might commit such offences who are loving, who are good citizens, who are concerned," he said.
"And I do appeal to them to do all in their power to discourage any form of retaliation.
"I appeal to those same people. If they know anything about the murders — I know this will require some courage — please give information to the police and if that is too difficult, give it to the confidential Crime Stoppers line."
Commissioner of Police Michael DeSilva said it was the job of the Bermuda Police Service to "solve the crime, arrest the offenders and put a case before the courts".
"Some evidence has already been recovered from the scene, people have already been interviewed. And we are appealing for witnesses to come forward," he said.
"A parallel priority for us is to reassure the community by ensuring our presence is felt and making sure that everything that can be done by law enforcement, is being done.
"We believe the shooting incidents over the last few weeks or months are indicative of escalating tensions between rival gangs.
"Disaffected youth are playing out years of growing tensions and underlying issues in the most violent manner. As a result, it is the whole of Bermuda that suffers and we are appealing for calm not overreaction.
"We are appealing for the community to come together to help provide the tangible and sustainable solutions that are required to turn this crisis around."
A 21-year-old Sandys man was arrested yesterday afternoon in connection with the incident.
The Governor said that a planned meeting tomorrow with Cabinet Ministers about joining up "government structures with the police to address the underlying problems and the multiple problems potentially with gang members" will go ahead at an "intensified depth".
Premier Craig Cannonier made an impassioned speech in which he called on the community to do its part in ending the gang violence.
"There's a lot of pain being felt. There's families right now in mourning. There's a son who's wondering what happened to his father. There's a mother who's trying to keep a community calm. This is real, these are people's lives who are being impacted. This is an Island which is feeling the pain right now of losing its young people to violence," he said.
"This must stop. And it is vital for this country, as small as it is, to know that if another member fails, then we fail. That if a family loses a loved one in this way, not just that family feels the pain, but the rest of us do as well."
"We must remember that we are our brothers' keeper and we can no longer continue in building this divide among us. We must find ways to bridge and to move past this but it can only be done if we remember that people are important. We must understand that any life lost in Bermuda this way tears the whole Island apart."
He continued: "It's intensifying, Bermuda, and we must intensify all efforts to get along."
He called on the community to "reach out" and understand the reasons behind such incidents. "Once we reach that point we can then have some serious dialogue about these challenges."
Public Safety Minister Michael Dunkley said that Government was "focused and determined" in providing assistance to the police.
Today's policing includes a "very strong community component, a very strong investigative component [and] armed capacity to deal with the threat", said Mr DeSilva.
"We've been building that capacity for the last three years. Each strand of that has already paid dividends."
Junior Public Safety Minister Jeff Baron offered his condolences to the families of the victims from Belvin's Variety yesterday morning.
"Right now we know that two men were killed inside Belvin's," he said. "This whole community is completely rattled.
"I have met quite a few people this morning. I canvassed here before the election. Today I'm here under tragic circumstances, which is unfortunately where we find ourselves. We're getting updates from police, and as a Government we are looking forward to implementing the most forward-leaning policies to disrupt gang activity."