Scott stands out as Premier's wife takes more modest approach
Created: Feb 09, 2013 08:00 AM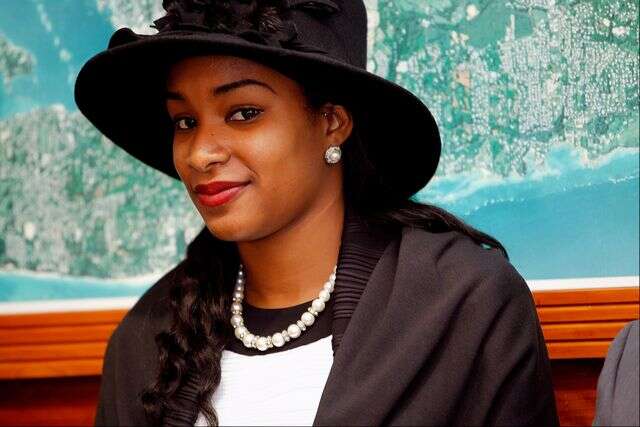 New Premier Craig Cannonier was the man of the hour at this year's Throne Speech, but it was his wife Antoinette who caught the public's attention.
All eyes were on Mrs Cannonier as she made her way to the Cabinet office lawn wearing an understated brown textured dress, simple heels and a white, feathered hat.
If her fashion choice was meant to communicate any message to the public it seemed to reflect the new Government's stance towards focusing on the issues at hand, instead of the usual 'pomp and circumstance' of the ceremony.
The Island's new leader was modestly dressed in a dark grey suit and maroon tie. He walked out alongside new Opposition leader Marc Bean, who opted for a blue multicoloured necktie instead of his party's favourite shade of green.
As the blustery winds waged, Cabinet Ministers and MPs — including a host of political newcomers — walked single file into the large marquee to hear Governor George Fergusson deliver Government's agenda for the coming year.
A few women stood out from the pack with their fashion choices, of particular note was Leah Scott, the Minister Without Portfolio.
Decked out in a stunning red floral print dress, black fascinator, veil and pearl jewellery, her wardrobe channelled the likes of First Lady, Michelle Obama.
Suzann Holshouser, unveiled as the new Deputy Speaker of the House, was wearing a red skirt suit and black fascinator. She was escorted onto the grounds by two youth Parliamentarians.
MP Nandi Davis chose a black and white ensemble and black hat, while MP Jeanne Atherden donned an electric blue headband in the shape of a bow, a floral dress and blazer for the occasion.
Patricia Gordon Pamplin, Minister of Health and Seniors, paired her red skirt suit with navy heels and hat, embellished with sequinned ribbon. Opposition MP Lovitta Foggo stood out in a gold coloured dress, while Zane DeSilva and Michael Weeks supported the Progressive Labour Party by accenting their suits with green.
As the dignitaries filed into the tent, there appeared to be few empty seats; scores of onlookers were also gathered on the grass to hear the direction the speech would take.
Little reaction could be seen or heard from the public for the majority of the speech, however, applause broke out when the Government promised to reopen medical clinics to provide healthcare for people without adequate insurance.
Loud clapping could also be heard when Government announced it would be making amendments to the Human Rights Act to outlaw discrimination on the basis of sexual orientation.
The speech was coming to a close as the skies opened up. Despite the heavy rain, the Governor and his wife Margaret made a grand exit by horse and carriage, surrounded by a police motorcade.
The Regiment bands played on, as Mr Cannonier made his way to the House of Assembly for his first time as leader of the country.