Unions seek public support for May 1 holiday
Created: May 02, 2013 09:00 AM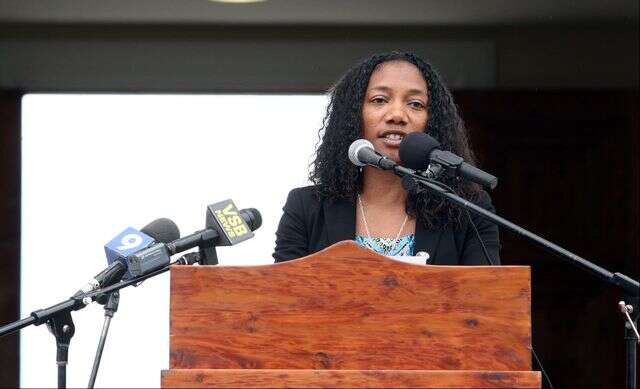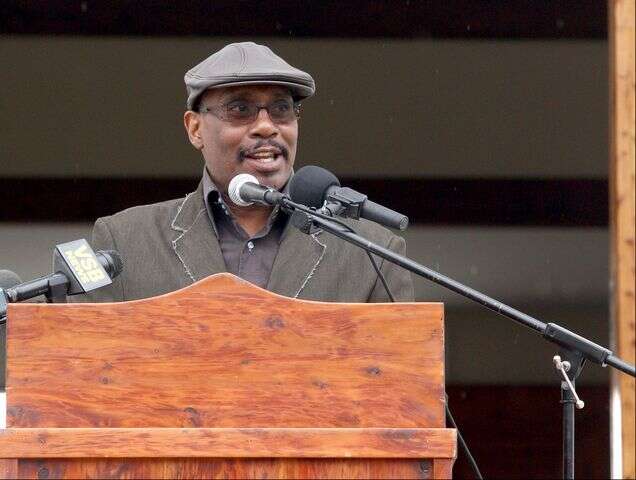 Bermuda's labour unions have called on residents to support their call to move the Labour Day public holiday to May 1.
Leaders of seven of the Island's unions gathered at the City Hall to commemorate International Workers Day at noon yesterday afternoon.
Besides calling for May 1 to be the official Labour Day holiday, the leaders railed against damaging austerity measures, and what they said were efforts to roll back workers' rights.
Bermuda Industrial Union President Chris Furbert noted that 80 countries around the world formally recognised May Day as an official holiday, but that labour organisations had been unable to persuade the former Government to move the holiday from the first Monday in September to May 1.
"From the unorganised point of view it would appear that it doesn't matter whether we are going to celebrate it on May 1 or the first Monday in September," Mr Furbert said.
"The unorganised workers in this country are taking it for granted that it's just another public holiday. So the lack of support for the May 1 holiday needs to change. We take so much for granted in this country that things are the way they are. But they are the way they are because of sacrifices that people have made all around the world, including Bermuda.
"So there is no appreciation being shown for the day that we speak about."
About 50 workers attended the event which began with a welcome address by City of Hamilton Mayor Graeme Outerbridge.
The leaders also made reference to the economic recession and its impact on labour.
Mr Furbert noted that while labour would do all it could to assist, there had been no new hotel development since 1971. "We need to give some serious consideration as to whether or not we are going to seriously be in the tourism industry because if the visitors decide they are going to come tomorrow, we don't have anywhere to put them."
Bermuda's hotel bed count had plummeted to 2,500 from a high of 6,000, he said. "The airlines also know that, that's one of the reasons why the airlift to Bermuda has also been extremely challenged."
Leroy Simmons, president of the Bermuda Federation of Musicians and Variety Artists, called on the public to support local entertainment.
"We must support it not just on the professional level, but it must begin from the schools," Mr Simmons said.
Kevin Grant, president of the Bermuda Public Services Union, reminded those gathered of the origin of International Workers Day — the Haymarket, Chicago protest for an eight-hour workday in 1886, which ended in the "massacre" of some of the protesters.
"May 1 is even more significant locally because it was in early May of 1981 that trade unionism came into the forefront in these very Islands and changed the landscape of labour relations which allowed workers to enjoy the benefits that we have today," he said.
Mr Grant later told this newspaper that the Trade Union Congress had always advocated moving Labour Day to May 1. Mr Furbert confirmed that his union had also lobbied for the change.
The Progressive Labour Party, while in Opposition, had brought a Labour Day bill to the legislature, pushing for May Day, but the then United Bermuda Party Government decided it would be the first Monday in September.
"I guess the merchants decided 'we don't want to give two public holidays in May, so we'll give it to them in September'. But September really has no significance for us. Everything culminated on May 5, 1981. So even though we talk about International Workers' Day being May 1, Bermuda has its own history for May. The 1981 General Strike started in April, but it culminated on May 5, 1981."
The PLP Government was asked by the Trade Union Congress to move the holiday to May, but Government did not accede to the request. Mr Furbert said another formal request will be made to the new One Bermuda Alliance Government.
"I don't think losing (the holiday in) September is going to be that significant, because a lot of tourists don't come here for Labour Day weekend," he said.
"Maybe we should try it for two or three years first and if it's working fine then leave it in place. It certainly can't hurt."